"We needed an organization that could hit the ground running. Chief Outsiders was there and provided us with an environment for success. Our CMO has been a great partner!"

Naseer Nasim, CEO, Baker Hill
Baker Hill is an industry leader in delivering innovative technology solutions and business intelligence to financial institutions across the country. Following a carve out and merger, the company needed to unify the organization, create a marketing strategy and refresh the brand. With a CMO of Chief Outsiders as interim CMO, it successfully launched the new brand and new solutions, and built a marketing infrastructure to carry them forward. In just eight months, the company improved client satisfaction and saw their best quarterly results in three years.
Background
Blendi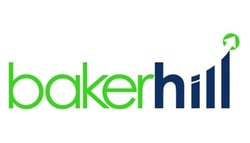 ng Two Companies
In September 2015, Baker Hill merged with Database Marketing Agency Corporation (DMA) to form a powerful player in the financial services industry. The new Baker Hill combined business intelligence and analytics services with respected lending origination, risk analysis and portfolio management solutions for U.S. banks and credit unions.
To realize its potential, the new company had to deal with some growing pains. "When you do a carve out and a merger, the whole culture is very unsettled," stated Naseer Nasim, CEO of Baker Hill. "I wanted to make employees feel and understand that we were one organization."
A Monumental Job
Less than one month after the merger, Baker Hill planned to launch the new company and brand at a major trade show. Before the merger, neither company had invested much in terms of marketing strategy or resources.
"We came from a smaller organization that didn't have an established marketing infrastructure," explained Nasim. "We needed a team that could hit the ground running and bring back to life a brand that the market hadn't heard from in over a decade. It was a monumental job."
Opportunity to Lead the Market
The new company found itself in a rapidly changing environment driven by significant consolidation and disruption in the banking industry. To meet aggressive growth targets, Baker Hill needed to re-establish itself as a market leader with momentum.
"We are in the right place at the right time with the right product," explained Nasim. "The demand for business intelligence and loans is high. We see a significant growth opportunity within the next three years."
Strategy
Chief Outsider CMO
Acting on a recommendation from Baker Hill's operating partners, Nasim contacted Chief Outsiders, which led him to a consultant. "I found [the CMO]'s background and experience with launching new products to be very relevant to what we were doing," he said.
"We needed someone that could come in and leverage the power of the organization behind them, a person who could effectively manage their time, prioritize their tasks and work effectively with every level of the organization - making sound decisions to quickly move the dial."
Built a Marketing Organization
The interim CMO accomplished that and more. "[The CMO] was accepted from day one as part of our organization," said Nasim. "Empowered to make decisions regarding marketing activities and acquire the necessary resources, she took full advantage and did a wonderful job to move the company forward."
Organization-building activities
Interviews with leadership and working closely with the CEO.
Identify and hire key partners to immediately boost lead gen results.
Work with each department to promote the role and understanding of marketing.
Communicate effectively with employees to establish processes and policies.
Work closely with human resources to promote effective communication with employees, a majority of them new at the time.
Implement a new CRM system.
Build a marketing organization and help to hire a permanent CMO.
"This was really about establishing a marketing-driven and client-focused organization starting from scratch," stated the CMO. "I wanted everyone in the company to know that they were a part of marketing and launching the new brand. Within eight months, we built a platform to be successful in the future."
Rebranded the Company
With just weeks to prepare for a significant industry event, the CMO had to reignite and refresh the brand. With her team, she often reminded them of the very short time frame with phrases such as:
We need to change the tires while the car's moving.
We're on a helicopter runway.
Holding weekly meetings with the CEO to set priorities and align activities, the CMO worked on modernizing the brand and implementing fast start marketing programs. She hired a PR team to get and keep Baker Hill in the news. Needing to be strategic and tactical concurrently, she conducted several research activities to help with the development of the marketing strategy.
Analyzed the competition, win/loss reports and client stories.
Researched industry lending trends and key influencers.
Worked closely with the sales team and participated in sales calls.
Interviewed front-line employees to get customer information and insights
Met with customers to ensure that the value prop, positioning and messaging was based on the client perspective.
Performed an actionable SWOT analysis.
After presenting her research and marketing strategy to the company leadership, the CMO worked tirelessly to implement the marketing plan. Having faded from the industry's focus for a time, Baker Hill was once again building brand awareness and identity as an industry leader.
Baker Hill Strategy
Today
Build awareness of brand.
Build thought leadership.
Improve understanding of Baker Hill value.
Future
Prepare banks for digital disruption.
Develop new tools and services to help financial institutions remain competitive, grow and be profitable.
Messaging Foundation and Pillars
Foundation: Baker Hill can help you work smarter every day
Pillars:
Efficiency: Spend less time on time-consuming administrative tasks.
Focus: Spend more time on building relationships and serving customers.
Confidence: Improve decisions with comprehensive data and predictive analysis.
"We gave the company the attention that was needed to regain their leadership position, be top of mind and viewed as a strong player in this market," stated the CMO. "They had been there before. This was the comeback."
Everyone is a Brand Champion
Through bi-weekly internal communications and working with individual teams, the CMO shared her vision of the role of marketing.
"I see marketing as the brand champion for the entire organization, not just lead gen, supporting sales or building customer loyalty programs," she explained.
Nasim agrees. "It's how every individual in the organization embodies the values and brand attributes of our company," he added. "[The CMO] not only reinforced that, she lived it. She is so passionate about the company and the people she works with. It's absolutely refreshing and wonderful."
Growth Results
Record Quarterly Sales
Concurrent with the CMO's marketing leadership, Baker Hill achieved the best quarterly sales results of the past three years, exceeding targets for key leads and the sales pipeline.
"With value-added partnerships in lead generation and a renewed emphasis on PR, the CMO was able to bring about significant results." explained Nasim. "Every two weeks at least, we are somewhere in the news. By the end of the fourth quarter, we had closed 16 new sales."
Baker Hill is now the #1 provider of loan origination, portfolio management and banking business intelligence, serving 600 financial institutions, including more than 20% of the top 150 banks in the U.S.
Improved Client Satisfaction
As a necessary component of the merger, Baker Hill migrated its client data center to a new platform, impacting 100% of the clients. "Under [the CMO]'s leadership, we went through the biggest migration that any organization could ever imagine," stated Nasim.
"We had a significant client retention rate and more improved client satisfaction during that period than before the transition. At each phase of the project, [the CMO] and her team used every channel to proactively keep clients aware of the changes."
Platform for Success
According to Nasim, Chief Outsiders adds tremendous value to an organization. "We were able to not only rebrand our organization in a very successful manner, but also accomplish goals and projects critical for an organization to move to the next level," he stated.
With a unified company and a solid marketing organization, Baker Hill is poised for success. To Nasim, that means, "very high trust in the relationship, a true partnership. Thanks to the CMO and the team from Chief Outsiders, we have an organization that can grab the ball and take it forward. The CMO has exceeded my expectations," he concluded.