---
P.E. investors sought a new growth strategy to set up an exit for a Caribbean-focused, Online travel company. Goal was to double company size within 18 months, a +$250m revenue target.
"[Our CMO] is a highly effective executive, adept at outlining a sound strategy, and comfortable presenting to the Board. Due to her efforts, we successfully sold the company to Bain Capital in 2013."

-Jim Hobbs, Founder, CheapCaribbean.com
Executive Summary
Client Challenge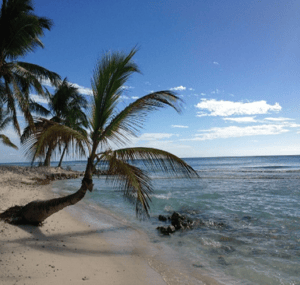 Growth was stagnant for the past two years as the Brand's value proposition focused solely on "low discount prices", stressing the company to deliver better deals than the larger online travel company giants.
The company's digital marketing engine's sub-optimal customer journey delivered low conversion rates and poor experience compared to Expedia, Travelocity and Orbitz
More robust ROI, lower Cost per Transaction and stronger performance KPI's were required to drive business growth while meeting financial requirements
Internal digital marketing and technology expertise was required to provide a sustainable business model.
Strategy
5 Keys to Successful Growth: Compelling Proposition, Targeted Multi-Channel Marketing Strategy, Integrated Technology Platform, Rigorous Performance Analytics, Organizational Talent.
Brand Proposition: Developed a compelling, differentiated Brand positioning to leverage the company's unique "travel insider" knowledge. The breadth and depth of custom content permeated all touchpoints, enabled personalization and could not be duplicated by the large OTA's. Leveraged local tourism boards and hotelier relationships to source information and trained internal content team.
Multi-Channel Marketing: Created conversion focused customer journey (Attract, Engage, Convert, Post Purchase Cross Sell/UpSell, and Referral). Redesigned and continuously optimized full online experience (Web/Mobile, Paid media, SEO, E-mail, Social media, PR, Reviews, Content) Replaced old legacy system with e-comm platform that easily integrated with partners and digital marketing platforms
Rigorous Performance Analytics and Talent: Fostered performance marketing culture; created channel dashboards; conducted daily metric reviews with ROI focus. Infused instant digital marketing expertise by utilizing small proven specialty agencies, contractors, and small internal team of digital experts and support staff.
Business Impact
| | | |
| --- | --- | --- |
| Doubled Annual Revenue in 18 months | Web Optimization + Content Engagement drove conversion | Target Segmentation, messaging and analytics reduced Paid media costs and Increased ROI |
| | | |
| --- | --- | --- |
| +$263M Revenue | +85% Site Conversion | -28% Cost per Transaction |
The Challenge
Brand identity had been solely focused on "low price" which did not provide adequate differentiation from large aggressive competitors. Combined with a poor user experience, the low-price benefit evoked a "cheap hotels" perception impacting consumer confidence, with higher bounce rates and low engagement with the brand.
Web/mobile conversion was far below standard. The purchase path and check out process was confusing leading to high abandonment rates. Site content failed to engage or differentiate the brand.
Digital marketing was overly reliant on costly paid search where the brand competed for top position against Expedia, Orbitz and Travelocity
The Solution
Going Beyond "Low Price" as the Primary Positioning and Purchase Motivator
Customer interviews, revealed a core insight: People who travel to the beach, Love It. Many incorporate the Jimmy Buffet/Tommy Bahama vibe as part of their personality. Their online behavior includes frequently looking at beach images, drink recipes, and even music downloads. Throughout their lives, they return to the beach again and again.
The Brand was able to authentically reposition to a "Beach Experts" platform by creating "Island Insider" content featuring off-the-beaten-path dining, activities, points of interest, etc.- a strategy that large OTA's could not match. The custom content drove significant organic search and was distributed via social media, behaviorally targeted email campaigns, paid media and on-site. This drove significant increases in site visits, time-on-site and email engagement.
Completely rebooted web/mobile experience by creating a new customer journey, design, and content hub. Leveraged detailed analytics to track key KPI's and continuously optimize conversion across all channels
Boosted performance in all top-of-funnel channels, particularly SEO (enabled by custom content and highly competent SEO specialty agency), Paid Search (hired leading national search agency), 3rd party affiliate channels, and P.R. campaigns. Invested in new email service provider, to improve audience targeting and ongoing optimization testing. Higher site conversion rates reduced cost per booking across all channels, enabling increased working media budgets.
Absolutely fundamental to success was a fervent attention to daily performance analytics at the executional level. This required tagging of all assets, performance dashboards and daily team discussions of what was working, or not, which drove continuous optimization and improvement.
"Marketing Strategy plus upgrading Martech provided an ROI driven customer acquisition/conversion platform. The P.I. investors realized significant return within their desired timing."

-CMO
Impact on Business Results
By combining a winning brand proposition, content strategy, and a finely tuned digital marketing engine, with performance analytics, all core financial and channel KPI's continuously improved over an 18 month period
Doubled company size, +$250m, resulting in sale to Bain Capital in 2013
Accelerated Channel Revenue Growth: SEO +157%, Paid Search +40%, E-mail +128%
Increased Customer database +71%
Conversion of Searches to Books grew +150%
Winner 2013 Travel Weekly Top 50 and INC Magazine's 5000 Fastest Growing Companies