Nationally-recognized business growth leaders will join chief executives and company owners to explore the latest sales and marketing insights and opportunities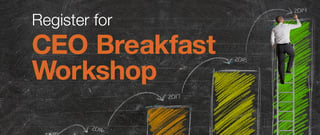 AUSTIN, TX – June 22, 2016 – Chief Outsiders Partner and CMO Mary Doizé, and Sales Xceleration Outsourced VP of Sales Jim Hefty, will partner together to hold the "CEO Breakfast Workshop: The Real Difference between Sales and Marketing," on Wednesday, July 20, 2016 from 7:30 to 10 a.m. at the Austin Country Club in Austin, TX.
This event, specifically designed for chief executives and business owners, focuses on the changing dynamics of sales and marketing and, given this change, how to optimize growth opportunities within it. Chief Outsiders' Doizé, who lives in Austin and has more than 25 years of experience growing technology and service-based businesses, knows the nature of these changes better than most.
"Marketing and sales dynamics have certainly shifted, given our new Digital Age," said Doizé. "Customer buyer behaviors have, too. The role that they play in growing a CEO's business has evolved, and it's both our mission and pleasure at Chief Outsiders to help companies turn this change into an opportunity."
Hefty, who spent more than three decades leading sales efforts for technology hardware-, software-, and service-oriented enterprises, praises the interactive nature of this workshop, which he believes will lead to advanced learning and better overall results that business owners can apply immediately thereafter.
"There's nothing more transformational than the opportunity to interact with peers and receive salient, actionable knowledge that you can leverage immediately upon returning to the office," Hefty added.
Space is limited, so RSVPs are recommended for this event. Along with breakfast, all attendees will receive a copy of "The Growth Gears," an Amazon best-selling book written by Chief Outsiders CEO Art Saxby and Principal Pete Hayes.
To purchase tickets to the July 20 CEO Breakfast Workshop, click here.
About Chief Outsiders
Chief Outsiders, LLC is a nationwide "Executives-as-a-Service" firm, with more than 40 part-time, or fractional, Chief Marketing Officers (CMOs) engaged from coast-to-coast. Unlike other strategic marketing and management consulting firms, each CMO has held the position of VP Marketing or higher at one or more operating companies. Chief Outsiders have served on the executive team of over 300 client companies to drive growth strategy and execution plans for a fraction of the cost of a full time executive.
Because of its market-based growth plans, quality of leadership, and experienced team, Chief Outsiders was listed by Inc Magazine as one of the 1,000 fastest growing privately held companies in the US (in the top 25 in Houston), and was recognized in the Houston Business Journal's Fast 100. Chief Outsiders' CEO Art Saxby and Principal Pete Hayes are the co-authors of "The Growth Gears: Using a Market-Based Framework to Drive Business Success," an Amazon #1 best-seller for business owners and CEOs. For additional information about the companies who trust Chief Outsiders as their premier source for business growth acceleration, click here.
About Sales Xceleration
Sales Xceleration Inc. provides turnkey selling solutions to small businesses and mid-sized corporations that want to launch or expand their sales operations. Sales Xceleration uses over 1,000 collective years of executive sales leadership experience to help your organization meet its vision and goals. Sales Xceleration consistently delivers sustainable sales performance improvement to clients through the creation of sales strategy, process and execution. For more information, click here.
CONTACT: Sterling Wilkinson SWilkinson@ChiefOutsiders.com