Houston, TX (PRWEB) August 8, 2014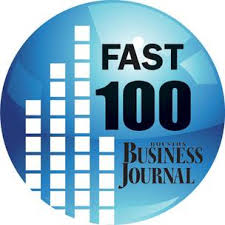 Chief Outsiders, LLC, the leading North American provider of outsourced Chief Marketing Officer services to growth and mid-sized companies has been recognized for the Houston Business Journal's 2014 Fast 100.
The award honors Houston's fastest growing private companies, ranked by a three-year revenue growth from 2011 to 2013. All companies nominated have been doing business for a minimum of 5 years and are headquartered within the 10-county Houston metropolitan area. The winners represent top talent from all of Houston's industries.
Since 2009, Chief Outsiders stands as the only company of its kind –offering strategic business and marketing services to CEOs of mid-sized companies with a nationwide firm of Chief Marketing Officers(CMOs) working on an interim, part-time/fractional, or coaching basis. The CMOs at Chief Outsiders come from a broad range of industries, but all have held the position of vice president of Marketing at one or more operating companies.
"We are excited to be a part of the Fast 100 this year and to see our progress recognized. I know I can speak for our whole tribe and say that our growth and progress mirror the client companies we have worked with and that's something we're really proud of," said Art Saxby, CEO and Founder of Chief Outsiders.
HBJ will announce the rankings of the winner on September 11 at the Hilton America's Hotel. Click here to register for the event.
About Chief Outsiders
Chief Outsiders, LLC, an "Executives-as-a-Service" firm, helps grow mid-sized companies from coast-to-coast with more than 40 part-time, or fractional, Chief Marketing Officers (CMOs) who have held positions of VP Marketing or higher at one or more operating companies. These individuals' breadth of experience makes it possible for Chief Outsiders to put the right skill set on a leadership team of any company for a fraction of the cost of a full time executive. Unlike other strategic marketing and management consulting firms, Chief Outsiders works with company leadership teams to develop and implement market based growth plans. Chief Outsiders believes delivering a world-class marketing strategy on its own creates little value and that the real value is created by helping the organization implement the growth vision.
Because of its market based growth plans, leadership and experienced team, Chief Outsiders was recently listed by Inc Magazine as one of the 600 fastest growing privately held companies in the US (in the top 10 in Houston) and recognized for the Houston Business Journal's Fast 100. Businesses seeking Chief Outsiders as a premier source include: ErgoGenesis, Five Stone Tax, Summa Technologies, and Riverside Company portfolio companies OnCourse Learning, YourMembership.com and IDoc, Source Capital portfolio companies such as Abutec, and Merrill Lynch Specialties Group portfolio companies such as EarthColor.