Trio joins more than 50 existing CMOs in the nation's premier "Executives-as-a-Service" consulting firm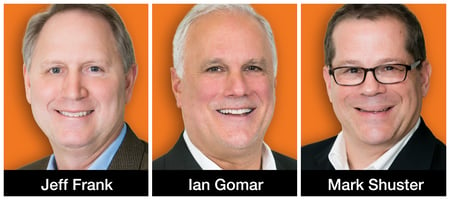 HOUSTON, TX – December 12, 2017 – A trio of the nation's top C-level marketing executives have joined Chief Outsiders, at a time when mid-market businesses are clamoring for the insights of creative, experienced chief marketing officers to foster growth in an increasingly competitive marketplace. Jeff Frank, Ian Gomar and Mark Shuster bring a combined total of nearly a century of senior-level marketing experience to Chief Outsiders, one of the nation's fastest growing management consulting firms providing on-demand or fractional Chief Marketing Officers to mid-sized and growth-oriented companies. The addition of Frank, Gomar, and Shuster, along with 4 CMOs in other areas of the country, reflects Chief Outsiders' unprecedented growth, particularly among private equity-backed firms.
All three CMOs are immediately available for fractional engagements with any company looking to grow.
"Jeff, Ian and Mark are the epitome of what clients look for when they contact Chief Outsiders – experienced, at-the-ready, senior-level talent, with the transformative insights to make an immediate impact for mid-market businesses, and a toolkit of strategies that foster real, valuable and measurable results," said Slade Kobran, Managing Partner of Chief Outsiders' Northeast Team. "I'm excited to have them on the team."
Jeff Frank – an accomplished marketing executive with more than a quarter century of experience in technology, software and professional services focused on healthcare – brings with him a track record of building high-performance marketing teams. He consistently drives innovation and process improvements that produce marketing ROI on the order of 15 to 25 times the investment.
Frank's contributions during his most recent turn, as VP of Marketing at Nuance Communications, produced more than $197 million in new pipeline and $137 million in marketing-sourced revenue in 2016. He produced similar results for Cerner Corporation, Lawson Software and Stream Global Services, where his contributions led to increased brand awareness, improved efficiency, and greater profitability.
Ian Gomar has spent more than 30 years leading some of the some of the world's most recognizable names in fashion and retailing through an inflection point in their business. His expertise in brand management and e-commerce is equaled by his seeming proclivity for knowing exactly what strategies to implement in a turnaround situation.
Recently, as Chief Marketing and E-Commerce Officer for Sears Holdings, Gomar achieved double-digit operating profit growth for two straight years in the fitness category for Sears and Kmart, reversing five years of prior declines. Returns to fiscal health also resulted from his intervention while leading retailing operations for shoe manufacturer Steve Madden and European women's ready-to-wear retail and wholesale apparel and accessories brand Olsen Fashion.
Mark Shuster is a consumer marketing expert with more than 30 years' experience building natural/organics, premium lifestyle and wellness brands. Throughout his career he's brought growth, to new and existing brands, though leveraging his diverse skills in brand management, product marketing, strategic planning, new product development, licensing and International.
As the Senior VP of Marketing at Timex, Shuster launched more than 300 products at the venerable watchmaker, generating more than $100 million in sales. He tripled WellPet revenues through new product launches, channel expansion and implementation of an integrated marketing plan focused on driving consumer demand. These initiatives resulted in 10x return for investors with company sale.
About Chief Outsiders
Chief Outsiders, LLC is a nationwide "Executives-as-a-Service" firm, with more than 60 part-time, or fractional, Chief Marketing Officers (CMOs) engaged from coast-to-coast. Unlike other strategic marketing and management consulting firms, each CMO has held the position of VP Marketing or higher at one or more operating companies. Chief Outsiders have served on the executive team of over 500 client companies to drive growth strategy and execution plans for a fraction of the cost of a full-time executive.
Because of its market-based growth plans, quality of leadership, and experienced team, Chief Outsiders has been recognized for the past four years by Inc. Magazine as one of the 5,000 fastest growing privately held companies in the US, and was recognized in the Houston Business Journal's Fast 100. Chief Outsiders' CEO Art Saxby and Principal Pete Hayes are the co-authors of "The Growth Gears: Using a Market-Based Framework to Drive Business Success," an Amazon #1 best-seller for business owners and CEOs. For additional information about the companies who trust Chief Outsiders as their premier source for business growth acceleration, click here.