"Executives-as-a-Service" firm earns back-to-back accolades on Consulting Magazine's annual list of organizations disrupting the profession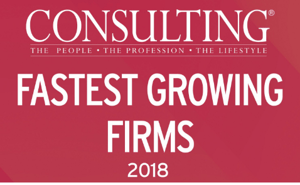 HOUSTON, TX – November 8, 2018 – Chief Outsiders has earned the No. 34 spot on Consulting Magazine's annual list of the nation's fastest growing consulting firms – its second straight appearance on the list. The firm of more than 60 fractional Chief Marketing Officers (CMOs) is one of only 75 companies to have earned the publication's 2018 recognition.
The "Executives-as-a-Service" firm, which met the criteria in order to receive the honor, is uniquely positioned as a coast-to-coast team of top level chief marketers who have held a position of VP of marketing or higher. Each expert travels across the country to provide growth-oriented insights to private equity businesses, as well as a range of small- and mid-market enterprises. It is this distinction that provides unique value to more than 700 client companies – and one that allows the organization to stand out among other consulting firms.
Chief Outsiders Co-Principal Pete Hayes credited the firm's rapid rise in 2018 to his part-time executives' high client satisfaction rates in a range of industries and segments. "It's been another momentous year for Chief Outsiders, not only for our continual success in the Private Equity sector, but for our double digit growth across the board. Soon, we'll reach 70 part-time executives to meet the demand for our services."
In addition to the Consulting magazine award, the firm was also recognized this year by Inc. Magazine as one of the 5,000 fastest-growing private companies in the U.S. for the fifth year in a row.
"Achieving our second consecutive ranking is an encouraging testament to our tribe of dedicated CMOs, who enjoy making big things happen for their clients – and relish in the opportunity to learn from and support one another," Hayes said.
About Chief Outsiders
Chief Outsiders, LLC is a nationwide "Executives-as-a-Service" firm, with more than 60 part-time, or fractional, Chief Marketing Officers (CMOs) engaged from coast-to-coast. Unlike other strategic marketing and management consulting firms, each CMO has held the position of VP Marketing or higher at one or more operating companies. Chief Outsiders have served on the executive team of over 700 client companies to drive growth strategy and execution plans for a fraction of the cost of a full-time executive.
Because of its market-based growth plans, quality of leadership, and experienced team, Chief Outsiders has been recognized for the past five years by Inc. Magazine as one of the 5,000 fastest growing privately held companies in the US, and was recognized in the Houston Business Journal's Fast 100. Chief Outsiders' CEO Art Saxby and Principal Pete Hayes are the co-authors of "The Growth Gears: Using a Market-Based Framework to Drive Business Success," an Amazon #1 best-seller for business owners and CEOs. For additional information about the companies who trust Chief Outsiders as their premier source for business growth acceleration, click here.