"Executives-as-a-Service" firm earns No. 27 spot on Consulting Magazine's annual list of the profession's most robust movers and shakers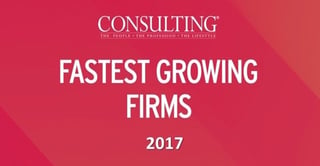 HOUSTON, TX – November 7, 2017 – Chief Outsiders has earned the No. 27 spot on Consulting Magazine's annual list of the nation's fastest growing consulting firms – a remarkable achievement in its first-ever appearance on the list.
The ranking was revealed at a gala awards dinner last week at New York's Yale Club. Chief Outsiders, a nationwide "Executives-as-a-Service" firm comprised of more than 55 fractional Chief Marketing Officers engaged from coast-to-coast, is one of 75 companies to have met the stringent criteria to appear on the publication's annual list.
"With mind-numbing growth, there's absolutely no doubt these 75 consulting firms are disrupting the industry from the bottom up—they are the profession's Fastest Growing Firms for 2017," said Joseph Kornik, Publisher & Editor-in-Chief of Consulting magazine. "Consulting's Fastest Growing Firms recognition and award, is aimed squarely at these up-and-coming firms that all too often fly below the radar because they're not the biggest or the best-known firms. We want to bring these fast-growing firms to the forefront since they are the future of the consulting industry."
Chief Outsiders CEO Art Saxby attributed the firm's explosive results in 2017 to increasing demand for its services within private equity. "We recently have doubled the number of PE-owned businesses that we have served, making this the fastest-growing segment of our client base," Saxby said.
"2017 has been a bellwether year for Chief Outsiders – in addition to the growth in the PE segment, we recently celebrated the company's 500th client – no small feat for a company that launched less than a decade ago, in the shadows of the recession," Saxby added.
In addition to the Consulting magazine honor, Chief Outsiders this year has also been recognized by Inc. magazine as one of its 5,000 fastest-growing U.S. businesses for the fourth consecutive year, and its PE Blog -- designed to deliver insights to private equity executives – was chosen as one of the top 100 such blogs in the country by Feedspot.
"These honors are simply an affirmation of our hard work, and the belief that our model – the 'Executives-as-a-Service' approach – is the right one for the times," Saxby said. "We have only achieved our success because our clients, too, have succeeded as a result of our partnership."
About Chief Outsiders
Chief Outsiders, LLC is a nationwide "Executives-as-a-Service" firm, with more than 55 part-time, or fractional, Chief Marketing Officers (CMOs) engaged from coast-to-coast. Unlike other strategic marketing and management consulting firms, each CMO has held the position of VP Marketing or higher at one or more operating companies. Chief Outsiders have served on the executive team of over 500 client companies to drive growth strategy and execution plans for a fraction of the cost of a full-time executive.
Because of its market-based growth plans, quality of leadership, and experienced team, Chief Outsiders has been recognized for the past four years by Inc. Magazine as one of the 5,000 fastest growing privately held companies in the US, and was recognized in the Houston Business Journal's Fast 100. Chief Outsiders' CEO Art Saxby and Principal Pete Hayes are the co-authors of "The Growth Gears: Using a Market-Based Framework to Drive Business Success," an Amazon #1 best-seller for business owners and CEOs. For additional information about the companies who trust Chief Outsiders as their premier source for business growth acceleration, click here.
About Consulting magazine
Consulting® magazine is the flagship publication of the consulting profession featuring the latest information on consulting careers, thought leadership and corporate strategies. In addition to providing industry insights, Consulting® hosts award dinners as part of our Achievement Awards series—honoring Women Leaders in Consulting, The Top 25 Consultants, The Rising Stars of the Profession, The Best Firms to Work For, and Social & Community Investment.