Firm of fractional Chief Marketing Officers lauded as a "Small Giant" for "placing people over profits" in making the 2019 list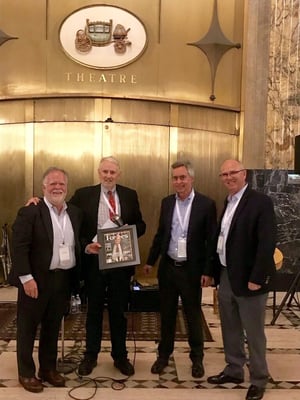 HOUSTON, TX – May 3, 2019 – When a member of the 65-strong team of fractional Chief Marketing Officers at Chief Outsiders heads out on assignment, they lead with equal parts heart and head. This is a culture espoused top-to-bottom by the "Executives-as-a-Service" firm, whose winning combination of caring, pragmatism and business success has earned it recognition on the Forbes "Small Giants" list of the best small companies for 2019.
The 25 companies on this year's list will be recognized in Forbes' May 31, 2019 issue available on newsstands on Tuesday, and viewable now on their website.
The companies were hand-selected by author Bo Burlingham, whose book, "Small Giants," spurred a movement among small companies who value people over profits, and are as committed to civic duty as they are to corporate excellence – a combination Burlingham calls "mojo." The criteria for selection include a culture designed to bring out the best in its people, recognition as being the best or one of the best to do business with in the eyes of its clients, a sound business model, a commitment to its community and being human scale where top level people continue to have direct contact with the people serving their clients.
It also focuses on the ethereal, such as "a commitment to building a great business, even if that means passing up some growth opportunities along the way," says Forbes.
This factor, in particular, was a particular trait harbored by Chief Outsiders, whose CEO, Art Saxby, prefers it this way. Said Saxby in Forbes: "We have decided to stay focused on what we know best and where we think we can offer the highest value."
About Chief Outsiders
Chief Outsiders, LLC is a nationwide "Executives-as-a-Service" firm, with more than 60 part-time, or fractional, Chief Marketing Officers (CMOs) engaged from coast-to-coast. Unlike other strategic marketing and management consulting firms, each CMO has held the position of VP Marketing or higher at one or more operating companies. Chief Outsiders have served on the executive team of over 700 client companies to drive growth strategy and execution plans for a fraction of the cost of a full-time executive.
Because of its market-based growth plans, quality of leadership, and experienced team, Chief Outsiders has been recognized for the past five years by Inc. Magazine as one of the 5,000 fastest growing privately held companies in the US, and was recognized in the Houston Business Journal's Fast 100. Chief Outsiders' CEO Art Saxby and Principal Pete Hayes are the co-authors of "The Growth Gears: Using a Market-Based Framework to Drive Business Success," an Amazon #1 best-seller for business owners and CEOs. For additional information about the companies who trust Chief Outsiders as their premier source for business growth acceleration, click here.