Business Schools See "Real-World" Value, Adopting Best-Selling Business Book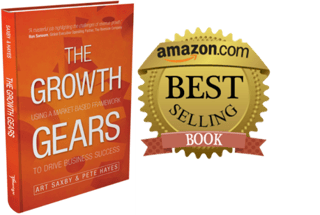 Austin, TX – August 31, 2017 – No one saw it coming – especially those managing inventory at Amazon. Yes, The Growth Gears™, a top selling book for senior business executives, became "Temporarily Out-of-Stock" yesterday at the world's largest online retailer.
Published in February 2016, the 224-page book by Chief Outsiders principals Art Saxby and Pete Hayes, has already been through a second press. And the third printing is underway. But apparently not in time. What's behind the surge in buying? Professor Leigh McAlister at The University of Texas, McCombs School of Business says, "I think that The Growth Gears is a demonstrably superior way to teach marketing…Believe it or not, textbooks never claim a link between marketing and growth. Second, though textbooks talk about insight, strategy, execution, they never emphasize the importance of having the three coordinated—that marketing's 'magic' doesn't work unless the steps are taken in the right order and with tight coordination." Professor McAlister has been promoting the book to her colleagues across the country, and it appears that in addition to classes at her campus, other universities have adopted as well.
Patti Boysen, president of publishing at Advantage Media Group, has confirmed inventory will be replenished quickly, and that students (and business executives) should keep ordering.
About The Growth Gears
Published in February of 2016, The Growth Gears: Using a Market-based Framework to Drive Success, has quickly become a best-seller for leaders of growth and mid-sized companies who find themselves too focused on running their businesses to grow them.
The book provides a simple framework as well as tools and action steps for identifying and adding these "gears" to give companies a set of repeatable behaviors and processes to fully capitalize on market potential. Pete and Art bring their decades of executive marketing experience, and their years of building a top national management consulting firm, to lead readers from insight to strategy to execution.
About Chief Outsiders
Chief Outsiders, LLC is a nationwide "Executives-as-a-Service" firm, with more than 55 part-time, or fractional, Chief Marketing Officers (CMOs) engaged from coast-to-coast. Unlike other strategic marketing and management consulting firms, each CMO has held the position of VP Marketing or higher at one or more operating companies. Chief Outsiders have served on the executive team of over 500 client companies to drive growth strategy and execution plans for a fraction of the cost of a full-time executive.
Because of its market-based growth plans, quality of leadership, and experienced team, Chief Outsiders has been recognized for the past four years by Inc. Magazine as one of the 5,000 fastest growing privately held companies in the US, and was recognized in the Houston Business Journal's Fast 100. Chief Outsiders' CEO Art Saxby and Principal Pete Hayes are the co-authors of "The Growth Gears: Using a Market-Based Framework to Drive Business Success," an Amazon #1 best-seller for business owners and CEOs. For additional information about the companies who trust Chief Outsiders as their premier source for business growth acceleration, click here.
Media Contacts
Christopher Ruth
Caliber Corporate Advisers
512.502.5833