Increasing demand for fractional Chief Marketing Officers within Private Equity spurs Chief Outsiders' 187% revenue growth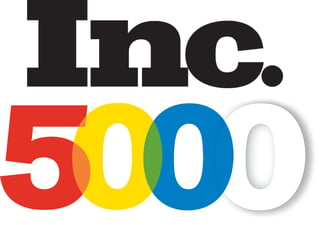 HOUSTON – August 23, 2017 – Chief Outsiders, an "Executives-as-a-Service" firm offering fractional Chief Marketing Officers (CMOs) to mid-sized companies across the nation, is featured on the Inc. 5000 2017 list as one of the country's fastest growing companies. This is the fourth consecutive year Chief Outsiders earned a place on the list, an accomplishment fewer than 10 percent of companies have achieved.
Chief Outsiders secured the No. 2003 ranking on this year's list by boasting nearly 190 percent in revenue growth between 2014 and 2016. CEO and founder Art Saxby attributed the company's growth to its rapid expansion in Private Equity (PE) – it recently doubled the number of PE-owned businesses it serves, making this the fastest growing segment of Chief Outsiders' client base.
"Our fractional CMOs bring hyper-focused expertise and efficiency to a portfolio company's management team, tackling the number one challenge faced by Private Equity Operating Partners – growing their businesses quickly and strategically," explained Saxby. "Chief Outsiders is currently working with more than two dozen PE firms, many of which rely on our 55 CMOs to develop strategies that will grow multiple portfolio companies. Our CMOs come with decades of experience representing some of the nation's largest companies – that combined with our broad understanding of PE-owned companies across 60 different industries ensures PE firms know their investments are in good hands."
For a complete list of the PE firms leveraging Chief Outsiders' fractional CMOs for their portfolio companies, click here. For Chief Outsiders' award-winning PE blog, click here.
Chief Outsiders first appeared on the Inc. 5000 in 2014, only five years after its inception. Its previous rankings include No. 560 (2014), No. 999 (2015), No. 3364 (2016) and No. 2003 (2017). To view the company's Inc. 5000 profile, click here.
"Our inclusion in the Inc. 5000 for the fourth year in a row is a testament to the stellar work our talented CMOs do for each and every client, from PE-owned businesses to mid-sized companies looking to grow at a fraction of the cost of a full-time CMO," said Saxby. "As our clients succeed, we succeed; as our clients grow, so do we."
To watch a video of Art Saxby discussing Chief Outsiders' business model with Inc.'s Alan Taylor, click here.
About Chief Outsiders
Chief Outsiders, LLC is a nationwide "Executives-as-a-Service" firm, with more than 55 part-time, or fractional, Chief Marketing Officers (CMOs) engaged from coast-to-coast. Unlike other strategic marketing and management consulting firms, each CMO has held the position of VP Marketing or higher at one or more operating companies. Chief Outsiders have served on the executive team of over 500 client companies to drive growth strategy and execution plans for a fraction of the cost of a full-time executive.
Because of its market-based growth plans, quality of leadership, and experienced team, Chief Outsiders has been recognized for the past four years by Inc. Magazine as one of the 5,000 fastest growing privately held companies in the US, and was recognized in the Houston Business Journal's Fast 100. Chief Outsiders' CEO Art Saxby and Principal Pete Hayes are the co-authors of "The Growth Gears: Using a Market-Based Framework to Drive Business Success," an Amazon #1 best-seller for business owners and CEOs. For additional information about the companies who trust Chief Outsiders as their premier source for business growth acceleration, click here.
More about Inc. and the Inc. 5000
Methodology
The 2017 Inc. 5000 is ranked according to percentage revenue growth when comparing 2013 to 2016. To qualify, companies must have been founded and generating revenue by March 31, 2013. They had to be U.S.-based, privately held, for profit, and independent—not subsidiaries or divisions of other companies—as of December 31, 2016. (Since then, a number of companies on the list have gone public or been acquired.) The minimum revenue required for 2013 is $100,000; the minimum for 2016 is $2 million. As always, Inc. reserves the right to decline applicants for subjective reasons. Companies on the Inc. 500 are featured in Inc.'s September issue. They represent the top tier of the Inc. 5000, which can be found at http://www.inc.com/inc5000.
About Inc. Media
Founded in 1979 and acquired in 2005 by Mansueto Ventures, Inc. is the only major brand dedicated exclusively to owners and managers of growing private companies, with the aim to deliver real solutions for today's innovative company builders. Winner of the National Magazine Award for General Excellence in both 2014 and 2012. Total monthly audience reach for the brand has grown significantly from 2,000,000 in 2010 to over 18,000,000 today. For more information, visit www.inc.com.
Media Contacts
Christopher Ruth
Leverage PR, A Caliber Corporate Advisers Company
512.502.5833
Morgan Sanders
Leverage PR, A Caliber Corporate Advisers Company
512.771.0523