I just finished reading several books that come at the changes in the marketing and sales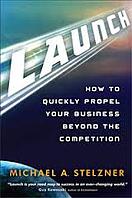 process from different perspectives. Launch by Michael Stelzner, discusses how to use social media to grow your brand and your business. It includes some very pragmatic tools and examples for the marketing crowd. I highly recommend it as a primer for anyone interested in how to optimize their social media efforts.
Sales Shift by Frank Belzer presents how the buying process has changed and how it will continue to evolve. Of particular interest is Belzer's discussion of why sales skills that have worked in the past will no longer be effective going forward.
When considering the combination of these two perspectives, the transformation of the commercialization process is significant.
Are you considering the following impacts on your business:
Your prospects have gathered 70 percent of their purchase and product information online before they contact you. In the face of this reality, how can you build a strong relationship during the information-gathering phase? Both Stelzner and Belzer would support supplying helpful, non-selling content that helps prospects understand available solutions and consider additional needs that they may not have yet thought of. Does your on-line literature provide a features listing, or does it describe how you help users solve problems?
In sequence, consumers trust their online peer groups, industry websites, and then your sales people for accurate information on applications and product performance. Being active in online discussions for focused vertical user groups can enhance your brand by highlighting both your responsiveness and understanding of the users applications. Is your share of voice on-line greater, or less than your desired market share?
The on-line world and the real world are creating strange bedfellows. Frequently firms we once viewed as competitors are now viewed as both competitors and partners. Are you working with your industry to maximize awareness and legitimacy for new standards and new technologies? Are you embracing co-opetition?
CRM products such as salesforce.com and Highrise can improve the effectiveness and collaboration of your lead management, inside sales and external outside sales force. Many firms are not yet leveraging inbound marketing tools to manage prospects through long lead-time sales cycles. Are you capturing prospects early in their information gathering cycle, and providing them with relevant information at a regular and appropriate interval? Are you providing webinars, newsletters or blog content that keeps you top of mind, without being a commercial?
Inbound marketing allows business leaders to establish a more direct relationship with prospective customers. An excellent example of this is Marcus Sheridan, who successfully used concepts similar to what Stelzner discusses to transform his swimming pool business. Marcus achieved this turn-around during the 2009 recession. Needless to say, it was not a great time to be selling pools! His TED talk captures the need for transparency in the new sales world. Are you building brand equity by highlighting the human side of your solutions?
The commercial process is rapidly evolving (and I haven't touched on big data in this blog!). Sheridan, Michael Stelzner and Frank Belzer may choose different starting points, but they all agree on where the target is.
How are you changing your processes and metrics? Have you read Launch, Sales Shift or Marcus's eBook Inbound and Content Marketing Made Easy?
What do you think of them?