With our CEO study from The University of Texas, McCombs School of Business now published, we're getting feedback from executives regarding the connection to our Demand Chain discussion. Excellent. These two subjects go together like peas and carrots.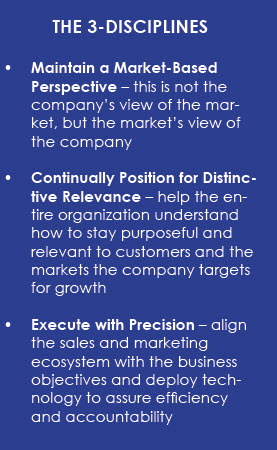 If you haven't pulled a copy of the research report, do so now by going HERE.
Also, you may want to read this article on The Demand Chain recently published by Texas CEO Magazine.
In short, the study confirms businesses grow faster when they are able to exhibit strengths in marketing disciplines. Our continuing discussion around Demand Chain optimization addresses this head on. How does one bring discipline, processes and operational efficiency to the demand side of the business? What expectations can CEOs have with regards to growth? Where will new opportunities come from? While the answers are non-trivial and specific to each business situation, we are gaining more and more confidence that "Big M" marketing (seeing marketing as considerably more than promotion and lead generation activities) is indeed a first step to maximizing growth opportunities.
I'd love to hear your thoughts on these topics. Is strategic marketing a discipline? Can operations-oriented companies become better marketers than market-oriented businesses?