What do you do when you want to try a new restaurant?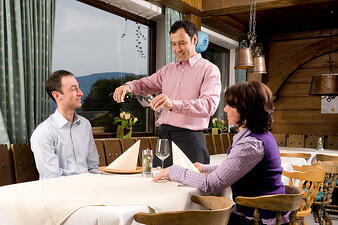 Well maybe not you in particular, but many people turn to Yelp. Yelp is a social site where members post reviews of local businesses where they eat, shop and go to for services. And many people read those reviews. In fact, Yahoo News reported that a 1/2 star change in reviews can increase customers in the restaurant by almost 20%.
The Power of Yelp
Michael Anderson and Jeremy Magruder report that on Yelp, "a user must assign a rating from 1 to 5 stars in whole-star increments. Yelp aggregates all reviews for a given business and displays the average rating prominently. However, when Yelp computes the average rating they round off to the nearest half-star. Two restaurants that have similar average ratings can thus appear to be of very different quality. For example, a restaurant with an average rating of 3.24 displays a 3-star average rating while a restaurant with an average rating of 3.26 displays a 3.5-star average rating."
And it is not just local businesses. People rate hotels on tripadvisor and books and appliances on Amazon. And those ratings make a difference!
I was recently asked to advise Biscuits & Bath, a company that specializes in dogs. They provide doggy day care, puppy training and socialization, grooming services, and dog products all over New York City. In the last six months, they have started an inbound marketing strategy. They are working to rank higher in some key words on Google, using some PPC ads, and trying various other ways to generate more clients from the web.
But Biscuits & Bath had a problem. Although most of their customers loved them, there were several negative reviews. They have fixed the problems but the reviews remain, one of the first things potential new clients see when they search.
So, what does a company do when there has been negative customer feedback?
Check the complaints out
Where did they come from?
What if they are untrue or unfair?
Respond Appropriately.
Next Steps
Check them out:
Read each review and ask yourself, could it possibly be a legitimate issue? Investigate and if it is real, fix the problem. If not, read on.
Where did they come from?
Bad reviews can come from legitimate customer complaints, as above. They can also come from customers who are illogical, emotional and reactive. They can come from disgruntled former employees. They can come from people who have a grudge against you. And they can come from competitors, hoping to steal a match on you.
What if they are untrue or unfair?
It doesn't matter. They are out there and must be dealt with. Don't get defensive or hostile. Take responsibility for them. Don't play a victim. Keep your cool.
Respond Appropriately
If you can post a reply, do so. Offer a simple, sincere apology for the misunderstanding or mistake. Do this regardless of whether you think you were at fault. Ask questions like, "Help me to understand what happened?" Make peace offerings. Sometimes the customer will take down or revise their comments, sometimes not. Always act professional. And if there is a place for a picture, put in a large, sincere-looking headshot. A picture of a real, concerned looking owner has a tremendous impact.
Remember
If you are going to start an inbound marketing campaign, one of the first steps is ensuring that when the potential customer finds you, he or she sees something that draws them in, not pushes them away! It can take time to increase your customer ratings, but it is well worth it.
Have any of you had experience like this? Please add any comments or ideas below: