Friends asked my husband and me to join them for a Jimmy Buffett concert recently near Dallas, Texas. Never in our wildest dreams did we think that over a span of a few hours we would escape to a tropical venue where we would be entertained while learning marketing tips from a barefoot guitarist on a stage singing about margaritas, cheeseburgers and shark fins. Jimmy Buffett's brand, inspired by his lyrics and lifestyle, has taken on a life of its own. I made it my mission to find out what Jimmy Buffett has done so right to grow a loyal fan base comprised of all sizes, shapes, ages and social economic classes. What I discovered during the course of observation and investigation, are the following five marketing tips.
1. Focus your strategy on a niche that plays to your strengths.
2. Build a brand that leaves a visual image in the mind of the customer.
3. Engage and listen to your target audience to grow loyal followers.
4. Establish partnerships that stay true to and enrich your brand.
5. Give back to the community in a way that complements your brand.
Keep reading if you want to know how these tips worked for Jimmy Buffett and how they can work for you.
1. Focus your strategy on a niche that plays to your strengths.
Al Ries, legendary positioning pioneer and one of the world's best-known marketing strategists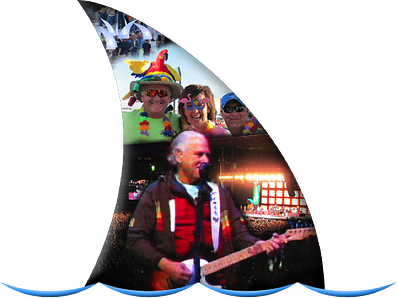 working for Fortune 500 companies, wrote many words of marketing wisdom in his book Focus. In my autographed book that I've read cover to cover annually for the last 16 years, much of what Ries writes supports why Jimmy Buffett's strategy and laser focus have made him so successful.
Although Jimmy Buffet has been a popular singer and songwriter for more than 40 years, he was not an overnight success. After graduating from the University of Southern Mississippi and working at what he calls his "only real job" as a correspondent for Billboard Magazine in Nashville, Buffet tried to make it as a country artist. He wasn't successful in the country music niche. Because the music industry wasn't going to look out for his best interest, Buffett learned that he needed business skills to look out for himself. He left Nashville in 1971 and headed to the tropical paradise of Key West where he developed his easy going beach bum persona for which he is known and loved. He narrowed his niche to what some call "gulf western" and others call "tropical rock" music. Whatever you call it, Jimmy Buffett owns the niche.
The act of Buffett narrowing his focus from country western to gulf western increased his brand from an unknown to one of the best known.
2. Build a brand that leaves a visual image in the mind of the customer.
You can build a more memorable and powerful brand if your target market forms a visual image of your brand in their minds. I'm talking about much more than a logo. When I think of Jimmy Buffett, I will forever have emblazoned in my mind a visual of laid back people of all walks of life being themselves, singing, wearing clothes that would look silly anywhere else and enjoying themselves on a tropical retreat.
What visual image does your company convey?
3. Engage and listen to your target audience to create loyal followers.
Before email and social media, Jimmy Buffett created a marketing movement that has grown his wealth to an estimated income of over $100 million annually. Buffett created a dominant brand by interacting with fans before and during his concerts and giving them the experience they wanted. In response to the experience he provided, the audience started dressing like him and organized themselves as Parrot Heads. Imagine how much faster he would have grown his base with a digital word-of-mouth platform from the beginning.
I sat at my first Jimmy Buffet concert with my husband and two friends all adorned with Hawaiian leis (thanks to one friend who knew more about the tropical phenomena that was about to unfold than the rest of us). I watched in amusement as the open air stadium filled with devoted fans wearing parrot, cheeseburger and fin hats. Beach balls were bounced all around us by fans wearing hula skirts and coconuts. Pirates and land sharks joined in the action.
By the time Jimmy Buffett took the stage in his Hawaiian shirt, brightly colored shorts and bare feet, the mood was set, and we had all escaped with him to the Tropics. Although he has given hundreds of concerts, he seemed genuinely happy to be performing for us. This concert, which had sold out in a matter of minutes, was a hit.
4. Establish partnerships that stay true to and enrich your brand.
Partner with leaders in your space who will promote your brand in the same image you've built. Three examples of Buffett's partnerships are listed, and note that they all form the same tropical Buffet visual in the mind of the customer.
Buffett partnered with Anheuser-Busch brewing company to produce his beer under the Margaritaville Brewing label called Land Shark Lager, an island style lager. Sun Life Stadium, formerly Dolphin Stadium, home of the Miami Dolphins was renamed Land Shark Stadium for 2009. Jimmy Buffet rewrote the lyrics to his popular song "Fins" and played it during the home games.
Buffett has two restaurant chains named after two of his best known songs, "Cheeseburger in Paradise" and "Margaritaville." He co-developed the Cheeseburger in Paradise restaurant concept with OSI Restaurant Partners (parent of Outback Steakhouse), which operates the chain under a licensing agreement with Buffett. His Margaritaville Café restaurant chain featuring casual dining and Buffett-themed merchandise is owned by Buffett's Margaritaville Holdings LLC.
Buffett is partnering with Wyndham Vacation Ownership to build the first Margaritaville Vacation Club in St. Thomas at the site of the abandoned Renaissance Grand Beach Resort beginning in July of 2013. At the reception with Wyndham's CEO and others, Buffett kicked off his flip flops and sang some tunes. Originally, Buffett sailed to St. Thomas, where he lived about a year, on his first sailboat that he bought with the money he made from his first album. Buffett, who is known for retaining staff, reserved some of the time-share units for his band and tour personnel to vacation.
5. Give back to the community in a way that complements your brand.
Promoting a cause can help others in need while promoting your company or product. Buffett has used proceeds to fund many charities. One of Buffett's largest cause events involves Land Shark Lager partnering with Ocean Conservancy in support of the organization's Land Shark Fin-Tastic Voyage that includes months of cleaning up coastlines, rivers and lakefronts around the world. The voyage culminates with an International Coastal Cleanup Day, the largest annual volunteer effort for the ocean with more than 500,000 volunteers. In addition to clearing trash, there are paddle boarding races, cocktail tastings, giveaways and music. A portion of the Land Shark sales are donated to the cause, and the Land Shark volunteers are always first in line to help support the cause. Fins Up for Trash Free Seas!
How Do You Measure Success
By any measure, Jimmy Buffett's business strategy of focusing on a niche, listening to the customers, giving the customers what they want and giving back to the community that supports you has been a huge success. According to Celebrity Net Worth's report, Jimmy Buffett, with $400 million, is the third wealthiest lead singer in the world. Only Paul McCartney and Bono are worth more. On their wealthiest rock star list, Buffett was fifth behind three Beatles and Bono.
My Take Away
It is clear that Buffet is selling what his customers want. His product is an event, and he is part of the package. I paid to attend a concert with my husband and friends. I left with a priceless lesson in marketing, great photos and a smile on my face. And I'll buy tickets (and more outrageous tropical wear) for the next Dallas concert.