Lessons from UPS, Campbell's Soup, Amazon, and Others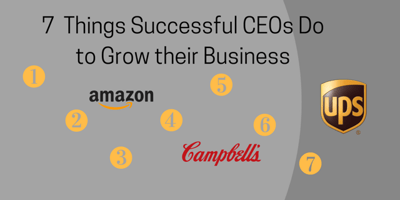 In today's fast-paced world, it's easy for CEOs and other executives to get mired in day-to-day fire-fighting, only to find that growth has stalled. Below are 7 things successful CEOs from companies big and small do to build momentum, create and keep a strong culture, and grow their business.
Maintain market awareness. Sounds logical, right? Unfortunately, many CEOs -- especially those who come from an operations or finance background --excel at optimizing internal operations and cost containment. This internal focus often results in not fully understanding their market from the viewpoint of customers, competitors and even company.

So how can you ensure you don't fall in to the heads-down-on-operations trap and lose sight of the market? Consider utilizing resources and tools for market analysis such as conducting a SWOT analysis (Strengths, Weaknesses, Opportunities and Threats) on not only your company, but also your competitors. See An Essential Guide to SWOT Analysis, published by Columbia University which uses Uber and Lyft as examples and also provides useful templates.

Consider joining industry associations that conduct and publish research and host educational events. If possible, get to know important industry analysts and subscribe to their report services. Often, an external resource can provide more objectivity than internal people.
Share the vision widely. Too often, I've witnessed top execs make big, bold statements about the future of the company, but fail to help employees understand what part they will play in getting there.

Great leaders ensure that their executive and management teams not only work together to define the path to achieving the vision, but communicate and engage their team members in understanding and executing on that vision. In addition, company leaders, led by the CEO, must share progress towards achieving-- as well as any changes in -- the vision. Engaged and informed employees are essential to retention and growth. This letter from Linkedin CEO, Jeff Weiner, to employees regarding the acquisition of Linkedin by Microsoft is an excellent example of vision sharing. In this letter, Weiner also provides specific examples of my first point regarding market awareness.


Embrace technology. From driving efficiency through automation, to delivering a best-in-class customer experience, technology is critical to being a market leader today. Embracing technology does not mean jumping to implement the latest "hot" tech du jour such as social media, cloud, IoT, gamification, data analytics, or mobile.

Rather, it's important for CEOs to be aware of, and understand how new technologies might impact or give advantage to their business. Where the investment is significant, a CEO and their CIO/CTO may benefit by gaining perspective from outside experts such as technology analysts. These experts research and evaluate new technologies and are a great source for learning about new, disruptive technologies on the horizon.

By being technology aware, the CEO and their team can make the better decisions for investments in technology. Read a CIO's perspective of the importance of CEOs embracing technology, published in CIO Magazine.
Make decisions and be willing to say "no." In a growing company, the CEO will always face a plethora of ideas and competing priorities, along with limits on capital -- both human, and financial. To keep the company growing, the leader must make timely decisions. Why? Because uncertainty causes anxiety among employees and delays can result in loss of competitive advantage.

Sometimes the best decision is not to do something. If the potential benefits of the project, acquisition or other decision do not justify the cost, the CEO should question whether it is really an important undertaking.

One way to make decisions in key areas is to set criteria up front. For example, when I was running a small company we had limited resources for technical development. To ensure that we prioritized our IT projects most effectively, I worked with my executive team to determine what the potential benefits were of technology investments. In our case, we set the following criteria:
Drives revenue
Fixes a problem
Provides better customer experience
Builds awareness
Reduces cost/Increases Profit
Improves quality
By establishing clear criteria and balancing time and cost with benefit, we made decisions more quickly and objectively. Taking some of the subjectivity out makes it easier to say "no" when appropriate.
Be Flexible. I once heard the Chairman of a Board of Directors describe the company's CEO as a "benevolent dictator." Sadly, this nickname was an apt description. This CEO was very stubborn and closed off to other's ideas. His leadership approach was not empowering and resulted in frustrated employees and turnover, in addition to a negative impact on financial results.

Jeff Bezos, CEO of Amazon describes his approach as "stubbornly flexible. In a Forbes article

, he says,

"We are stubborn on vision. We are flexible on details…. We don't give up on things easily. Our third-party seller business is an example of that. It took us three tries to get the third-party seller business to work. We didn't give up."

Knowing went to be flexible and when to stand your ground is a critical skill of leaders.
Listen more and talk less. A CEO will hear more and learn more if others know that he or she is open to input. After all, as a company grows, it's likely that the CEO will be more removed from both customers and employees. Welcoming input and valuing what others say is, quite simply, the right thing to do to ensure that the leader knows what's going on in the company and the market. Active listening also helps the CEO build trust with their team.

David Abney, Chairman and CEO of UPS talks about his "listening tour" in this video from CNN. In addition to hearing his views in the video on why listening is so important, I found the comment by an employee below this article positive validation of the impact of listening on employee morale.


Be respectful and appreciative. Strong leaders and treat people well. The old "command and control" style of leadership just does not work anymore, especially with Millennials. Good employees are more likely to stay at a company when they feel that their leader respects them and appreciates them. Study after study shows that employees value recognition and appreciation more than money.

So, celebrate successes and learn from failures, without feeling the need to place blame. I remember our first day hitting $100,000 in revenue at OfficeDepot.com. We had a spontaneous office party. I'll never forget that day and chances are, neither will the rest of the team.

Not convinced? Harvard Business review conducted a study that showed that when employees feel respected by their leaders, not only are they more satisfied, they stay longer. In this article, the author shares a tidbit about Doug Conant, former CEO of Campbell's Soup sending more than 30,000 notes to employees to thank them.

What are things that you've seen great CEOS do? I welcome a dialog. And if you are a CEO looking to grow and want an outside thinker to work with your team, let's have a conversation.