Seasoned consumer packaged goods (CPG) executives—with more than 25 years of experience—probably think of the 1990s, or earlier, as "the good old days." Why? Because for them, life was much simpler. There were far fewer outlets for advertising and distribution.
Think about it. From an advertising standpoint, the three broadcast networks still ruled. The handful of cable channels available did not even carry ads. There were newspapers and magazines in which to advertise and place coupons. On radio, there were a handful of local stations from which to choose. Websites were nascent. And direct mail was alive and well.
From a distribution standpoint, there were grocery stores, a few big box retailers and, for some categories, "drug stores" like Walgreens.
While big changes happened during the first two decades of the new millennium, Covid advanced some trends by five years in a single year or two. In a matter of days, consumers stopped shopping in stores and moved it online. So what's a brand manager to do in this brave new world? We'll get to that in a bit, but first, let's take a look at the changing marketing and distribution landscape.
Proliferation and Fragmentation of Media or This Ain't Your Father's TV
Cord-free TV
Fast forward to 2022. Broadcast is largely seen as a dinosaur and OTT (over the top) TV and streaming rules. In addition to YouTube, there are new platforms coming online constantly (hello Disney+, Hulu, Netflix, Peacock, etc.) -- some of which offer advertising opportunities. Other new forms of media, such as e-sports (Twitch), further divide the audience into granular segments. How big is this shift? Just look at the rapid abandonment of traditional cable.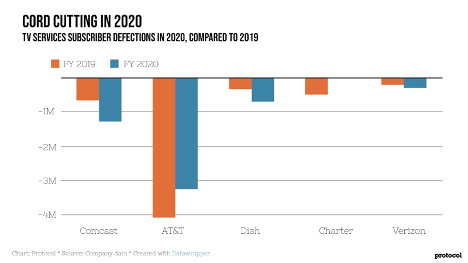 Boundaryless Radio Abounds
Never have there been more options for reaching consumers' ears! On Internet audio platforms, consumers can choose ad-free subscription services such as Pandora and Spotify or stream stations, programs, or podcasts from all over the world. With podcasts, the advertising is typically in an endorsement type format where the host is promoting the product or service as part of the entertainment value of the program. As an example, check out Malcolm Gladwell's Revisionist History podcast where he humorously acts out some of the scripts.
With Internet-based audio offerings, consumers have more choice than ever. For CPG marketers the opportunities for greater targeting come with challenges in reaching scale.
From Dead Trees to Bits and Bytes
And then there is the changing face of print. Some of the most iconic magazines of the past are no longer in print. Newsweek ceased print publication nearly a decade ago and Oprah Winfrey's popular "O" magazine abruptly discontinued its print issues in 2020.
As the chart below shows, magazine behemoth Meredith Corporation - publisher of popular magazines such as People, Food and Wine, and Time -- witnessed 31% growth in digital advertising from 2020 to 2021 while print ad sales declined by 23%. Digital ad sales now exceed print.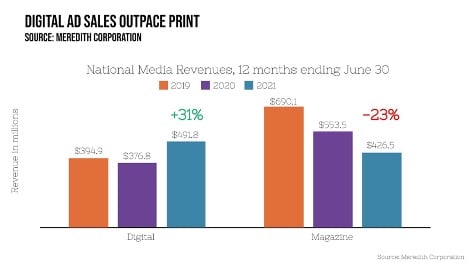 Beyond traditional print pubs that have moved online, the options continue to explode. Sites like Gwyneth Paltrow's Goop offer CPG companies highly targeted audiences. However, the overwhelming number of possible advertising venues make a brand manager's head spin. And again, with fragmentation comes the challenge of achieving the volume needed to build enough awareness.
Discounts Abound
As print continues to shift to digital, couponing is alive and well in full force. There are multiple sites focused just on coupons such as couponmom.com. Other discount-oriented sites such as retailmenot.com and Rakuten.com offer upfront discounts and post-purchase rebates. In addition, online retailers will often offer their own discounts, which can shift where consumers buy products and the margin realized by CPG companies. Also, publishers, such as Marketing Brew and The Skimm, offer discounts for readers on specific items. These discounts appear to the user more as endorsements and sponsorships vs. more overt advertising.
But the rapid shift to digital goes well beyond advertising and promotion. A 90s brand manager would not even recognize the new distribution landscape. From digital pure plays to a big box retailer getting in the game, the way products get to consumers is completely different.
Distribution: From Shelf Space to Screen Space
In addition to the continued growth of big box retailers such as Walmart and Target, warehouse clubs like Costco and BJ's became the holy grail of distribution for consumer products companies in the late 90s. While these companies are tough negotiators on price, the volume they drive can mean explosive growth for a brand.
In the early 2000s, several companies such as WebVan and Peapod attempted to build a business by stocking warehouses and delivering groceries from those storage facilities. And while Peapod never made it as a standalone company, its purchase by Royal Ahold enabled it to stay alive and slowly grow. Interestingly, the company shuttered its Midwest delivery in February of 2020, just before Covid led to an explosion in home delivery.
Without a doubt, the biggest driving force behind home delivery is Amazon. With an extensive distribution network, Amazon has set the bar for fast delivery. By partnering with the likes of UPS and creating the Amazon Delivery Service Partner Program, the Amazon ecosystem now dominates large-scale package delivery.
In addition to Amazon, major (Walmart) and minor retailers offer home delivery, most with the promise of same day arrival. COVID was a driving force in the explosive growth of companies like Instacart. According to eMarketer, 54% of people tried grocery delivery for the first time during COVID. Many plan to continue using it. In fact, eMarketer expects online grocery sales to reach $100 billion in 2021, making up 12% of all online sales.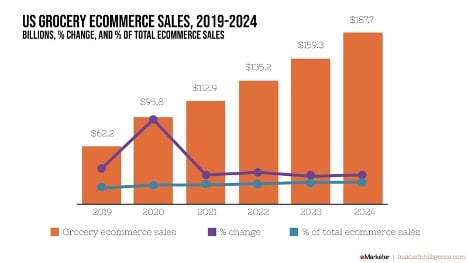 Covid Rapidly Drove Consumers to Buy CPG Products Online
Nearly 80% of consumers surveyed by Supermarket News have bought groceries online since the pandemic began. And leading trend researchers such as Statista expects CPG sales online to continue to grow, reaching 10% by 2022.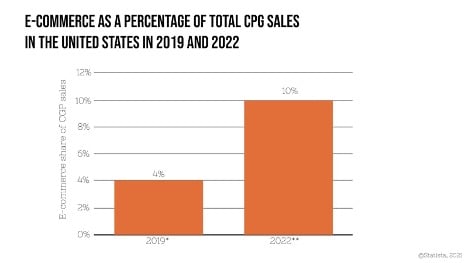 So What's a CPG Brand Manager to Do?
With so many choices in media types and outlets and distribution channels, Brand Managers must experiment in order to optimize margin dollars. Channels that offer high volume may require significant discounting. Smaller channels may not be able to deliver the volume. One thing for sure is that there is no silver bullet.
The most successful Brand Managers will adhere to a few simple rules:
Try one thing and execute well - for smaller brands without a large team, focus is even more important. The best idea in the world, implemented poorly, will fail. Research is critical to understanding the consumer and what drives their purchase. Start with clear personas which include a ranking of purchase drivers.
Differentiate on benefits - price is not a sustainable differentiator. Delivering real value that matters to the customer can be. One need look no further than Amazon Prime to see this.
Know how you're going to measure it - at the end of the day, brand managers' number one goal is to drive net margin dollars. To do so, they must be able to track the movement of goods and the costs involved. Gross price can impact brand value perceptions, but so can discounting and poor delivery experiences. Measuring sales volume along with net realized margin is the topline analysis required. Many other metrics such as inventory turns, repeat orders, etc., will further identify opportunities for expansion as well as things to abandon.
Leverage and Test Seller's promo options (online, in store) - promotional opportunities vary across channels from sponsorship to coupons to display ads and beyond. Understanding what's available before signing on is a must.
Bottom-Line
While things were certainly simpler for brand managers in the 90s, the proliferation of promotional tools and distribution channels available today offer some valuable advantages. The ability to quickly test, measure and refine marketing approaches can lead to greater targeting abilities and efficiencies. Brand managers must understand the media preferences of consumers and the economics, opportunities and pitfalls of various channels.
Chandler Mount is a certified insights professional and CEO of Affluent Consumer Research Company, a survey research and analytics practice located in Silver Spring, MD. His expertise is in study design and methodology, survey data analysis, and advanced data analytics. www.researchtheaffluent.com.