According to Accenture, the business costs of poor customer experiences can be as much as $1.6 Trillion from U.S. consumers who switch their service to a different brand or service provider. However, CEOs and companies who demonstrate a continuous pursuit of excellence in customer experience reap not only long-term customer loyalty, but also positively impact revenue growth. Tony Hsieh, CEO of Zappos, enjoys sharing the story in his bestselling book [Delivering Happiness: A Path to Profits, Passion and Purpose] about a client of his who wanted pizza late at night even though hotel room service was closed. Hsieh challenged his client to call Zappos customer service for his order even though it's a fashion retailer – and, thanks to his customer service staff, pizza was delivered at 2AM.
Nordstrom, Neiman Marcus and Chick-fil-A are consistently recognized as delivering the best Customer Experience (CX) year after year. Yet more importantly, data driven and market-based research has shown that improving customer experience is directly linked to business outcomes: higher revenue growth and lower costs. McKinsey insights found that, on average, brands that improve CX:
Increase revenue 10-15% and
Lower costs 15-20%.
What is Customer Experience? The sum of all the interactions (feelings, emotions, perceptions) that a customer has with a company over the course of the relationship lifecycle.
Customers now experience the brand from website searches to e-commerce to mobile apps and in-store experiences. CX has become the new marketing. The infographic below cites 5 Ways Customer Experience Can Impact Sales Growth. Whether a company is B2B or B2C, marketing continues to shift its focus from advertising and awareness to experiential marketing: impacting the online and off-line customer journey. Paying attention to the Voice of Customer has a direct ROI for improving the Lifetime Value of a Customer, lowering the Cost of Acquisition and enabling a brand to differentiate itself from the competition. To download the infographic, click here.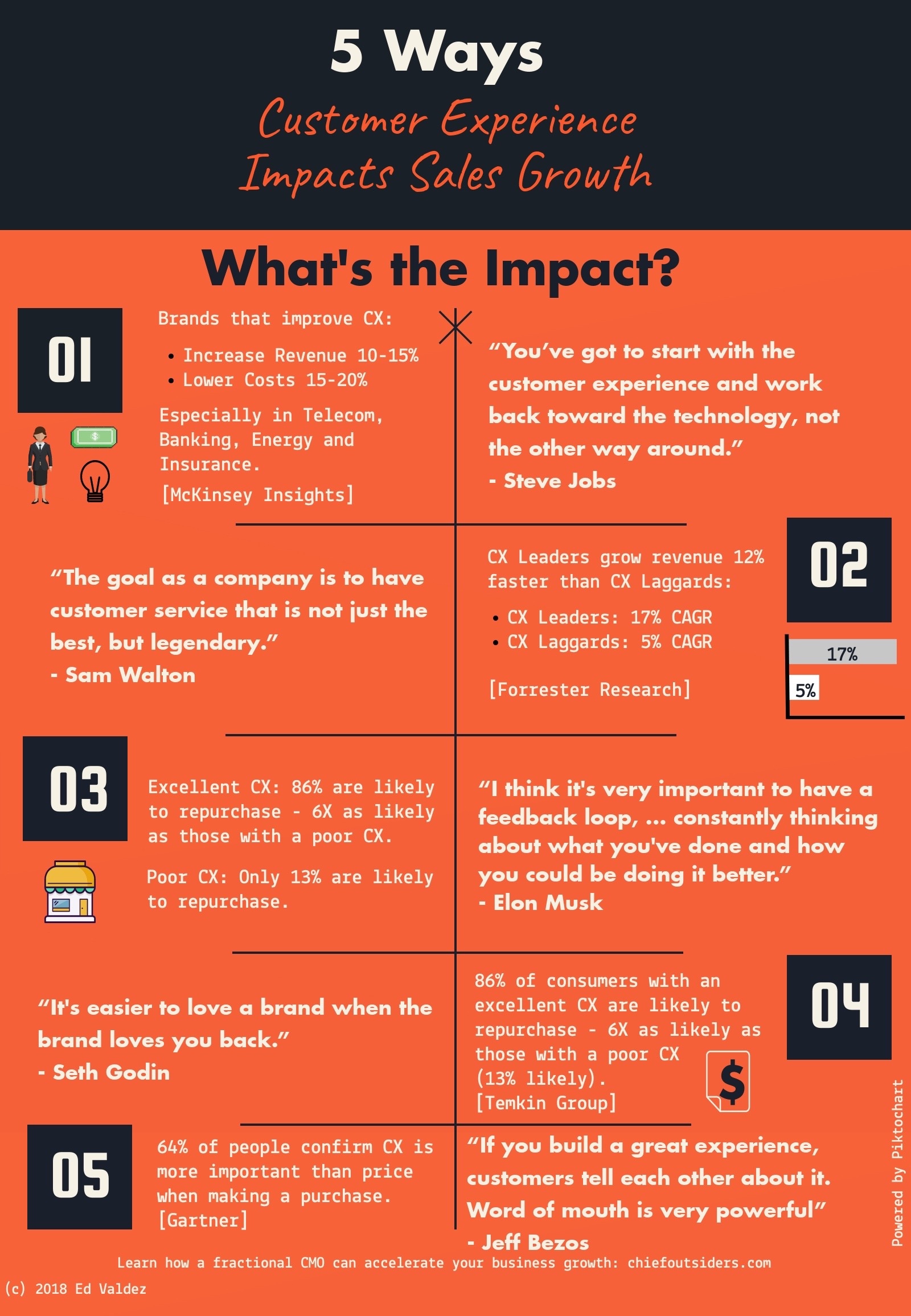 Chief Outsiders has a number of CMOs who specialize in mapping a customer journey (B2B or B2C) across a wide range of vertical markets, optimizing customer experience and developing a strategy and implementation roadmap that will accelerate the growth for B2B and B2C companies. For more information about how a fractional CMO can help your CEOs execute their company vision, work along side of your executive staff and accelerate your growth, contact us here.