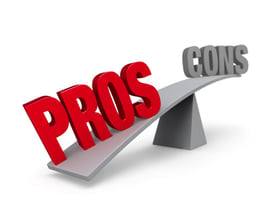 To gain competitive advantage, enter a new market or accelerate sales, companies often look to hire (or replace) senior level marketing talent. Finding the right person can take time a lot of time in terms of resources – search, interviews, salary negotiations and onboarding. Once hired, it can take some time for a new executive to get up to speed and start to deliver a positive ROI to the company.
Of course, during this time, the market doesn't wait for you to get your marketing house in order. The world continues to keep spinning with new trends, technologies and opportunities emerging almost daily.
Many small to mid-sized companies recognize the need to move quickly -- to find that amazing resource to help them stay and remain competitive – but they also struggle with the costs and commitment. This is where a part-time or fractional Chief Marketing Officer (CMO) can be the ideal solution without breaking the bank.
Chief Outsiders, a provider of C-level marketing talent on an as needed basis, is built on the premise that you don't have to be a big company to access great talent or make a major investment for a full time executive hire. Offering small to mid-sized growth minded companies access to a team of experienced, top-level executive marketing resources can offer the best of both worlds.
Thanks to this "rent-instead-of-buy" value proposition that ensures the right resource for the job, Chief Outsiders ranked 999 among the Inc. 5000 fastest-growing companies in America, with explosive growth over the past five years.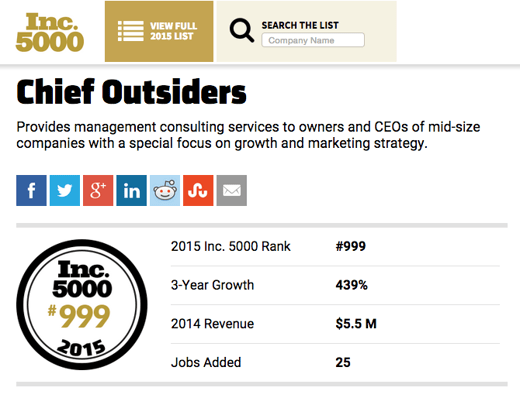 Companies that have joined forces with Chief Outsiders to deal with marketing and growth related issues, cite a host of reasons for the success of the partnership.
1. Blue-Chip Experience: Chief Outsiders offers marketing Executives-as-a-Service from senior level talent – a "who's who" of the marketing world's most effective executives. These are not career consultants, but leaders who have been there, done that and succeeded as an integral part of the executive teams of some of the world's most revered companies. These are people who know how to build company vision and pull together a tactical plan. Chief Outsiders are adept at quickly delivering positive impact in the short term while laying the groundwork for a sustainable growth strategy.
2. Blue-Plate Pricing: Get the energy, personal attention and accountability of an elite class of marketers for a smaller investment – about half of the average cost of a full-time CMO, according to our own proprietary research. A chart that compares the two models is below.
| | | |
| --- | --- | --- |
| Cost Considerations | Full Time Hire | Executive-as-a-Service |
| Insurance – heath, unemployment, disability | YES | NO |
| Bonuses, 401k, company paid payroll taxes | YES | NO |
| Company equity or stock | YES | NO |
| Retention and severance packages | YES | NO |
| Administration - HR, onboarding | YES | NO |
| Ongoing training and education | YES | NO |
| Real estate (office) - furniture, supplies, utilities | YES | NO |
| Dues, memberships, books, subscriptions | YES | NO |
| T&E, conferences and trade shows | YES | NO |
| Hardware & Software – tablet, laptop, mobile, licenses | YES | NO |
| Vacation and holidays | YES | NO |
3. Through One, Many: Though you'll have one interim CMO reporting for duty, he or she is backed by the collective strength of a network of 40-plus marketing experts who collaborate through Chief Outsiders. Their ideas, experiences and opinions are aggregated to ensure the best results as well as reduce risk and assures availability for clients.
4. Peer Reviews: A critical difference at Chief Outsiders is the idea of taking collaboration to the next step – in the form of a peer review process, where your interim CMO brainstorms, hypothesizes and tests your marketing challenges with the Chief Outsider CMO team. This validated approach brings forth new ideas and suggestions and benefits from the expansive network that each CMO totes with them. Virtually priceless.
5. Continual Learning: Chief Outsiders has a dynamic, ever-evolving library of case studies, best practices and research that provides perspectives on actionable strategies for today, and fuel for tomorrow's ROI goals. Chief Outsiders' CMOs continuously sharpen their skills in order to stay current in the digital area.
6. Your Brand, Actualized: A neutral, yet dedicated, interim chief marketing resource can help you to see your brand and its promise through a different lens – offering a variety of unique insights and understanding that we often miss when we are "too close" to the matter. "Outsider" CMOs will ensure that your brand truly is differentiating, acting as the foundation for accelerated growth.
7. Surveying the Landscape: Free to roam the marketplace, an interim CMO arrives much like an explorer would – wizened from the journey and toting perspectives on what consumers are looking for in the here and now. This insight becomes invaluable when a company is trying to conquer new markets, identify high value segments, and provide a marketing mindset that delivers exactly what the consumer is after.
It is this worldview that added great value to Mainstreet America, a fledgling home improvement concept that sought to revolutionize the way consumers shop for home décor, accessories and remodeling options. Feeling challenged about how to convey such a unique and untested concept to its prospective consumer base, Mainstreet America CEO, Mike Feigin, tapped the experts at Chief Outsiders for quick, assertive and actionable marketing insights and strategies. Feigin describes the process in the following video clip:
Why Mainstreet America Tapped Chief Outsiders
When you decide it is time to add talent to develop a marketing strategy for a competitive advantage, enter a new market, rejuvenate sales – or just get more from your marketing efforts, think Chief Outsiders' Executive-as-a-Service. It may be the best and most efficient path to reach your goals.