Interest rates are low. Vaccinations are high. And for the first time in more than a year, we can see the bottom of the faces of our friends and loved ones.
Indeed, optimism is abounding these days, and if you are a business owner, you're likely straining at the reins to get back out there and reap the rewards. As a marketing executive, I know that feeling – it seems that dollar bills can be plucked out of the air, and you want to reach up and grab your bounty.
In good times and in bad, the fundamentals never change: Ready-Fire-Aim never works, and, as it has been said, execution, without strategy, is aimless. At Chief Outsiders, we have a time-honored recipe that we have employed hundreds of times to help businesses like yours become more market-focused while accelerating their growth.
For the unfamiliar, our "Growth Gears" include:
Make sure the company gains and leverages insights about the company itself, the customer, and the competition.
Using the knowledge in the first gear, companies can create and maintain an informed strategy around their market, offerings, and positioning.
Once you have the right strategy, the final gear is about executing the strategy utilizing the right resources, tactics, and metrics.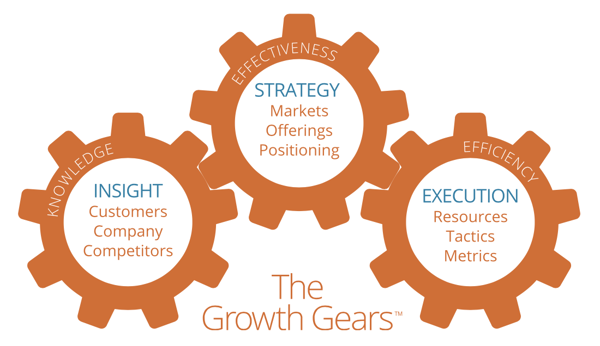 Now, you'll notice that there's a sequence to our gears, and that's deliberate – without the insights gear, you can't put the other two in motion. That's why before you start throwing around marketing dollars, now, it's more important than ever to re-visit your companies' "Insights Gear." It's here where we gain the understanding of how our customers, competition, and company have changed; what types of messaging, value propositions, and positioning will resonate with the right people; and how you use these insights as a foundation for success in today's new environment.
So how do you employ the Insights gear to your advantage? Here are four questions that a good insights-gathering process will answer in order to position your enterprise for success:
Who are your Customers?
This question is an important first step – it will help us to determine whether our target customer, or persona, has changed since the days before the pandemic. As an example, in the non-profit industry, there were many layoffs during 2020 as a result of the impact of COVID-19. So now, post COVID-19 with fewer people in these organizations they are wearing several hats and doing multiple jobs. So, if you're trying to sell to them, clearly the "persona" has changed. So, too, should your messages change to ensure they're in lockstep with their current needs and challenges.


How has your competitive landscape changed?
You can assume that your competitors are also making changes to reflect market shifts, post-COVID-19. So, you need to take a new look at your competitors and to make certain the strengths of your company clearly reflect the differentiation in your messaging, value proposition and go-to-market strategies.


What are your customers current motivation to buy?
Have their needs and/or priorities changed? What is the new messaging framework and value proposition that will be most appealing to each of your new target personas? This is where you take a fresh look at your customers priorities, how your competitors are perceived, and what your company's view should reflect. These all need to be incorporated into your new value proposition.

If we use the nonprofit industry example again, the reduction in the workforce led people to look for ways to automate functions that previously were manual. Therefore, technology now has a much larger role to play in filling gaps and letting them do more with less. So, for example, if your offering is a technology solution, messages focused on efficiency might get their attention.


What is your customer's decision-making process for purchasing?


Is your customer buying differently than before? Recent research from

McKinsey

indicates that B2B buyers now have a preference for self-service and are doing most of the pre-buying research online prior to engaging with a company and the expectation is that this trend will continue for at least the next 12+ months. This has elevated the importance of strategies that increase digitizing go-to-market models which should provide a

competitive advantage in the form of more—and more loyal—customers than their slower-moving peers.

Gartner has similar data and has also modified the B2B buying journey to take this into account.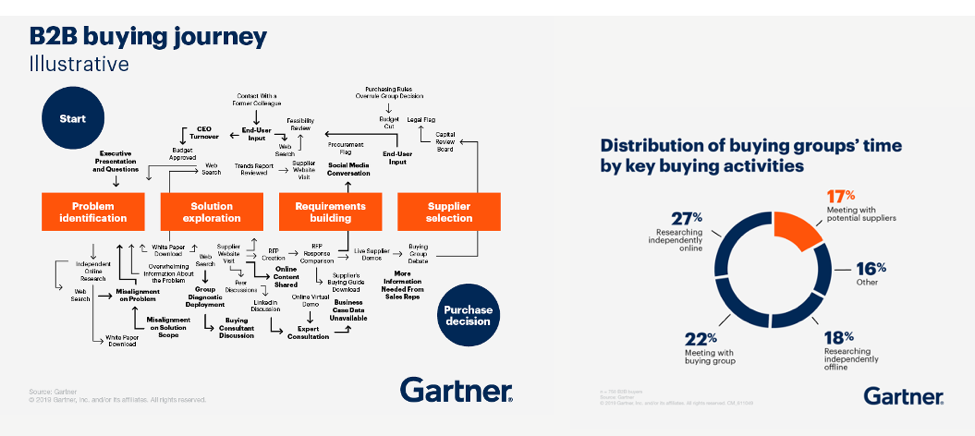 It's only after you're armed with the answers to these questions that you're ready to look at the "Strategy Gear." All businesses should undertake a process like this to immediately identify what changes might have occurred that will have an impact on their strategy and execution. With those insights, you can formulate the best possible strategies and plans to ensure accelerated growth.
To learn more about how you can get an assessment contact:
Dana Prestigiacomo at Chief Outsiders
dprestigiacomo@chiefoutsiders.com