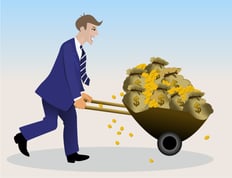 In my previous blog, I identified some of signs of "Business Malaise" that could signal a growing disconnect between the business vision and the company's growth goals. And as noted, when you consider the competitive pressures wrought by the hyper-charged business universe, early indicators of corporate distress are best addressed sooner than later.
Many small and mid-sized companies face this situation – desperately in need of skilled marketing expertise – but believing that they lack the resources to procure it. That is why I am devoting this post to explore a new option – the Marketing Executive-as-a-Service.
Executive-as-a-Service
Think of Executive-as-a-Service as "C-level expertise on demand," where you pay as you go - for what you need - without pricey search fees, long-term contracts and/or commitments. Actually, the concept of "hiring" just the amount of executive talent you need is not all that new. A little over 20 years ago, John and Doug Tatum founded a professional services firm, Tatum, which would become synonymous with fractional chief financial officers (CFOs). Their part-time executives would join companies that could not justify a full-time CFO. Over time, Tatum grew to offer chief information officers (CIOs), chief operating officers (COOs), and other "CXOs".
The role of a Chief Marketing Officer (CMO) provides a market-based perspective that serves as the foundation for accelerated revenue and growth. Here are nine compelling reasons why you may want to consider using "Marketing Executive-as-a-Service." It could be just the catalyst you need to jump-start your company's growth.
Faster results: An experienced marketing executive does not need formal onboarding or extensive policy training. Their training and experiences will add value quickly.
An understanding of the whole picture: A fractional executive is like a marketing "bundle" – a self-contained package of strategy, project management and execution with the knowledge, tools and resources to get positive results.
Power in Numbers: Companies that provide Executive-as-a-Service may offer clients the power of "many" with a peer review service. This is when your part-time executive works with their colleagues to validate prescribed strategies and solutions.
Keeping to the budget: A hired consultant can't go over budget without approvals.

End of story.
Less political maneuvering and more action: An "Executive-as-a-Service" is the "Switzerland" of your company. They do not get entrenched in politics, and find it easier to step back and provide an unbiased view of issues.
Documented deliverables: The deliverables will be part of the agreement, and you pay for what you get – not what you hope to get.
Real return on your investment: An executive level marketer will ensure that measurements and analytical reports are set so that results for each program or initiative can be measured - both individually, and as an aggregate.
Current on technology and tactics: A marketing executive who understands the latest technologies and tools will offer you the faster, bigger, better and cheaper path to growth.
A fresh perspective: CEOs and their team are often too close to the business to see what a different set of eyes can detect. An outside expert can often spot root causes and issues that may not be apparent to insiders.
And the 10th and bonus reason that you should consider a "Marketing-Executive-as-a-Service" – you get to keep more of your money. Sometimes CEOs and CFOs are under the impression that hiring a full-time CMO is more cost effective than engaging the services of an outside advisor. Not necessarily true and here's why.
Cost Considerations of Hire vs. Contract
When you look beyond a simple "hourly-rate" comparison of the two models, and factor in the often overlooked costs associated with a full-time executive hire, you can see that contracting outside services can really be a cost savings. Typically, the overlooked costs of a full time hire include:
Benefits

Health insurance, unemployment, disability
401k and Executive Compensation
Payroll taxes paid by company
Company Equity or Stock
Vacation and holidays

Administration - HR, onboarding, training and education
Retention and Severance Packages
Travel and entertainment
Conferences and trade shows
Real estate (office)

Furniture, supplies, computer hardware and software
Utility and resource usage

Books, subscriptions, memberships
Change is accelerating at an accelerating rate, and survival today requires the ability to make informed decisions - quickly. Since time is a fixed resource, it needs to be managed with the same vigilance as hard dollars. When making choices, do not forget that lost time is a real cost. And, who knows? After some great marketing results, you just might be in a position to hire that full-time CMO!
Consider using the "executive-as-a-service" approach as a fast and cost-effective way to recharge marketing for your company. What is the cost if you don't act?