The Expanding Role of Digital Healthcare Marketing - The role of digital marketing as a key factor in achieving growth at community health plans continues to expand. However, having employed a traditional approach for decades, your health plan marketing organization may lag in the adoption of digital marketing methods and best practices. Your marketing ROI may even be slipping or is not accurately measured.
A recent ACHP (Alliance of Community Health Plans) survey shows that most health plan organizations consider digital marketing mediums to be more effective than traditional print and broadcast communications. Increased competition and the shifting consumer-to-patient journey amplify the urgency of adopting digital methods.
In addition, the need to more closely track the effectiveness of tactics and improve ROI amid pressures to reduce spending, mean that it's time to enhance and refine your digital healthcare marketing efforts.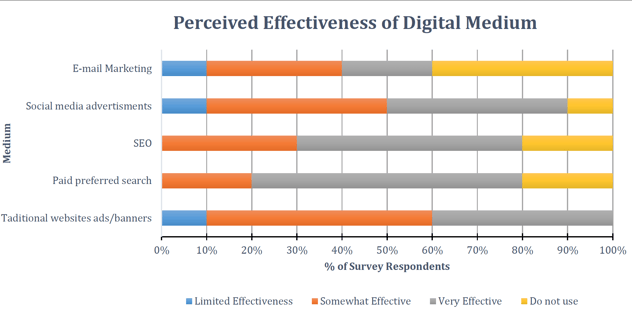 ---
Obstacles to Adopting Digital Marketing in Healthcare
Many in health plan leadership are convinced that digital marketing is the way to go, but may not know how to proceed. Risk averse executives more than likely will not allocate the budget to build a whole new digital marketing team. Neither can you replace your legacy team and start over with twenty-something digital marketing experts who don't know the industry and can do a lot of damage.
With the right approach, however, and the right leadership, you can proceed confidently and overcome these very real obstacles to build a successful and accountable digital marketing team to enhance your integrated marketing strategy and improve results.
A Successful Approach
Let's consider the journey of an Regional Community Healthcare Organization that successfully transitioned to a fully-functioning digital marketing team for an integrated Healthcare system (providing both Health Insurance and Healthcare). This mid-market regional plan contracted with agencies to produce digital marketing content. It possessed no in-house capability to build a digital marketing campaign, no analytics capabilities, and was not tracking any useful data on the effectiveness of existing approaches, and had no integrated campaign execution.
In February, 2015, leadership began the process of building digital capabilities by bringing in an experienced marketing consultant to lead the transition. He quickly integrated with the existing team, functioning as interim VP of Marketing. He was backed by a network of Chief Outsider consultants with proven skills in all areas of modern digital marketing.
After a period of discovery, a plan to transform the team began to take shape, including the following elements:
Team members applied a combination of self-taught online classes and also participated in lunch-n-learn, online videos, digital conferences, in-person classes (e.g. HTML design) and training sessions with outside experts. The following roles, including detailed job descriptions were developed:
Content Strategy Manager
Digital Campaign Manager
Marketing Analytics Specialist
Social Media Marketing Manager
Content Amplification Specialist
Marketing Automation Specialist
The team created the marketing scorecard, including KPI priorities to team roles and responsibilities.
Growth Targets Exceeded
With the team, tools, a digital marketing plan and aggressive targets in place by the end of the year, 2016 looked to be solid test of the approach. Digital dashboards enabled the team to track results and fine-tune their marketing investments. By the 4th quarter, the success of the team had exceeded all expectations, dramatically increasing ROI.
With website traffic, engagement and other metrics way up, the organization beat its individual and family plan enrollment targets by 64%. Growth in the large group segment, usually flat, exceeded the target by 4%.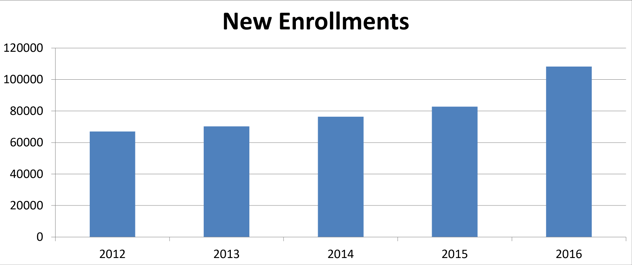 In addition, newsletter subscribers representing actual prospects more than doubled in less than one year.


A dynamic lead nurturing email campaign developed by the team increased Medicare leads by 21% and individual and family leads by 66% compared to leads that were not actively nurtered. More significantly, conversion rates more than doubled from 11.6% to 30.2% for all nurtured leads.
| | | | |
| --- | --- | --- | --- |
| | Leads | Sales | Conversion % |
| With Email Nurturing | 10661 | 3218 | 30.18% |
| No Email Nurturing | 4910 | 570 | 11.61% |
As a result, new members grew 31% in 2016, creating a net membership increase of 13%, compared to flat or declining membership the previous four years.
The below growth in healthy organic, direct and referal traffic (all non-paid) started in the summer of 2015 after the first Content Marketing Campaigns were delivered, and kept fueling healthy growth of traffic that also became higher quality (meaning higher likelyhood to convert) as the team did constant A/B and multivariant testing of content ideas and campaign execution.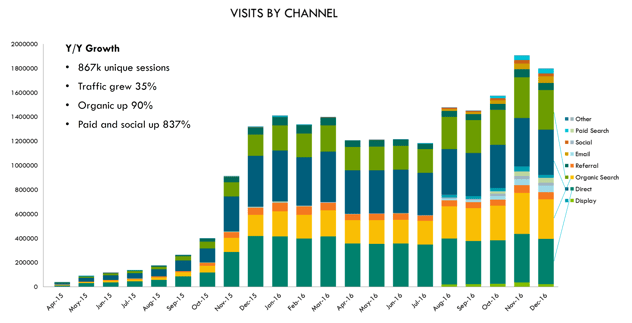 ---
Budget Friendly and FTE Neutral
Not only were KPI's up across the board but the enhanced digital marketing team saved 10% in marketing budget. All this was done with no net FTE increase. The efforts to repurpose and retrain existing team members made the transition to a fully-functioning, successful digital marketing team headcount neutral.
Achieving results like these without putting undue strain on budgets or personnel demonstrate that you can adopt this approach with confidence and duplicate its success. Bringing in a seasoned marketing executive—possibly on an interim basis—to lead your plan's digital transformation makes the path to increased growth through digital marketing clear and easy to follow.
Are you ready to double the Impact of Marketing for your Healthcare Organization?
Healthcare is a special industry with its own specific needs and restrictions. Regulatory and Privacy concerns are real and need to be addressed when increasing the speed and versatility of your Digital Marketing efforts. It can be done though. If you are interested in learning more please fill out your information below and we will provide a free consultation and answer any questions you have about how we got the above results in just 18 months.