By: Carol Eversen and Jeff Loeb
Part 2 -

Orchestration and Personalization

In part 1 of our four-part ABM blog series we shared the core pillars of an ABM program, highlighted the goals and strategies you should consider, and provided guidance about selecting your target accounts and building your Ideal Customer Profile. In part two we explore the core tenet of every successful ABM initiative – orchestration of activities across sales, marketing, and customer success teams.
Orchestration of Campaign Channels and Touches
Orchestration is a core concept within ABM. A distinguishing feature of ABM, the orchestration of activities and outreach extends across sales, marketing, and customer success teams.
Here is a definition:
"Orchestration is the coordination of activities across GTM teams aimed at accelerating target account engagement across the entire buying team. Orchestration aligns and sequences outreach activity across communication channels including ads, email, website content, phone, direct mail, events and more."
The tight integration of sales and marketing activities is one of the key ways ABM differs from traditional strategic account selling. In an ABM program, a carefully designed series of touches (often personalized) is defined, aimed at engaging multiple members of the buying committee.
For instance, an ABM campaign may begin with a period of digital advertising aimed at a target account to provide air cover and begin building awareness, and then proceed with an orchestrated set of activities across sales and marketing teams to drive engagement.
The diagram below shows an example of a series of orchestrated touches conducted by sales and marketing across multiple channels.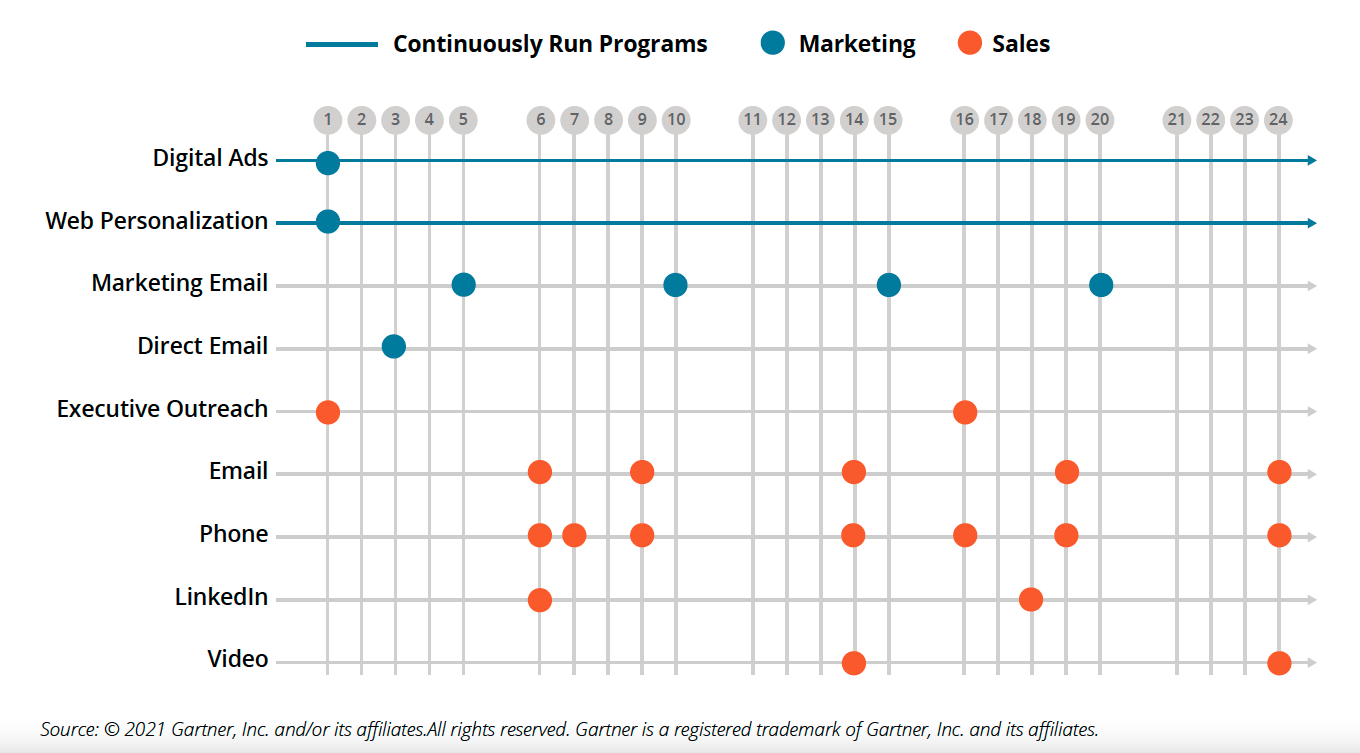 Personalization of Content and Campaigns
Like with traditional inbound marketing programs, content is king with ABM. Only in ABM, content tends to be more personalized. Relevant and personalized content is a key way that ABM campaigns cut through the clutter and noise challenging all modern B2B marketers.
Personalization has become commonplace in the B2C world (think ecommerce recommendation engines, targeted advertising on Facebook, and personalized outreach), and the bar has been raised for B2B marketers.
The level of personalization increases as you move up the ABM food chain from one-to-many to one-to-few to one-to-one strategies. One-to-one programs have the highest level of personalization. In one-to-one programs, customized website landing pages with highly tailored messaging and graphics may be built for each target account.
Top tactics for each type of ABM program, according to ITSMA: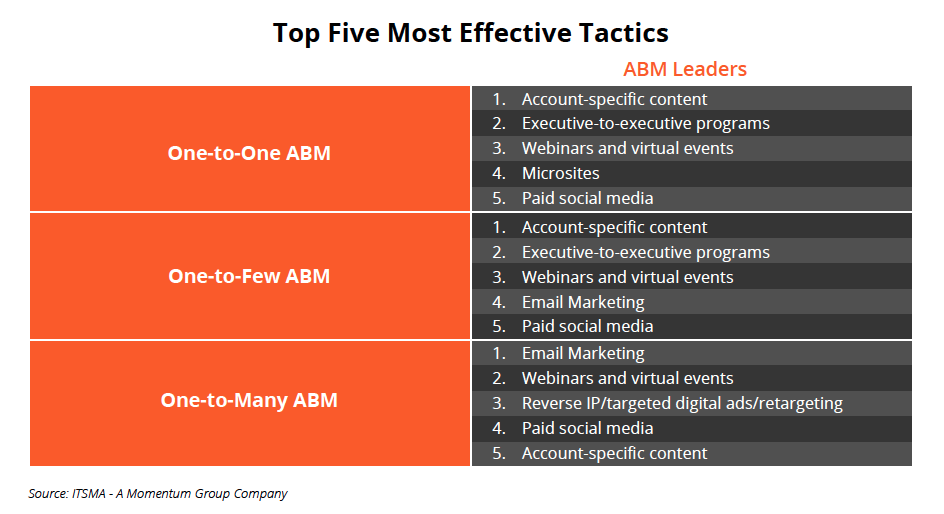 One final concept to touch upon is the idea of a "high-value offer". In traditional demand generation programs, a top of the funnel offer may include an eBook or a webinar. These are great calls to action to attract hand raisers in large numbers.
Since ABM target accounts are hand-picked to ensure they fit one's ICP, and often have shown signals that they are in-market, it is cost-effective to invest more in these accounts through a high-value offer.
High value offers by definition are more expensive, more personalized, and require more resources to deliver than traditional calls-to-action.
Four categories of high value offers according to Gartner:
In part 3 of our four-part ABM blog series, we will dive into the technologies available to support ABM and help articulate how different tech stack elements can be leveraged to support your ABM program. We'll also provide thoughts about the essential elements of reporting for an ABM initiative.
Authors: