What Does It Take to Make the Inc. 5000?
To make it in the Inc. 5000 list of America's fastest growing private companies, a business needs to move from being a scrappy startup to a scaling company. First, the company must simply stay alive 5 years and then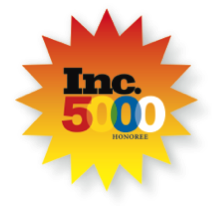 hit some revenue minimums to make it on the list. The Inc. growth ranking is based on the last 3 of those 5 years minimum of being in business. The full requirements and application are listed on the Inc. 5000 application site. (Note this year's deadline is April 30th)
Art Saxby at the Inc. 5000, with Alan Taylor – What Does it Take to Make the List?
The Challenge
In Chief Outsiders' experience helping companies grow, we've seen that scrappy startups begin with a unique market insight that they're able to match to a product or service. The founder has a vision, and their activation of this vision pushes them through the initial phases of growth. This typically requires the founder to apply a high degree of personal brute force, leading as the product manager and sales executive, closing the initial critical set of customers. However, if in 5 years the company is still relying on the founder for vision, sales and delivery-you have a lifestyle business and can probably not generate the growth needed to make and stay on the list.
Critical Scaling Factors
Scaling requires the founder to do several things.
1) Use other people to sell and execute what the founder can do. This is an addition to the muscle power, or arms and legs, of the founder.
2) Bring in thought leaders who are also doers, who bring expertise beyond what the founder knows, and have the executive experience to get things done. This is not "adding" to company overhead, should be see as a "multiplication" of the founder.
Staying on the Inc. 5000 list requires a company to continue to multiply and expand the vision and muscle power of the CEO.
About Chief Outsiders
Recently listed by Inc. Magazine as one of 600 fastest growing privately held companies in the U.S. and recognized for the Houston Business Journal's Fast 100, Chief Outsiders, LLC is an "Executives-as-a-Service" firm helping grow mid-sized companies from coast to coast with part-time, or fractional, Chief Marketing Officers. Unique among strategic marketing and management consulting firms, Chief Outsiders CMOs work as part of the company leadership team on a fractional or as-needed basis to not only help develop market-based growth plans, but to be responsible for implementing the plans within the company.
Everyone at Chief Outsiders has held the position of VP of Marketing or higher at one or more operating companies. With 40+ CMOs across the country, Chief Outsiders can put exactly the right skill set on the leadership team of any portfolio company for a fraction of the cost of a full-time executive.
Chief Outsiders has been a premier source for businesses seeking marketing expertise, execution, and leadership, including Riverside Company portfolio companies OnCourse Learning, YourMembership.com, and IDoc, Source Capital portfolio companies such as Abutec, and Merrill Lynch Special Situations Group portfolio companies such as EarthColor.