It's interesting to ponder what the future holds for marketing. Will we have messages targeted to our eyeballs or windshields, or virtually delivered directly to our psyche?
Regardless of what medium will ultimately power the future of marketing, it will, then, as now, be powered by content. In fact, content has been one of the most important, if not the most important, elements of marketing for many years – so successful, in fact, that companies are doubling down on content strategies. In 2018, the Content Marketing Institute observed that 91 percent of business-to-business (B2B) marketers are unlocking the power of content to barker for their businesses.
So what, exactly, defines content marketing?
According to the Content Marketing Institute:
Content marketing is a strategic marketing approach focused on creating and distributing valuable, relevant, and consistent content to attract and retain a clearly defined audience—and, ultimately, to drive profitable customer action.
In short, content marketing uses the power of messaging—across multiple media—to bring you sales. It moves your potential customers one step closer to transacting business with your enterprise, while building a relationship that will hopefully forge an ongoing connection with you—and not your competitors.
Companies that I work with tend to use content marketing in four distinct ways:
To build brand awareness
To demonstrate credibility for their brand
To educate their audience, while appealing to them at each stage of their buyer's journey
To ensure they are found when people search for them online.
So if content is a time-honored technique to ring the register, how is it evolving against today's digital landscape?
Well, the biggest change is that less is more.
In a world when 140 characters (or 280 at the most) define our dialogue, we are learning that brevity is key. This is especially true, because, paradoxically, we are actually drowning in content. Brands are generating more content than ever, with one study counting a 3X year-over-year increase. But, shockingly, engagement with the content has not increased.
The problem? There's only so much content we can consume, process and share.
We still value great content, but as we become overloaded, the spoils will belong to the victors who discover how to deliver higher-value content, using less bandwidth.
How do we know this? One analysis of the content landscape reveals that 5 percent of branded content garners 90 percent of total consumer engagement. In other words, the majority of content gets little or no engagement. So, the proliferation in content does not appear to be creating incrementally more brand engagement.
Nonetheless, most marketers—believing that content is content—will continue to create more and more of it. Unfortunately, creating more of the same underperforming content will usually result in the same unimpressive results, at a greater cost. (Truly, the definition of insanity!)
So what's causing this disconnect? The answer requires us to search way beyond the number of blog posts being pushed out each week, or the number of new articles or webinars; to the strategy that lies at the foundation of our marketing plans. Truly, the problem lies in how these strategies are being developed and organized.
Considering the advancements in the ways that both the search engines and searchers are evolving, there needs to be a shift in the way marketers set forth to develop their content strategy.
I am a fan and follower of HubSpot's approach, which espouses that we look across a topic, instead of zeroing in on a specific keyword. They recommend organizing content within topic clusters, instead of individual and disjointed pieces of content. This allows you to capture a large amount of search traffic, across a larger pool of relevant keywords. It also allows a brand to align with several important core topics. This concept of topic clusters can transform how a company creates and organizes their content.
The objective in building a topic cluster-powered content program, says HubSpot, is to enable deeper coverage, across a range of core topic areas, while creating a more efficient information architecture in the process.
Here is a simple example of how you can employ this approach to ensure your prospects are finding useful, relevant and in-depth content on the topic, mapped to where they fit in their buyer's journey.
This graphic shows how a content architecture is built around a single topic (of course, most companies will have multiple key topics), with three "pillars" of core content covering the topic broadly, for each part of the buyer's journey. More in-depth content can then be found in each of the "clusters".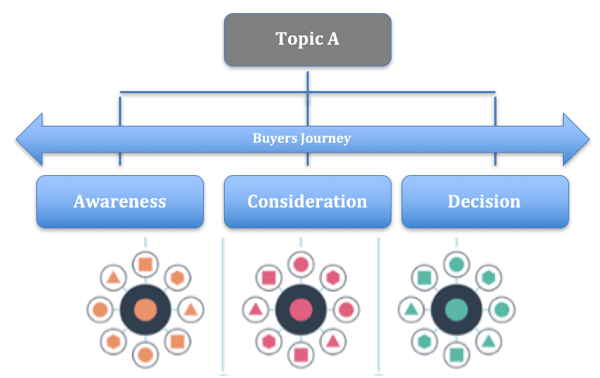 In this example, people researching Topic A will have the ability to drill deeper in their understanding of the topic, at each stage of their journey.
The net result is the ability to align your brand with topics that directly relate to your buyer personas, while enabling you to keep your marketing team focused on creating the kind of content that your target audience actually cares about.
It's new thinking about content strategy, in a more organized and relevant way that is tied to how sophisticated search engines have become and how people are using them to find content that is valuable and relevant to the problems they are trying to solve.
If you need help analyzing and spearheading a refresh of your content marketing strategy, give me a call.