Though the past two years will be remembered by most for the impact that COVID had on our lives and livelihoods, most marketers will look back on this time as the era of the "Digital Lead Spigot."
Forced into quarantine at a moment's notice and anxious to keep their products and services in the consciousness, most businesses – ready or not – twisted the valves on their digital taps and let information flow into and out of their organizations. In fact, one survey found that nearly two-thirds of companies felt forced into accelerating their digital transformation as a result of COVID-19.
The Name of the Game: Leads
For those already on the digital path, lead acquisition was the name of the game. Loading up their marketing engine with leads and clicks, optimizing their campaigns to be more efficient at getting — wait for it — more leads, all to fill up their ever growing new data cloud. Then, loading the demand gen funnel with fresh content to bombard leads with messages wherever they turned up in the omniverse, all to get more engagement.
As flecks and flashes of normalcy started returning in the wake of new vaccines, it was time to tally the results: Companies indeed spent ridiculous amounts of money to amp up their digital channels, juice their IT systems, and bring in the leads. But for all the resources dedicated to stuffing CRM systems with thousands of names, surprisingly little, it seems, has been spent on intelligence services designed to rate, activate, and close these leads.
Performance Marketing to the Rescue
For the companies wondering where to go next with their digital sales funnel, it's time to learn about performance marketing – a highly targeted and more sophisticated way of applying a blend of old-fashioned analytics and data mining, crossed with a sexy new analytic method (like machine learning and artificial intelligence), to increase the likelihood of converting these leads. More than just creating operational efficiencies around the lead generation process, performance marketing, when executed properly, can convert a one-size-fits-all approach to data into a slick, organized, value-based-segmentation that will boost yield.
At its essence, performance marketing doesn't just involve tools, but mindset changes as to how sales and marketing silos should cooperate in the qualification of leads. And, of course, the added application of advanced analysis to align leads with their potential value.
Rules Meant to be Broken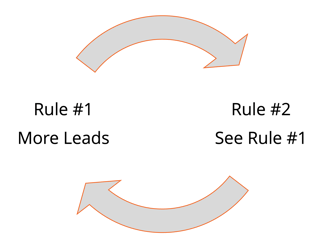 The common, old-school approach is thus: Rule No. 1: Get me as many leads as possible; and, Rule No. 2: see Rule No. 1. In the real world, this meant that marketing would acquire a lead, and, without any further ado, hand it off somewhere downstream -- either to a contact center, a sales team, or a franchisee/retailer. There, with a zippy response, the lead is sped through a prescribed, one-size-fits all follow-up. Check the box and move on.
It turns out, this is a woefully inefficient and ineffective process – built on intuition and averages. Nonetheless, each player in the process – ensconced in their individual silos — walks away feeling as if their job is done. The critical miscue in this model? Both sides lack the kind of insight needed to effectively align investment with treatment differentiation.
A Focal Point
No matter where the responsibility lies, the focus must be on improving sales conversion and driving down customer acquisition costs. That's where adding advanced analysis and performance marketing comes in.
Performance marketing is a digital reincarnation of an often-overlooked solution with a long, effective history, bringing basic 'list, offer, creative' CRM into modern day. The process starts with a look back at which leads historically have been most valuable, and uncovering the attributes that leads have in common (aka data-mining).
The goal here: To understand the relationship between observable elements of individual consumer records -- age, location, distance from a retail store, iOS or Android, and so on – and to group and rank them based upon their sales history. Think of this as a data-validated application of the Pareto Principle – commonly called the 80/20 rule.
Tools for the Tradespeople
As a mathematician, I embrace this approach. But as a marketer, I fully endorse bringing the right data scientists into the effort. While the math side of things is more ubiquitous, the key will be to find data artisans who know how to make the data fungible, so they can bend it in the client's direction. And if you are not sure who to engage, find one of us and ask, because we all 'know someone' (I've teamed with Data Tech Concepts for decades).
Few modern-day agencies understand the importance of not just using these tools, but mastering them. On the contrary, results-focused companies like Level Agency have dedicated enormous resources into data science teams to remain on the cutting edge of what makes Performance Marketing effective. The 80/20 rule applies here too, it's 80 percent smart people and 20 percent smart technology.
Making a Difference
Going back to the process, it applies tools that sort through historical variables and applies machine learning to determine buying behavior signals – producing an output called a gains or lift chart. When encoded into your marketing automation stack, this results in a "propensity model." The ultimate goal? To identify a small subset of the leads in your database which have the highest likelihood of a sale. I've worked with companies (B2B and B2C) who have been able to directly attribute 90 percent of their sales to an identifiable 10 percent of leads. Pretty snazzy! But I'd venture that most would be happy to be in the Pareto range, versus where they operate today.
Even better, tools like these tend to become "smarter" over time, and they will often breathe new life into leads that were previously forsaken for one reason or another.
In a competitive marketplace, where everyone is fighting over the same leads and looking for an edge, it's high time that you consider investing in advanced analytics as part of your performance marketing toolkit. Though it will take some resources and time to build a center of excellence around the process, the results will be measurable, and perpetual.
Can I be of assistance to you as you consider advanced performance marketing tools for your company? Please feel free to reach out.