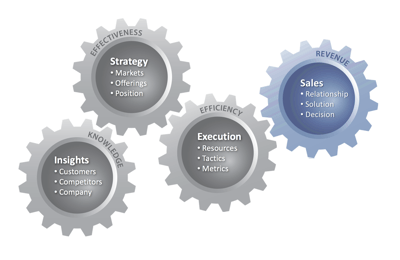 Manufacturing CEO, are you frustrated and concerned because your company is not growing? And what has gotten you here is no longer working and you're not sure what to do? Until recently your growth has come via customer referrals, word of mouth and sales generated leads. But sales is no longer producing enough new leads or revenue and competition is threatening. Marketing is tactical at best and more random than integrated and aligned.
What if you could call in an expert who could quickly assess the problem, identify and prioritize growth opportunities, develop and implement a plan to restore healthy growth and train the management team to carry on?
Marketing triage-stop the bleeding, find the low hanging fruit and build ongoing insights, strategies and capabilities.
Common Characteristics
I have performed that role in various manufacturing organizations and observed several common characteristics. The ones I'm talking about never had a CMO prior to my arrival. Marketing was primarily a sales function, maybe under a VP of Sales and Marketing.
Their websites, virtually a company's "first sales call", were often online product catalogues with neither a discernible differentiation from competition nor a clearly stated value proposition. Most often these sites were without analytics, SEO or lead tracking capabilities. Many were not analytics compliant or mobile device friendly.
In addition, the marketing department was frequently part of an admin's time or a marketing coordinator at best. There was little in the way of marketing infrastructure, processes or metrics. And on a strategic level, no growth path assessment or prioritization, and thus no growth strategy guiding actions and resources.
Untapped Competitive and Market Opportunities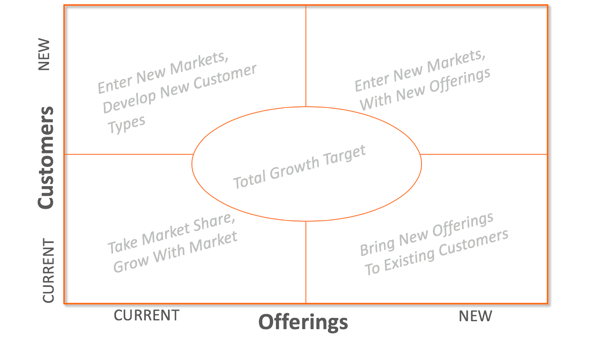 What I found with all of them was a lack of a strategic marketing perspective within the culture and leadership. Any market facing insights came via sales related conversations and most of it was anecdotal at best.
The good news is that all these manufacturing companies possessed competitive and market opportunities that could be leveraged to differentiate and position the company and its products.
All they needed to generate sustainable growth was someone with the right skill set, available now. In other words, a marketing first responder.
A marketing first responder works with manufacturers that are early in their "marketing journey" to develop market facing insights based on company capabilities, competitive differentiation and customer and prospect needs and wants, and helps the company build internal marketing capabilities.
The First Fifty Feet
The very early stage of strategic marketing, 0-50 feet, is the hardest climb. But a proven approach directed by an industry-experienced, senior-level fractional CMO, your personal marketing first responder, will get you past it and beyond, well on the road to sustained growth.
Steffes Corporation produces engineered solutions for the manufacturing, electric utility, and oil and gas industries. Wanting to expand beyond their traditional markets in North Dakota, company leadership sought a clearly defined brand and strategy. While enjoying an excellent reputation for its technology and service, marketing was limited and tactical.
"I really found it refreshing working with Chief Outsiders. Dennis devoted his time to us, and it was real work. He wasn't just saying do this, do that…we made him turn the wrench, hand-in-hand with our staff."
Joe Rothschiller, President, Steffes Corp.
We researched internal and customer attitudes to develop a meaningful brand promise and tag line, while giving direction to a newly organized corporate marketing team. With the new brand and an integrated strategy, Steffes is expanding into new markets in the US and internationally.
"When we hired people in the marketing field, they grew probably ten times faster by working with Dennis and Chief Outsiders than they would have just being here at Steffes."
A Turning Point
Bringing in a marketing first responder is a potential turning point, perhaps even a tipping point, for a manufacturer. If embraced and successful, it's the start of the marketing flywheel with impact on every aspect of how the company goes to market.
Example: Energy Company Positioned for Growth
I recently worked with a $100 million Houston energy company. Having no centralized customer database, they lacked the ability to reach out digitally in any integrated fashion. Their website was woefully out of date and belied the fact that this was a technology company manufacturing high performing products that improved oil well productivity.
Marketing was basically logo pens, golf and other event sponsorships, and hit or miss trade show participation. Sales was expending wasted "windshield" time in the oil patch looking for prospects and cold calling.
Marketing Triage
Our priority was to update the website to properly position the company as technologically advanced and appropriately showcase the benefits of a great tech product line. We migrated outlook contacts to a marketing database to support future digital marketing efforts.
We road-mapped the steps to get us from our current marketing state to an Account Based Marketing Program to communicate with customer and prospect office management and field engineers. And, we began disseminating some existing content. With new leads coming in, the company is now positioned for growth.
Getting Help
Does this sound like your company?
Would your company benefit from a marketing first responder? If one or more of the following is true, it probably would:
Your company is no longer growing.
What has worked in the past is no longer working.
Competitive threats are increasing.
You rely on sales to move everything through the funnel (from lead generation to nurturing prospects).
Marketing is primarily a sales support function generating collateral material, Power Point presentations, trade show materials, and other random acts.
There is no marketing calendar, budget or measurable KPIs.
The marketing function is staffed by a coordinator or administrative associate.
Many manufacturers also don't know how to build an ongoing marketing infrastructure—the skills, resources, processes and KPI metrics to create a sustainable growth engine. A marketing first responder helps you to answer those questions. And, you get permanent marketing benefit with a temporary hire.
"If you don't have a marketing department, they're great to help educate and find the areas that you may be struggling in."
Joe Rothschiller, President, Steffes Corp
A marketing first responder, an experienced executive-as-a-service CMO, will consolidate and improve the website, help you understand the market and market segments, and where the growth is going to come from. By mentoring existing personnel or new hires as they go along, Chief Outsiders' fractional CMOs leave a company with more marketing DNA than they found.
"Chief Outsiders offers a strategic level of marketing which is absolutely outstanding. They get people to focus on where they are going with marketing."
Tom Schneider, VP Sales and Marketing, Steffes Corp.
Furthermore, it can influence how internal departments integrate, and what and how the company communicates with customers, prospects, influencers, and internal stakeholders. It puts in place all the elements essential to accelerate and sustain growth.
For more information about how a marketing first responder might help accelerate your company growth, please email me.