Use Insights to Uncover Your Unique Value

Prologue
It was the kind of headline that no one wanted to see: Whispers of a global pandemic became a reality on American shores, with the first high-profile widespread case hitting a nursing home in Washington state in January 2020.
It was a crisis that no one could predict – one that left many residential facilities scrambling, without a cost-effective marketing strategy in place to continue acquisition efforts.
In the months that would ensue, senior living facilities – with their aging and vulnerable populations and close quarters – would experience devastating impacts from COVID-19. Though operators worked tirelessly to mitigate the health impacts, the population declined steeply (as much as 30 percent in skilled nursing facilities between 2020 and 2021).
Today, in 2023, though an aging population and lagging supply have resulted in a modest rebound in near-term demand, the bloom is not quite on the rose: Occupancy is still not back to pre-pandemic levels. Many seniors, hit hard by an inflating economy, have decided to age in place (waiting to an average age today of 87 to make the move to a residential facility).
Furthermore, new entrants to the market have contributed to a new-construction boom in senior housing that shows little sign of cooling.
These convergent trends mean that a day of reckoning is coming for legacy operators and new entrants, who must compete for a limited population of residents and might not have a cost-effective marketing engine in place to dial up as needed.
All of these market shifts are happening while marketing budgets remain tight – hamstringing operators' efforts to target the right residents, with the right budget, at the right time. Those operators who get it right and win the competition for the hearts and wallets of seniors will achieve higher occupancy and greater ROI.
Miss the mark, however – by committing off-target "random acts of marketing" – and you risk losing ground at a time when you need to be beating back the competition, and scaling up for success. As an example, according to an IBIS World report from August 2022, it is expected that the number of senior living establishments will be increasing by more than 3 percent a year – to a total of 65,522 locations – in the next five years; another study found that inventory has generally been coming online faster than the rate of absorption. That's a lot of competition!
Why should you care?
Letting competitors build the foundation for future success and get ahead of you means that when the supply crisis evaporates you'll be left behind. At Chief Outsiders, we've had the benefit of working with several clients who faced occupancy declines that started during Covid. Through our experiences, we've created a playbook for what we call a "Marketing Jumpstart" – a way to keep your beds full, your waitlist long, and your focus on growth starting NOW.
In this blog series, we'll discuss how to develop marketing plans that are laser-focused on the right targets; how to determine and communicate your unique value; how to build awareness in your local market; and how to minimize the dreaded trend of prospect drop-off. By implementing our playbook, you can be confident that you will have the marketing engine you need to drive qualified leads and fill your beds.
With these insights in hand, let's dive in.
Part One: Avoiding Random Acts of Marketing
First, an observation: The game of Whack-a-Mole may be fun at a spring carnival, but it's NO way to manage your marketing resources.
You know what we mean: We're going to try a newspaper ad today, a direct mailer tomorrow, drop off donuts next week, and paper car windshields at the mall with fliers on Sunday.
Though these tactics may "feel" like you're doing marketing, ask yourself: Are you just trying to do SOMETHING, or are you being strategic? In reality, a bonfire of your marketing cash might be more effective than some of these scattershot tactics.
If your rooms are full and churn is low, you may not realize the full downside of committing these random acts of marketing. But without a true growth marketing plan, you'll be unable to scale your business and could potentially find yourself with far too many empty beds.
We see random acts of marketing manifest in a couple of ways:
Doing it All Yourself: This is the No. 1 approach we see – a well-meaning operator thinking they can save money by driving their own marketing plans, without having any background and experience in the discipline. "I know a guy who does SEO," or "I had someone from Fiverr build our website," may seem like an informed boast. Instead, going this route ensures that you are hiring what we call "mechanics" – people who know how to fiddle around with Google and Bing or build a website, but do so without any strategy or insights. Without a deep understanding of the customer and your unique value, these efforts will bear little fruit.


We, We, We: We get it – you know everything there is about your facility – every piece of equipment, every blade of grass – and you are just bursting to tell the world. But this "We" speak is of very little relevance to a brand new prospect, who just wants to know what it will be like to live there or for their loved one to live there, and what the resident experience is, from their perspective.
Fortunately, you have access to everyone you need to become more intentional in your marketing. At Chief Outsiders, we've implemented marketing strategies that have helped single operators leverage their local market to rocket from 20 percent occupancy to a waiting list, and helped large regional operators reverse lagging sales by leveraging focused new technologies and techniques.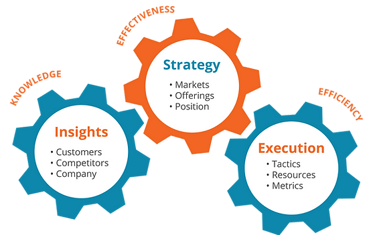 We do it by employing a set of three gears – Insights, Strategy, and Execution - to power marketing intention. Each gear is dependent upon its predecessor to build your marketing engine for growth.
But that first gear – insights – must rotate to life FIRST. It requires access to a resource that should be readily available, but all too often, underutilized – your customers, your employees, and your close stakeholders.
Leaning into this group will ensure that you're going after the right prospects, using the right channels, and defining your value proposition in a way that is meaningful and impactful.
In our next article, we'll help you understand how to feed the insights gear and polish up your value in a way that will be unmistakable to residents, prospects – and your own team.