Customer Needs and Scanning for Trends
In the business-to-business (B2B) world, the purchasing process is far more complex than the journey undertaken by an individual consumer. B2B deals tend to be more concentrated and have larger value, and include more people in a higher-stakes battle for large sales.
In the first article of the series, we talked about the importance of having a strategy. Understanding the role that the customer and current trends take in influencing the purchasing process is critical to defining your go-to-market strategy. In this blog, we'll take a deeper look at these influential factors.
Identifying Customer Needs
Typically, this process will be initiated when a customer identifies a need. This can arise suddenly — for instance, if a machine part breaks or there is a flood; or as the result of a long-term budgeting and planning process, like what would be used to build a new plant or automate a production line.
In either case, the buying team will collect information about different options, evaluate them, and select a supplier that offers the best solution. Sometimes, this requires only having a single replacement part in stock for quick installation; other times, it can only be fulfilled through mastery of a complex, months-long RFP process with decision milestones.
This does not mean the largest supplier will always be selected – rather, it is most likely that the winning bid will go to the company offering the best combination of problem-solving, lead time, quality, and price.
Different suppliers can be competitive based on a variety of dynamic factors. Think, for example, about how laptops and notebooks have replaced desktop computers in many business applications (this switch has likely been sped up by employees who need to work remotely from home during the pandemic). Another emerging example is how autonomous vehicle technology will allow trucking companies to have one driver remotely operate several electric trucks, replacing one (or two!) drivers in each conventional truck.
Regardless of which competitive strategy is selected, it needs to be based on real, identified customer needs, and offer the flexibility to respond to changing market trends and competitive pressures.
Scanning Your Markets for Trends
Before deciding on — or modifying — a competitive strategy, a company needs to understand how its offerings fit within its sales landscape. Experience shows that by identifying major trends early, and understanding how these trends might influence a company's product-markets, is a great starting point for identifying future challenges. Consider looking to your board of directors or a peer group as additional resources when studying a business environment.
A systematic market scan should start by identifying important, larger trends. Good sources of information at this stage include trade press, conference presentations, industry experts, suppliers, and customer-facing employees. It is also a good idea for you to talk directly to key customers, and get their perspectives.
Based on a shortlist of these bigger trends, the team can start to make predictions about how the market will respond, and what the resulting impact might be on our business.
For example, the coronavirus pandemic accelerated a trend of underlying protectionism which already existed for many industries. When the onset of the pandemic caused companies to turn their focus to sourcing and supply security, they realized that much-needed PPE, medicines, and other products were unavailable domestically. The resulting challenge was to find domestic sources, and/or stockpile key components and raw materials as international trade becomes further crippled.
An environmental scan table is a handy way of summarizing data and conclusions. This specific example is from a manufacturing company. Naturally, the table will look different for different industries.
Table 1: Company Environment Scan and Trends for Manufacturing Company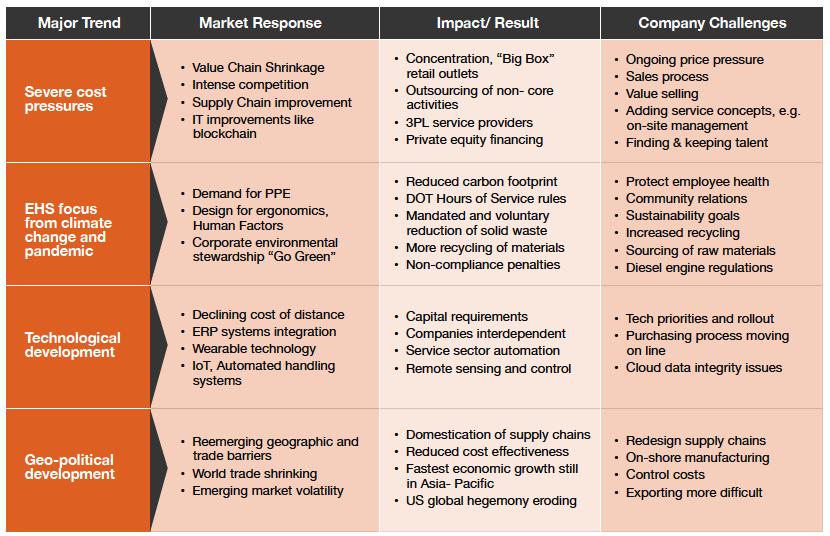 Armed with this understanding of longer-term trends and their impact on your customer, we can now take a broader look at the industry – and what success looks like in this broad, ever-changing world. I'll take you through that process in our next blog.