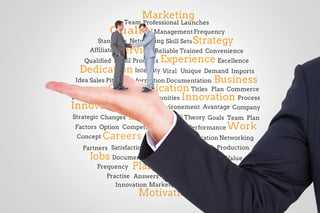 If you grew up in the same era as me, your mission-critical Friday night objective included tuning into "The Brady Bunch," one of my favorite childhood television shows. Greg and Marsha Brady's predicaments paled compared to the pickles my siblings and I often found ourselves in -- yet the Brady kids – forced into sibling union by the wedding of Mike and Carol, seemed to navigate American life of the 1960s and 70s with relative ease (despite losing Bobby and Cindy briefly on a Hawaiian island and surviving an ill-fated attempt to form a family band).
Of course, all Mike Brady, CEO of "The Bunch," had to do was follow a well-written Hollywood script for 22 minutes and everything fell right into place. There is no such television magic in the real world – especially for today's small/mid-sized company Chief Exec tapped to guide a "blended" organization after a well-orchestrated—and likely, taxing—merger or acquisition.
How do you survive all the change? What's necessary to execute the market plan with laser focus and precision? Is it really possible to achieve the same level of growth and harmony as Mike and Carol Brady?
In this third and final look at the small and mid-sized company CEO's path to and through M&A, we'll explore just how important it is to have the right plan and focus around integrating both operations and cultures. Assuming the business reasons are sound and the due diligence well conducted, this part of the M&A is the most important ingredient in the recipe for success.
Here are six steps to a successful post-merger life – the Brady way (with an assist from Sparrow):
Mike and Carol are Engaged — Better Tell the Kids
Start the process of integrating the companies as soon as the deal is announced. The news is out…and you can bet most everyone is FREAKED out. The market and your employees are going to be nervous.
No matter which company they're with, sound-minded employees start dreaming of firing squads and dirt naps as soon as the merger is announced. Frankly, the news will have hit the company airwaves long before that. The kids already know mom and dad are getting married. Don't pretend they don't.
Communication is critical! Why did an old girlfriend think I'd lost interest in her? Because I went on a 10-day hunting trip and despite the ability to call on a rural mid-1980s pay phone, I didn't. After 10 days of silence, she spun out. The triumphant return of the master deer slayer was greeted with a curt breakup. All I got in the ordeal was a 6-point buck and a moderate case of heartbreak.
Don't make the same mistake. Communication is the key element when navigating the choppy post M&A waters. Be sparkling clear and let your employees know what's going down, and what it means to them. All of them. While you're at it, be sure to clue in your customers, suppliers, resellers and channel partners in. They all need to understand what NewCo stands for and what the company has to offer the market—and them. Be very proactive and engaged with all of these groups, and make personal contact with the key players.
Don't Give The Brady Kids Too Much Power: You Decide the Culture of the New Company
The unprepared CEO relying on organic culture development falls flat on his post-merger face, 100 percent of the time. You're the CEO—lead! Choose and drive the culture you want from the top down.
Don't like some cultural quirks about your old company? There's no better time to change them! Digging the teamwork spirit of the firm you just acquired? Find out who understands the leadership DNA and splice it into NewCo's genetic roadmap.
The culture of your new company will make or break you. Period. Your most important job is to define it, communicate it and see that it floods into the organization. To do that, you need your top lieutenants and managers on board -- and committed.
Marsha, Marsha, Marsha: Resolve Power and People Issues. Quickly.
Jan Brady never understood or accepted her position in the Brady Bunch, one that would forever be cast in her older sister's shadow. Marsha—as my brothers and I would heartily agree—was THE Alpha Female, and this was a tough pill for young Jan to swallow!
The post M&A CEO can't afford squabbling among the ranks, but plenty of turmoil can result if roles and responsibilities aren't clearly defined and communicated. A company can have only one top dog in each of its executive roles.
Assess all the candidates and formally offer the most qualified leadership/management positions in NewCo. And for heaven's sake—avoid letting loyalty cloud your judgment. The Marketing Manager from the other firm might be better at her job than the guy you have. Be objective! Evaluate your talent and pick the best team possible!
Immediately let the runners-up know their fate. For some this will be a different role in NewCo. For others it's an uncomfortable escort to the door, coupled with a generous severance package and the offer of company support such as out-placement and access to company resources.
If Marsha and Jan both stay at NewCo and don't play nice, address it. Quickly. Tantrums and shovel throwing in the executive sandbox won't play. If allowed, the domino effect will be catastrophic.
Bungle this and you'll be sorry. After a series of acquisitions by WebMD, I found myself among four people introducing ourselves with the same VP title. Awkward. One of my new subordinates, brimming with disruptive confidence, enthusiastically announced at a staff meeting, "Did you guys know that 36 percent of all WebMD employees have the title of Vice President?"
You can find his shallow grave in a wooded field near the outskirts of Nashville, TN.
The Bobby and Cindy Brady Effect: Monkey See, Monkey Do
Every little brother or sister looks up to older siblings, and often they accept whatever "reality" big bro or sis presents. When Greg was too busy with more important teenage matters to spend time with Bobby, the little guy's feelings got hurt.
Excellent leaders don't selfishly focus on just their own challenges – this can cause those below them to feel unimportant or devalued. Sure, you probably have more on your plate than ever before. Such is the post-merger life. Just because you're glad to put the hard work of the acquisition behind you doesn't mean it's over. It can take a year or even longer for folks to adapt. Suck it up!
Your people need to know you care. Convey empathy for what they're going through during the unsettling transitional period. They need to hear you say and show, "We've got this, and you're a hand-chosen part of it! Thank you!"
The sooner you express genuine empathy and encouragement, the faster you'll build trust, positive energy, and momentum. And that will put NewCo closer to excelling as a unified, focused organization.
Help your people by making them feel like a part of the family.
We Are Family: Reason to Celebrate
Anything you do to let the steam off will help. Catch your people doing great things, and tell the NewCo world about it—individual performance, delighting customers, achieving team progress, whatever.
Get the company together and mix it up, and don't always make it about "work stuff." Run a slide show of family pics from the 4th of July weekend. Create an employee free-form content area on your company intranet, or send out emails spotlighting causes or hobbies or whatever.
As CEO, you set the pace. The entire pack will run with you as long as you're running with them. Energize them through good communication and displays of appreciation, and they'll pick up the pace. On my first Boy Scout backpacking trip, I was struggling terribly with the weight of my pack. Completely gassed, I thought it would be kind if my Scoutmaster just left me on the mountain for dead. Thankfully my buddy, Steve Solomon, hiked next to me and encouraged me to join him in whistling the Bridge Over the River Kwai theme. It worked. I became an enthusiastic hiker in about 10 minutes. My pack was light as a feather.
Set the pace, be an encourager -- and keep it up.
"Now Boys…" Introducing the King of Accountability, Mike Brady
Greg, Peter and Bobby Brady were constantly getting into a fix, and the steady hand of their dad kept them in line. The post M&A CEO must do the same. You can't allow a slip in momentum for the base business of the integrated company.
Beware the tendency to focus only on the cultural aspects of your new company integration, or trying to keep your customers calm by telling them everything is alright. You're not trying to be the Bee Gees by staying alive; you're running a company that's out to make a hefty profit. So do it!
Make certain nobody drops the core business ball. After all, the business has to be managed and the company has to execute. The whole reason for the merger was to grow revenue and gain new market share, right? Don't let anyone lose sight of that! Results are the supreme goals of the merger! Get them!
At the end of the day, the Bradys really did have it right. Though the occasional mis-thrown football causeed some temporary discord, the family ultimately discovered the secret to success through a combination of vision, harmony and long-lasting happiness (indeed, with sequels and movies that lasted for decades!). The lesson for the C-suite leader? Lead with an authoritative but balanced hand; continue to architect the combined result; and you'll be poised for greatness.
Read the first and second post in this three part series.