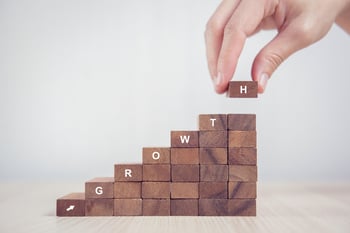 If you don't believe that consistent, profitable business growth is a need of virtually every small- and mid-sized business, and especially for yours, you probably won't get value from this article.
The real challenges aren't understanding the value of growth to your business--they are about determining where your best growth opportunities are, prioritizing across multiple potential growth opportunities, integrating both shorter- and longer-term growth opportunities into your management processes, and organizing for success and building an ability to tap into new revenue streams consistently and over multiple years.
When someone says "the devil is in the details," they might be describing a series of growth challenges. Business growth goals—and when we say "growth," we are ALWAYS referring to PROFITABLE growth--are familiar to every company doing annual operating or strategic planning. Neither of us have ever been part of a corporate environment where a growth goal was stated "Let's shrink our business 10% next year." What differentiates one business from another is how effectively small- and mid-sized businesses implement and support growth initiatives consistently over time.
There has been a fun buzzword going around for the last five years: "future proofing." Can you "future-proof" future growth? Maybe and maybe not. Here's a good argument for and against the thought.
The concept may be attractive, but is it really possible? Our belief, based on helping hundreds of companies with growth planning, is that while there are no guarantees, there are many best practices to build on to give your business the best possible chances for success. Isn't that what stakeholders and boards ask for? "Give us a plan that we can believe in!" they often say. Your job as a CEO, or VP Marketing, or COO, or CFO is to do exactly that.
Getting Started: How's Your Growth Engine Today?
Let's do a quick self-assessment of where you are on your growth journey today. Take a minute to honestly answer these ten questions. Score each question "0-3," and give yourself three (3) points if you can confidently answer "Yes" to each question…
___ You have a defined plan to build new revenue and profit streams over a 3-5-year period
___ You have a defined process to monitor changing market conditions and modify growth strategies
___ You and your team regularly spend time checking the progress of your growth initiatives
___ You have someone or a team responsibility and accountability to drive growth beyond this year's plan
___ You have an identified working list, or portfolio, of growth opportunities
___ Your growth opportunities have been prioritized using a consistent scorecard
___ You have defined specific financial benefits and projected returns for each growth opportunity
___ You understand the investments and resources required to build out new profitable revenue streams
___ You have the right resources and culture to implement your growth strategies
___ You feel confident in your approach to growth and your ability to achieve your growth goals
___ 30 TOTAL POINTS
While there no absolute thresholds for what is a "good or bad" score, let's put it this way: if you have fewer than 15 points total, your growth model may not have a level of maturity that will allow you to confidently address your shareholder or board questions on the health of your plan.
You don't have to send your score in to us, but if you want to take a more in-depth survey and receive a free initial assessment, please go here.
What's the Difference Between a Growth Plan and an "Engine of Growth"?
Here's a bit of fun trivia. You probably recall the proverb about giving someone a fish versus teaching them to fish. The oldest English-language use of the proverb has been found in Anne Isabella Thackeray Ritchie's (1837–1919) novel, Mrs. Dymond (1885):
" […] if you give a man a fish he is hungry again in an hour. If you teach him to catch a fish you do him a good turn.
We are going to apply this proverb to growth. Engines of growth are built on replicable processes, people and platforms (examples are tools, templates, opportunity profiles, consistent financial models).
When you successfully embrace an engine of growth in your business, you are much more likely to outperform your competitors. Good growth plans are fine, being able to do this consistently year after year through a fine-tuned engine is even better.
The body of research on this is pretty convincing. Take a look at this study from Booz Allen and the Association of National Advertisers (ANA) which argues for the Marketing function assuming the role of growth champion. With a more intense focus on growth, the assignment of a champion, the adoption of consistent processes and management practices, the more your business is likely to outperform your competitors and sustain a pattern of growth.
Two conclusions of this study are compelling:
"Growth Champions use a range of standardized tools and techniques to survey, segment, analyze, and understand the markets their company is serving, the opportunities before them, and to measure the relative success of their work across markets."
"Organizations with Growth Champions are 20% more likely to deliver superior revenue and profitable growth."
There is the strong correlation between having an engine of growth, and sustainable outstanding performance.
Some of you (probably all of you who aren't part of IBM) may be thinking: "That's great for IBM but I'm part of a small- or mid-sized business." You don't have to be IBM to benefit from this approach.
Several years ago, research commissioned by Chief Outsiders with the University of Texas, McCombs School of Business identified a performance correlation between operational excellence and market-oriented business with engines of growth. This research was done with a large sample of small- and mid-sized businesses. Operationally focused companies are primarily concerned with improvements inside the four walls of their businesses. Market-focused companies are more future oriented and much more growth oriented.
But what happens when you take an operationally focused business and add a growth engine to it? The results are clear and compelling.
"There is a portion of these well-run, operationally focused companies that have adopted market focused behaviors (i.e. engines of growth), and are outperforming their industry peers."
If you'd like to dig deeper, here's a link to the study.
Where to Next?
There are a series of best practices to implementing effective engines of growth in your business, and in the next few weeks we'll be tackling them one at a time. Here's what you can expect from a set of four follow-on articles:
Topic: Processes:
This article will focus on building a market facing stage-gate approach: support regular management reviews of growth initiatives and integrating growth management with EoS/Traction or other management processes
Topic: People and Organizational Capabilities:
This article will focus on developing a healthy organizational growth culture, defining a "growth champion" role, and prioritization of resources needed to support longer-term growth initiatives.
Topic: Platforms:
This article will focus on building a robust set of enabling tools which fit into the business, adopting and standardizing scorecards, financial models, business cases and business plans, and completing periodic reviews of voice-of-customer VOC, competitive monitoring, and market analyses.
Topic: Roadmap, Results, Metrics, Benefits
This article will focus on effective adoption of best practices, offer a logical sequence to implementation, and discuss building organizational and program maturity.
Please stay tuned for more practical guidance as we bring best practices for implementing engines of growth forward.
Engage with Us!
Do you have some ideas to share? Are there some topics that you would like us to address? Give us a call or email us and we'll be happy to chat with you.
You don't have to send your score in to us, but if you want to take a more in-depth survey and receive a free initial assessment, please go here.