---
"I wouldn't think twice about recommending Dawn Werry or Chief Outsiders to any other firm." Mike Hagen, VP of Sales and Marketing, Storage Battery Solutions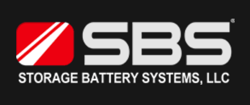 Established in 1915, Storage Battery Systems LLC (SBS) provides power solutions for stationary and motive power applications. Acquired by a PE firm, the company engaged Chief Outsiders fractional CMO, Dawn Werry to accelerate growth. Applying relevant industry and PE experience, Werry worked closely with SBS leadership to rethink and refine their go-to-market strategy basics to better deliver on their value proposition. Recommendations to reorganize sales, drive bid conversions, and better align market outreach with their unique value resulted in immediate revenue opportunities.
Background
PE Firm Raises Growth Expectations
Storage Battery Systems (SBS) specializes in backup and reserve power for utility, telecom, and other stationary applications as well as material handling motive power supply. The company manufactures and distributes batteries, chargers, testing and monitoring equipment, accessories and services to customers worldwide.
After an investment of capital from a private equity (PE) firm, the company added new leadership with an expectation for growth.
"We started looking at outside marketing firms to understand the market, knowing that we did not have the resources necessary to do it in the amount of time that we wanted to," related Mike Hagen, VP of Sales and Marketing.
Industry Experience and Cultural Fit
To get the ball rolling, Chief Outsiders leadership matched SBS leadership with fractional CMOs having relevant experience. Impressed with her qualifications, they interviewed Dawn Werry and selected her based on significant industrial and battery manufacturing marketing experience. Having worked with PE-owned companies, Werry also shined as a great cultural fit.
Nick Martino, the PE firm Operating Partner fostered a good relationship and gave John Bondy, CEO, Hagen and Werry the leeway to develop an appropriate growth plan. Joining the company about the same time as Werry, Hagen rounded out the team. "He's smart, with new ideas and a fresh perspective," related Werry. "He challenges the norm – and whether we could do things better."
Growth Strategy
Collaboration and Evolving Scope
Spending one day per month on-site, Werry conducted weekly phone status updates to review the action plan and progress and ad hoc calls to work with team members.
"Our weekly meetings were focused on where we were at in the plan, reviewing actions and then discussing actions coming up—everything from tactical discussions on actions to very strategic discussions based on the data re where we really want to go and what more we want to be doing," reported Hagen.
"As we learned, we changed and adjusted the scope of the engagement," added Werry. "That was critical. It was about being part of the team and an advisor to John and Mike, working together as colleagues with fluid, ad hoc collaboration."
Insight
To develop market insight, Werry talked to over 30 current, prospective and dormant customers, learning what they thought of SBS and its products. She interviewed company leadership, completed a competitive analysis and ran a thorough data analysis of ERP and CRM data on sales, repeat sales, the sales cycle and pricing.
Key insights gained include:
Ways to better position SBS and its unique value proposition in a commoditized market
Roadblocks to sales, including sales structure
Pricing strategies to better position SBS in a bid situation
Opportunities to focus on new markets and regions to facilitate growth
Where to Focus to Grow
The team developed a strategy that identified the markets that would enable them to grow faster than their natural growth rate. Werry's analysis showed that it made the most sense to focus on two key, related markets and add new offerings with an enhanced value proposition.
Werry's strategy presentation outlined three areas of improvement:
Reorganize sales team structure and targets
Drive bid conversions
Educate the market at key touchpoints in the decision process
"It came down to rethinking the basics of the company's go-to-market strategy to better deliver on their value prop," reported Werry. "SBS is known for being extremely responsive problem solvers for every customer – no matter how big or how small. We needed to reinforce that at every turn."
Short-term Pricing Recommendations
The question of whether or not a company is pricing its bids appropriately is likely to come up in any bid-heavy market. After evaluating wins and losses and talking with customers, Dawn suggested specific areas to adjust pricing and bid structure to enable more wins – as well as areas where pricing should not be reduced.
"The key to understanding the pricing recommendations was data," stated Werry. "SBS could provide detailed data on bid structure, pricing, wins and losses. That made it easy to model how changing various pricing elements would drive growth – or loss."
Winning Tactics
The team outlined tactics to win more business by focusing on key markets, regions and touchpoints throughout the buying process.
Sales funnel programs were organized around lead generation, lead qualification, conversion and customer support to build relationships. The team also worked to refocus on key markets and elements of the SBS offering by training both sales team members and customers on them.
"Coming out of our work with Chief Outsiders, our strategy included reorganizing our sales team and focusing on key markets," summarized Hagen.
Growth Results
Setting the Stage for Growth
"Working with Dawn and Chief Outsiders, our goal was to get an understanding of where we were in the market and then take that information and put together a strategy of how we were going to triple the size of the company in a short amount of time," stated Hagen.
Ensuring that SBS was in the right markets and pursuing the correct sales strategy for growth, the team established new ways to reach their aggressive organic growth target. They also positioned SBS as the cornerstone of High Road Capital's battery business, which has since grown further with the acquisition of Nolan Power Group.
Sales Efficiency and Revenue Growth
Reorganizing sales and bid pricing quickly generated new revenue opportunities. In fact, even before the pricing model recommendations were fully complete, the company realized benefits, quickly winning bids based on the initial learnings from the work. Over the long term, though, Werry expects the new markets, regions and products to generate the bulk of organic revenue growth.
"We went from a market segment focus to a geographic focus and immediately we were seeing efficiency gains, not just internal efficiency but also efficiency working with customers," reported Hagen. The new efficiencies meant less travel and even more responsiveness – a key to SBS' unique market value – for customers large and small.
Maximize Strategic PE Growth Opportunity
Though the individual changes were "not rocket science," Werry and the SBS team pursued a truly unique approach to see things differently, develop a focused growth strategy and get results. Impressed with the process and the outcome, SBS re-hired Chief Outsiders twice following the initial engagement. Furthermore, multiple other companies owned by the same PE firm have since engaged Chief Outsiders.
"Having worked with several third-party marketing firms in my history, I've not worked with one that became such in integral part of the team, not just sharing data and numbers, but aligning that with how we're going to get to where we're going," concluded Hagen.
"We make an impact, but I also genuinely enjoyed working with them," added Werry. "They were open, inclusive and very prepared. That's the magic here. Mike and John were extremely interested in how to make the company better. They saw the opportunity, applied John's knowledge of the market and made smart, strategic moves."