Valdez – with more than 25 years of executive marketing experience with high-tech companies – added to the Southwest team of "Executives-as-a-Service" firm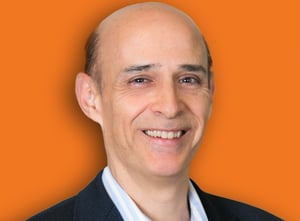 AUSTIN, TX – March 1, 2018 – As adept at marketing strategies for startups as he is for Fortune 500 companies, high-tech marketing executive Ed Valdez brings more than 25 years of digital transformation insights to Chief Outsiders -- one of the nation's fastest growing management consulting firms. Valdez's addition to the firm's Southwest team of fractional Chief Marketing Officers means that mid-market, tech-focused businesses have a new go-to option when looking for a senior leader who can jumpstart their product development, marketing, sales and operations strategies and tactics. Firms that consistently leverage digital transformation strategies can realize revenue growth ranging from 2% to 11% and a profit impact ranging from 1% to 7%.1
Like other Chief Outsiders, Valdez brings with him a wide range of senior marketing leadership expertise, with global marketing impact at two industry giants, Motorola and SUN Microsystems. Of equal relevance to Chief Outsiders clients is his more recent leadership at two startup enterprises – consumer electronics design/development firm Momentus, and innovative drone manufacturer Parrot. The former was successfully acquired and the latter IPO'd under Valdez's marketing and strategic guidance.
At Parrot, where Valdez served as President and COO, the company's U.S. sales grew by 10X and international sales by 2X during a three-year span. He also accelerated a diversified consumer electronics portfolio, ultimately leading Parrot to No. 1 market share in Bluetooth-based products for two consecutive years. More recently, at Momentus, he helped reposition the company into a Mobile First strategy with an omnichannel retail focus which helped lead to the acquisition.
"Ed is a digital transformation master – someone who knows how to help businesses capitalize on emerging digital technologies throughout their organizational structure," Clay Spitz, Managing Partner of Chief Outsiders' Southwest team. "He is known for helping companies strengthen their brand value and increase their customer acquisition strategies, all while ensuring that consumers benefit from a consistent omnichannel brand experience." For more insights about how customer experience can impact sales growth, read Ed's article titled: 5 Ways Customer Experience can Impact Sales Growth.
The Texas-based Valdez serves on the Board of Advisors for SXSW Interactive, SXSWedu and several Mobiletech, Edtech and SaaS startups. He holds a BSEE from the Massachusetts Institute of Technology and an MBA from the University of Texas at Austin. He also completed the Innovation and Entrepreneurship program at Stanford University Graduate School of Business.
About Chief Outsiders
Chief Outsiders, LLC is a nationwide "Executives-as-a-Service" firm, with more than 60 part-time, or fractional, Chief Marketing Officers (CMOs) engaged from coast-to-coast. Unlike other strategic marketing and management consulting firms, each CMO has held the position of VP Marketing or higher at one or more operating companies. Chief Outsiders have served on the executive team of over 600 client companies to drive growth strategy and execution plans for a fraction of the cost of a full-time executive.
Because of its market-based growth plans, quality of leadership, and experienced team, Chief Outsiders has been recognized for the past four years by Inc. Magazine as one of the 5,000 fastest growing privately held companies in the US, and was recognized in the Houston Business Journal's Fast 100. Chief Outsiders' CEO Art Saxby and Principal Pete Hayes are the co-authors of "The Growth Gears: Using a Market-Based Framework to Drive Business Success," an Amazon #1 best-seller for business owners and CEOs. For additional information about the companies who trust Chief Outsiders as their premier source for business growth acceleration, click here.
1 McKinsey Insights (2017)