The Midwest Group member provides clients with indispensable short- and long-term strategic planning insights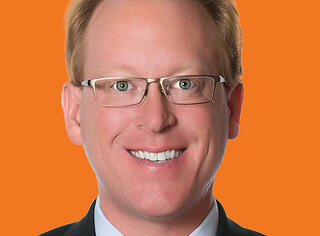 CHICAGO, IL– June 1, 2016 – Chief Outsiders announced today that Midwest-based CMO Sean Klunder has been promoted to company partner. Klunder, who specializes in identifying key areas for companies' rapid and significant growth, has spent the last two years uncovering and clarifying unique selling propositions, creating product roadmap strategies, and developing digital marketing plans that drive growth for a variety of Chief Outsiders' B2B clients.
"We're proud to promote Sean as a partner," said Art Saxby, Founder and CEO. "He joins an elite group of trusted leaders who have proven track records, not only in the marketplace and their respective specialization areas, but within our company as well. By stimulating and accelerating business growth for our clients in vital areas such as digital strategy, SaaS, and e-commerce, we're confident that Sean will continue to help lead today's small and mid-sized companies – and our entire Chief Outsiders team – to new heights."
Klunder's achievements at Chief Outsiders result from his track record as a successful executive leader of product management and marketing. He also specializes in working with companies to analyze markets and products in order to develop innovative short- and long-term product development and marketing plans. Klunder's career arc included roles as Senior Vice President of Product Management and Marketing at Korn Ferry International, a $1 billion recruiting and consulting organization; Vice President of Marketing and Digital Development for World Book, a Berkshire Hathaway company; and Divisional Vice President at ETA/Cuisenaire.
In addition to improving the marketing and growth strategies of businesses at Chief Outsiders, Klunder teaches digital marketing at the Lake Forest Graduate School of Management, where he instructs MBA students on successful digital strategies that drive growth. While serving as partner, Klunder will continue to provide his signature growth services for B2B-focused businesses across the United States. View Klunder's complete bio.
About Chief Outsiders
Chief Outsiders, LLC is a nationwide "Executives-as-a-Service" firm, with more than 40 part-time, or fractional, Chief Marketing Officers (CMOs) engaged from coast-to-coast. Unlike other strategic marketing and management consulting firms, each CMO has held the position of VP Marketing or higher at one or more operating companies. Chief Outsiders have served on the executive team of over 300 client companies to drive growth strategy and execution plans for a fraction of the cost of a full time executive.
Because of its market-based growth plans, quality of leadership, and experienced team, Chief Outsiders was listed by Inc Magazine as one of the 1,000 fastest growing privately held companies in the US (in the top 25 in Houston), and was recognized in the Houston Business Journal's Fast 100. Chief Outsiders' CEO Art Saxby and Principal Pete Hayes are the co-authors of "The Growth Gears: Using a Market-Based Framework to Drive Business Success," an Amazon #1 best-seller for business owners and CEOs. For additional information about the companies who trust Chief Outsiders as their premier source for business growth acceleration, click here.
CONTACT: Sterling Wilkinson, SWilkinson@ChiefOutsiders.com