The brand-building Chief Marketing Officer is the latest addition to the group of part-time "Executives-as-a-Service" at Chief Outsiders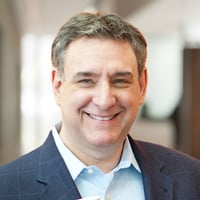 SEATTLE, WA – February 19, 2019 – Marketing success today requires a transcendent understanding of all aspects of an omnichannel strategy. Rich DePencier – the latest addition to fractional Chief Marketing firm Chief Outsiders – has demonstrated this omnichannel mastery throughout his career, and is now ready to foster disruptive marketing strategies at the small- and mid-market businesses that comprise the client base of Chief Outsiders.
A passionate brand-builder, DePencier is known for excellence in leading and motivating teams to create innovative strategies and go-to-market plans for rapid growth. As VP of Global Consumer Products at Starbucks, DePencier fostered the research, business planning and introduction of Starbucks ready to drink and packaged coffee products across digital and brick and mortar channels in 20 countries. While serving as Global VP- Retail Beverage, Rich helped test expand the introduction of four of the most successful beverage launches in Starbucks history, including Green Tea Frappuccino, Cinnamon Dolce, Ready-To-Drink lattes and Refreshers. His digital prowess led to the coffee giant becoming the No. 1 brand on the social media platform Facebook in Europe.
With a track-record of results across Fortune 100 and smaller entrepreneurial/tech companies, DePencier builds brands that win consumers' choices across multiple channels and platforms in North America, Asia, Europe, Middle East and Latin America. His specialties include brand management, leadership development, P&L, channel strategy, product innovation, full-stack digital marketing, consumer research, and working with joint ventures, private equity and distributors.
"Rich is an impressive addition to the Chief Outsiders team of fractional CMOs – able to translate winning global go-to-market strategies to an audience of eager SMB and mid-market executives," said Karen Hayward, Managing Partner, Chief Outsiders. "His journey to this point has provided Rich with the insights, understanding – and most importantly, expertise – to overcome marketing malaise and create omnichannel marketing successes."
DePencier – a former Fulbright Scholar – earned his BA and MA in International Relations and Latin American Studies at The American University School of International Service.
About Chief Outsiders
Chief Outsiders, LLC is a nationwide "Executives-as-a-Service" firm, with more than 60 part-time, or fractional, Chief Marketing Officers (CMOs) engaged from coast-to-coast. Unlike other strategic marketing and management consulting firms, each CMO has held the position of VP Marketing or higher at one or more operating companies. Chief Outsiders have served on the executive team of over 700 client companies to drive growth strategy and execution plans for a fraction of the cost of a full-time executive.
Because of its market-based growth plans, quality of leadership, and experienced team, Chief Outsiders has been recognized for the past five years by Inc. Magazine as one of the 5,000 fastest growing privately held companies in the US, and was recognized in the Houston Business Journal's Fast 100. Chief Outsiders' CEO Art Saxby and Principal Pete Hayes are the co-authors of "The Growth Gears: Using a Market-Based Framework to Drive Business Success," an Amazon #1 best-seller for business owners and CEOs. For additional information about the companies who trust Chief Outsiders as their premier source for business growth acceleration, click here.