A new series of ads, featuring actor Nick Offerman, is the first TV national advertising exposure for the 50-year-old epoxy manufacturer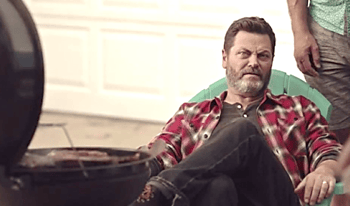 June 8, 2018 – HOUSTON, TX -- He's well-known for his craftiness as the fictional city parks official Ron Swanson, star of the NBC-TV hit sitcom Parks and Recreation, and now actor Nick Offerman – a real-life woodworker and craftsman – will bring to life a new advertising campaign for J-B Weld® epoxy adhesive brand.
The national TV campaign - the first in J-B Weld's 50-year history – was created by the iconic advertising agency TBWA\Chiat\Day New York. AdWeek's coverage of the campaign – including links to some of the TV spots featuring Offerman – can be viewed here. The ads have been on air for just a few weeks and have already created a buzz. iSpotTV viewers rate the new J-B Weld TV spots with a 99% approval rating.
"We're very excited to see the new J-B Weld campaign launch," said Evan Eckman, Chief Outsiders' Partner and consultative CMO for J-B Weld. "The new campaign has received accolades from Ad Age, Ad Week and Fast Company, as well as from TV viewers and from the millions of loyal J-B Weld brand-fans."
"Chief Outsiders offers this fast-track market-based approach for crafting high-potential growth strategies for its clients," said Eckman. "What also makes Chief Outsiders unique is that our proven, diversely experienced consultative CMOs stay on-board with clients after their strategy work is completed. We lead in the marketing plan implementation."
Eckman adds, "It's an appealing consulting model for PE firms as well as mid-cap and growth companies. Working with over 600 clients across more than 60 industries, Chief Outsiders brings a wealth of experience to every marketing assignment - including those in the most fast-paced and competitive consumer product categories."
About Chief Outsiders
Chief Outsiders, LLC is a nationwide "Executives-as-a-Service" firm, with more than 60 part-time, or fractional, Chief Marketing Officers (CMOs) engaged from coast-to-coast. Unlike other strategic marketing and management consulting firms, each CMO has held the position of VP Marketing or higher at one or more operating companies. Chief Outsiders have served on the executive team of over 600 client companies to drive growth strategy and execution plans for a fraction of the cost of a full-time executive.
Because of its market-based growth plans, quality of leadership, and experienced team, Chief Outsiders has been recognized for the past four years by Inc. Magazine as one of the 5,000 fastest growing privately held companies in the US, and was recognized in the Houston Business Journal's Fast 100. Chief Outsiders' CEO Art Saxby and Principal Pete Hayes are the co-authors of "The Growth Gears: Using a Market-Based Framework to Drive Business Success," an Amazon #1 best-seller for business owners and CEOs. For additional information about the companies who trust Chief Outsiders as their premier source for business growth acceleration, click here.