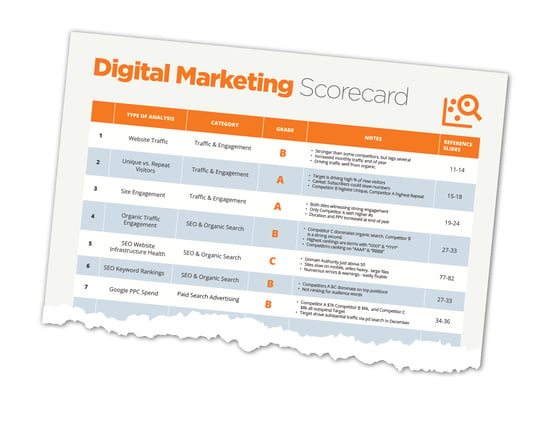 The importance of digital marketing for EVERY company cannot be overstated. In the past year consumer habits changed dramatically. The overwhelming majority of B2B and B2C buyers now start with online research to inform their buying decision. With rapid market evolution, successful business leaders measure and refine their digital marketing efforts to maximize results and valuation through a digital marketing assessment (DMATM).
Gauge the effectiveness of your digital marketing efforts or agency.
Compare your company's digital performance against competitors.
Drive revenue growth with knowhow from experts in digital marketing.
Leverage the Digital Marketing Scorecard with actionable growth recommendations.
The DMATM generates Digital Marketing Scorecards against top competitors, including a Digital SWOT Analysis. We compare strategically, company to company, and make Recommendations to drive sales growth, identify quick wins, and improve your company's digital performance.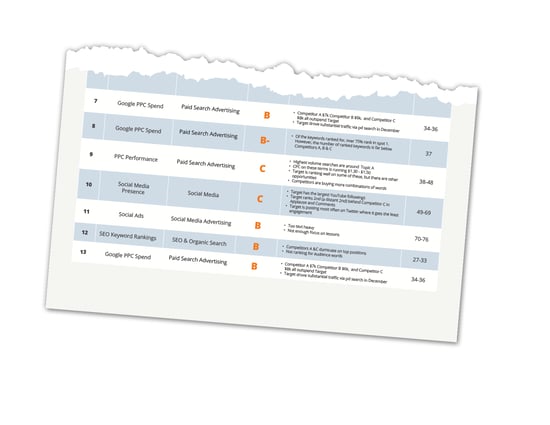 We evaluate and grade these key elements of digital marketing with supporting charts and graphs.
Website Traffic Engagement
Website User Experience
SEO Analysis
Paid Advertising ROI
eCommerce Performance (optional)
Digital Marketing Channel Analysis
DRIVE REVENUE GROWTH
Drive revenue growth through enhanced digital marketing performance with a proprietary Chief Outsiders DMATM. The DMATM provides data and analyses to evaluate and grade every part of your digital marketing effort.
Apply actionable growth recommendations to achieve faster scale and move forward with greater confidence.
INCREASE COMPETITIVENESS
Leverage the DMATM to increase competitiveness by evaluating core digital performance indicators. A key element of the broader "Quality of MarketingTM" or "Q of M" assessment, the DMATM provides an objective view of your company benchmarked against key competitors.
Get detailed recommendations for how to improve your company's digital performance versus competitors.
LEVERAGE DMATM INSIGHTS TO IMPROVE DIGITAL PERFORMANCE
Improve Marketing Efficiency
Enhance Customer Experience
Generate Incremental Leads/Sales
Lower Customer Acquisition Costs
Easy to Explore - Ask for a Quick Assessment