I recently had the opportunity to join Katie Mulligan Editor-in-Chief from Middle Market Growth magazine to discuss why every company in the US needs to reevaluate and consider relaunching their commercial engine. This post is an edited transcript of our interview. You can see the video in its entirety clicking below: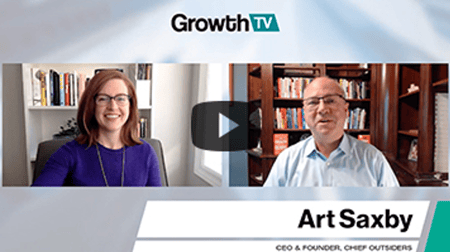 Different Priorities and a New Focus
Buyers, whether they're B2B or B2C are changing their behavior and changing the way they go to market. What does this mean for your business? Which of your market segments are going to react the fastest? This will require taking a pragmatic approach and deciding where you need to focus now. Does your go-to-market strategy need to be re-designed? It probably does, or at a minimum it will need be adjusted to take into account the shift in buyer's behavior.
Every company in America needs to take a look at, reassess, and in some cases redesign their commercial engine and prepare it for a relaunch, because the future may look very different than the past. Companies that are really focused on planning for that future actually have a better chance of coming out the winners.
The Changing Role of the CMO and Why Hire a Hired Gun
Most lower mid-market companies and even many mid-market sized companies have optimized their marketing organization to drive the commercial engine that runs their business. But right now, that commercial engine is frozen, and they may need to design a new one. The skills needed to run this engine are very different than the skills needed to design, develop and relaunch something new. This means the role of marketing in many organizations needs to change dramatically for a short period of time.
Some of these organizations may have a really good marketing team and head of marketing, but they may not have a chief marketing officer that can participate at the C-suite level to discuss and debate with the private equity firms, the operating partners, the CEO and the CFO on where they need to lead the organization.
When you hire one Chief Outsider, you gain insight from our entire Tribe of CMO professionals. Some of our folks are really great at insight strategies, and some are really great at other elements. Today, you need a much broader view of marketing if you're going to figure out where you take the organization next. Many of our clients and our CMOs take the opportunity to tap into the skills of other people in the Chief Outsiders tribe, bringing the power of many to every engagement.
Shifting Terrain
The COVID crisis in some ways has accelerated trends that were already underway, like e-commerce or digital marketing. And with that, companies are really asking a lot of their marketing teams. We've seen this in the industry in general and especially private equity. One of the benefits of a founder/owner going to a private equity firm is that the private equity firm has a broader view of the world. They've seen more cycles. They really understand when a company needs specific expertise and they can bring in that expertise, whether it's a Lean Six Sigma person or it's changing the operations of the finance systems.
But it's the same with marketing, where they really need the specialization of taking a product to market in a new world. A lot of our industrial, chemical and manufacturing companies are suddenly realizing they need some type of an e-commerce strategy because their salespeople can't go to their customer's facilities and do business-as-usual sales and marketing activities. They're have to figure out new ways for their customers to order online or for their salespeople to work online. Customers are buying differently, so how do you get in front of them and satisfy their needs?
Luckily for private equity firms they have that view, and the experience to say, "This company has a challenge here. This company has a challenge there." Many founder/owners don't know what they don't know. Private equity has that broader view and can say, "Yes, we need an expert here." Sometimes it's marketing, sometimes operations, finance or other functional areas.
New Skillsets are Required
Chief Outsiders works with a number of private equity-backed companies. Because of the shifting terrain, the required skillsets for these companies has also changed. Private equity is very good at understanding the importance of talent within their portfolio as a growth lever. They can answer questions such as - what they should they buy vs. what should they lease? How much capital do you put down? How much capital do you borrow? It's the same with people. You develop human capital based on what you need to drive the company long term. You buy those marketing assets.
But now when there's a huge spike, they don't have time to go search for a vice president of marketing or a CMO who can help with these insights and the strategy required to get a new engine started. That's where Chief Outsiders comes in. We can place a CMO on the management team right away to figure out what needs to be done and then step away once that engine is built.
Maximize Existing Investments
Now that there is more and more talk about the economy opening up, private equity firms are evaluating what that will look like for their businesses. In order to chart a path forward, investors can take some immediate steps with their management teams. At Chief Outsiders, our role is to bring a market-based perspective into the management team. It's the same thing for private equity. They need to assess which industries are going to rebound quickly and how they can capitalize on that. If a portfolio company was selling to five different industries, one of them might be booming right now. Two of them could be really hurting and slow to recover. Private equity has the opportunity to look at their portfolio and examine how their companies are being run based on:
Is current management team well run?
What market segments are they selling to?
Which of those segments are likely to return fastest?
Which of those segments should they invest in?
The shift is all about figuring out which market segments are right for investment, right now. Then, making sure your portfolio companies are selling to these segments and grabbing a part of that growth is the quickest way to react. Optionally, you may want to go out and buy companies that are in those growth segments but pivoting one of your current companies to sell to a growth segment is best because you're maximizing your existing investment.
If you need an experienced outside perspective on the best opportunities for growth in your portfolio companies, we'd love to help. Leverage the power of the Chief Outsider Tribe to get your growth engines firing on all cylinders.