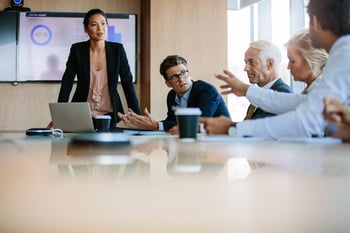 Operating Partners have a tough job!
Many firms are still trying to figure out their Operating Partner strategy
They don't always have input into the deal parameters yet are called-upon to see that the Value Creation Plan fulfill the investment thesis
They don't always have a full seat at the table with the deal partners and may not reap the same type of rewards
They are often in the position of working with management teams who are skeptical of their input and not always quick to accept help
They are often spread thin across multiple portfolio companies with limited resources
These dynamics were on full display at two events I attended recently – The PEI Operating Partners Forum and ACG's M&A East. While Operating Partners were in abundance at the first event, the second was dominated by deal professionals and board advisors. Surprisingly, much of the messaging was very similar.
What did I learn from these events? A lot that can help guide your own strategy to create value in your portfolio companies and for your funds.
As may be expected, there was a lot of talk at the PEI Forum about the new drivers of value creation. One interesting fact I picked up on from one of the panel sessions noted that across multiple studies, 60% of value creation in private equity deals has been driven by organic revenue growth, vs. 30% from cost reduction. The speaker noted that dynamic was the revere not too long ago. As one Operating Partner put it, "The days of financial engineering to create financial returns are over. You need to play the organic growth card to create value." Another noted, "The underpinning of value creation is the right value proposition."
So are Operating Partners creating value and driving organic growth?
For many, the answer is a carefully selected set of consulting partners. These Operating Partners are looking beyond the board room to consultants who can help them dig-in to their portfolio companies' needs, issues, and strategies to provide real-time, hands-on support to their management teams. In many cases, they are looking for someone who can focus on how the portfolio company "goes-to-market". This can cover everything from core value proposition to product strategy and pricing, to market segmentation, and on to the specific programs that deliver revenue growth and EBITDA.
The playbooks they use often start with the development of a strategic growth plan with company management. Several Operating Partners talked about how they bring in a facilitator to bridge the distance between the PE firm and management. They are also looking for someone who can help then organize and take control of all aspects of the customer journey. One panelist suggested that this resource focus on at least 2 of the 3 main areas impacting that journey – sales, marketing, and customer service. They need someone who can be broad in scope to assess, fix, and build along the dimensions of people, process, and technology. As one panelist put it, "you don't really know what you have in those areas until after you close."
Ultimately, they want someone who can come in and install both process and platform for sustainable growth – what we at Chief Outsiders call "An Engine for Growth". This usually means the right systems to ensure continuous learning and improvements in filling, managing, and optimizing the funnel; and the metrics that provide visibility into what's really going on with the business. Several panelists noted that "traditional consultants" often don't really cut it. As one said, "what separates the really good players is the ability to execute."
Interestingly, many of these same themes were echoed at a panel I attended at M&A East. Several of the panelists – board members with both operations and revenue-generating backgrounds – noted that what was missing from many private equity-backed company boards and management teams was a broad market-focused point-of-view. They pointed out this blind spot and noted the challenge of having too much uniformity on the board. As one put it, "When all the board members have similar backgrounds and experience in the industry, openness to new ideas can become limited."
Another noted that often board members and company management stick with the playbooks they know, whether they are best for the company's situation or not. During a discussion on retailing in the age of Amazon, one panelist reinforced this point by observing how, "bricks-and-mortar guys" take a physical stores first approach because that's what they know best, while e-commerce execs start with online first because that's where they've been disruptive. What works best, he pointed-out, was an approach which starts with what's most important to the customer - how they would like to buy, and the experience most meaningful to them. That approach has not only allowed some traditional retailers to thrive in an Amazon world, it's led a number of e-commerce players to build a presence in the physical world. This includes the 9 million pound gorilla themselves – Amazon.
The differences from these two events was definitely evident, as would be expected by the roles of the attendees – deal partners at M&A East, and Operating Partners at PEI. What was perhaps a little surprising, at least to me, was how similar many were in their advocacy of commercial strategies rooted in a market-based perspective, and the need to bring in the resources to provide both those points-of-view and solid execution.