Discipline is Good, Right?
In Jim Collins' "Great By Choice" this pyramid model provides a framework for his trilogy-logical discussion. I've read this book wearing two lenses – one, as a principal in our firm, and two as a marketing executive. As a business leader, I aspire to a higher level of discipline in my leadership as well within my personal work ethic. As a marketer, I recognize – primarily from the past 10 years of expanding digitally-dominated marketing and dynamic market ecosystems – that discipline is indeed the capstone of success.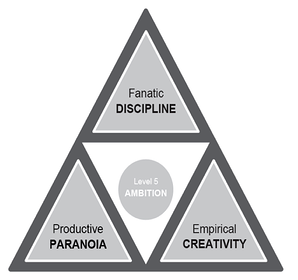 Goes Against My Instincts
The 20 Mile March is "Jim Collins code" for consistent, methodical and metered execution. He correctly calls it out as a choice or decision, even a strategy, for securing sustained growth. The argument goes against several mantras ingrained within me – "strike while the iron's hot" "leverage your opportunities" "capture the moment". No, instead, his research observed that companies win (and south pole explorers survive) when they meter their progress. How might this apply to our business at Chief Outsiders? Perhaps we should add one new major market a year to our firm, regardless of the market conditions. If it's a tough year, we add one new market. If the economy is rocking and highly favorable, we still add only one new market. Collins' research tells us the benefits of steady pace outweigh the opportunistic instinct to lunge ahead in good times or hunker down in tough times.
9 Market-Oriented Disciplines
How might the 20-Mile March discipline apply to marketing behavior overall? Perhaps we can use our 9-step Purpose-Driven Marketing model as mile markers:
Customer Perspective – How often and with what rigor do you solicit insights from your customers? Do you only reach out when there's a new initiative to get feedback on, or do you consistently know where you stand?
Competitive Insight – How frequently and how completely do you work to understand your competitors? You're paying attention when they launch a new offering or steal a customer, but what about the rest of the time?
Company Tribal Insights – When you survey your employees, are you concerned solely with organizational health, or do you solicit insights that could make you more relevant, distinctive and powerful in the markets you serve?
Positioning Precision – How regularly do you check the alignment of your company story to market realities and the regular insights you are soliciting? How distinctive and relevant are your products? Does your product lifecycle strategy include regular market-relevance check-ups?
Fresh Objectives – Do you clearly define and publish across the company your updated objectives?
Current Plans – What's your planning cycle? We're finding 5 times a year is becoming a trend. Methodically reviewing objectives and budget allocations keeps everyone on their toes and the business in sync in a dynamic market.
Orchestrate Alignment – Now that the executive suite is marching, how and how frequently will you drive alignment across your organization and externally into your go-to-market ecosystem?
Methods – Ah, finally, the list of 20-mile march THINGS your marketing communications and promotional people (in-house or contracted) can do to drive revenue opportunities. How well do they align their goals with your business objectives? How rigorous is their activity? How fruitful? (see Measurement next)
Blogging
Tweeting
eNewsletters
Webinars
Whitepapers
Testimonials
Nurturing
Press releases
Events
Videos
Pinning
Measurement – What's YOUR dashboard? The marketing team has a bunch of things they're tracking (all the above plus the related cost-per-x accounting). But how and how often will you review and stay informed with their progress, ensuring the investments, activities and results are aligning with your objectives?
In short, to set the mile markers for your business, ask the above questions and then establish frequency and distance metrics – how much will you do and how often. And remember, the consistent pace outweighs the volume. Make regular, measured progress (vs. opportunistic leaps and bounds followed by valleys of exhaustion).
We often write about how Operations-oriented companies can grow faster than their peers if they learn how to develop strengths in marketing disciplines. In this case, it's clear to me that Market-oriented companies need to buckle up and become more disciplined to capitalize on the benefits of the 20-mile March.
Would love to hear what you think.