Today's blog is by guest blogger, Des Cahill.
I recently enjoyed reading Barbara Fowler's blog post "Hiring the Right CMO", which outlines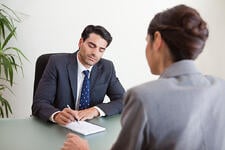 the things CEOs should thing about when considering the right CMO for their company.
As a CMO, I thought it would be interesting to flip the perspective and outline what a CMO should look for in a CEO they might work for. Caveat - my background is primarily as a marketing executive (CMO, VP Marketing, VP Product) in Silicon Valley tech companies both large (Apple, Netscape, Autonomy) and start-ups (efax.com, Ensighten). So my views reflect primarily a Silicon Valley tech and B2B perspective. I also spent 5 years as CEO of a start-up (Habeas), so I do bring a view from both sides when considering what it takes to create a successful working relationship for a CEO and CMO.
Of course CMOs don't literally hire CEOs. But when a CMO or VP of Marketing is considering a new job opportunity, the company and opportunity evaluation process should start with the CEO. The CEO creates the company culture and their communication and leadership styles are critical factors in the company's success. Is the CEO open and honest about company challenges in the interview process? Or are they guarded about sharing information? The CMO needs to be able to develop a good chemistry with the CEO to ensure a productive working relationship. Is this CEO someone that you would like to spend a lot of time together? A candidate has to evaluate many opportunity factors beyond the CEO (i.e., business model, target customer, leadership team, technology), but if the company doesn't have a strong CEO setting a good baseline culture through effective communication and leadership, that's a red flag.
If your potential new CEO ticks the box on culture, leadership and communication that's great. Next you can look at some key indicators that will ensure the CEO and CMO can partner together successfully to build a strong marketing function (i.e., corporate marketing, demand generation, product marketing, product management).
Here are some critical questions the CMO should ask themselves about a prospective CEO:
How well does the CEO understand the marketing function?
The CEO is hiring a CMO or VP of Marketing because they need you as a marketing expert and leader. But it really helps if your CEO has some context for what successful marketing activity looks like and feels like. While you'll have to do some CEO education, especially on newer areas like digital and data marketing, you should look for a CEO who can appreciate and understand what marketing excellence looks like. A CEO who was a prior sales leader will appreciate demand generation. A CEO who has an engineering background will expect excellence in product management. You need to help your CEO see the bigger picture of marketing and mutually agree on the definition of success in each area of marketing.
Is the CEO willing to invest sufficiently in marketing?
The right level of investment in marketing is always a difficult decision making process for a business. But as CMO or VP of Marketing you should have a pretty good idea of the funding and headcount you will need based on the sales targets and other objectives laid out in the business plan created by the CEO and the rest of the leadership team. You need to make sure the CEO buys into your marketing plan and is willing to sufficiently resource it before you commit to join the company. Even better, make sure the CFO, VP of Sales and a board member or two also support your marketing plan before you join.
Is the CEO in touch with the current state of marketing in company?
I joined a startup once and marketing was completely screwed up, it wasn't non-existent, it was just awful. The website and collateral failed to tell the company story. Leads weren't being followed up on by sales. Systems weren't in place. No product roadmap or product specs. Content was aged and out of date. A week into the job the CEO asked me, "Hey Des, can you get me a weekly marketing KPI report?" My answer was "The house is on fire and you're asking me to balance the checkbook?" While delivery of marketing KPIs is an obligation of the CMO, asking for them at that time told me the CEO was out of touch with the state of dysfunction in the company marketing area. While we did start producing a monthly KPI report within 4 months, educating that CEO on the marketing investments, progress and realities of the business environment (competition, sales challenges, etc.) was an ongoing effort.
I'm sure there are many more questions for a CMO or VP of Marketing to think about when evaluating the their prospective CEO and company. If you have additional thoughts on the topic, please comment below.
Author

Des Cahill is a SaaS B2B CMO based in Silicon Valley and a guest blogger for ChiefOutsiders.com. Des writes on digital and data driven marketing at descahill.tumblr.com or follow him on twitter @descahill.