Part 1: Introducing the GROW Blueprint
In less than 30 years, the lifespan of an S&P 500 company declined from an average of ~ 32 years in 1996 to a projected 19 years in 2023. By 2030, experts predict companies will last a mere 17 years. The trends will be no different for small- and medium-sized businesses (SMBs).
Given this stark reality of businesses striving to survive in a VUCA world (Volatility, Uncertainty, Complexity and Ambiguity), it would be myopic – and potentially, fatal – for a CEO to navigate the rough waters of economic and competitive challenges without a guide for growth. In this 5-part series, I will offer a blueprint for growth that will help you leverage marketing as a growth engine that will align with the strategic agenda of your business.
Having worked with dozens of B2B and B2C business in the past two decades as a fractional CXO (where the X ranges from Growth to Strategy to Innovation to Operations to Marketing), I have sought to codify a simple set of tools that can be employed as your "CEO's Guide for Growth."
I have used this first tool -- adapted from an executive coaching framework originally published in a book titled Coaching for Performance by Sir John Whitmore (1992) -- to guide CEOs like yourself at both B2C and B2B companies. This model -- aptly named GROW (see graphic) – can help CEOs separate the signal from the noise. (To download a GROW blueprint and other tools, see A CEO's Guide to Growth Toolkit)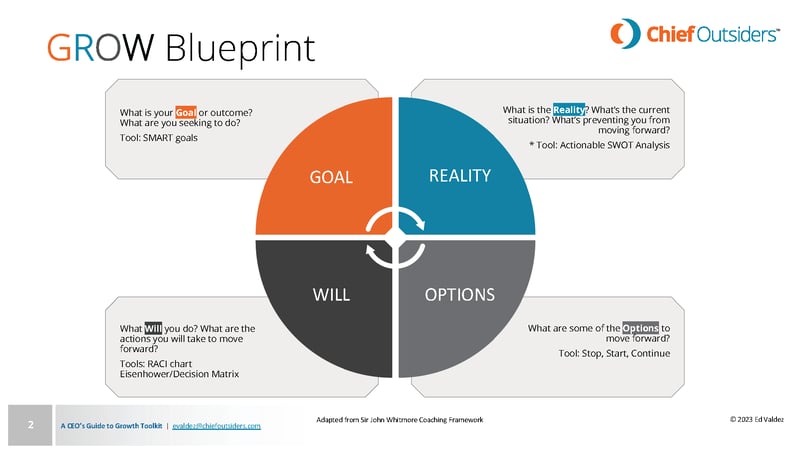 G = Goal
If you don't know where you are going, any road will take you there. That's why identifying the most important growth goals for the firm are of paramount importance: Begin with the end in mind – the outcomes sought. While profitable growth is the lifeblood for any business, using SMART goals will yield the best results. SMART goals are those defined as:
Specific
Measurable
Achievable
Relevant
Time-Bound
One example of a SMART goal for a B2B SaaS business would be: Meet or exceed the Rule of 40 by achieving 30% revenue growth and increasing EBITDA by 10% by the end of 2023.
While it may take some time for the leadership team to converge on an optimal goal, identifying your North Star is best achieved by a strong dialogue about the Goal among the leadership team. The outcome of this stage will be the answer to the question: What does success look like? (To download a SMART goals template and other tools, see A CEO's Guide to Growth Toolkit)
R = Reality
Before proceeding to any planning stage, we first must assess what the business reality is today. A SWOT analysis at this stage can help your team identify the Strengths, Weaknesses, Opportunities and Threats, yet the discussion goes beyond the SWOT chart.
A few questions that would guide this discussion are:
What are a few factors or challenges that are limiting our growth or causing friction in our customer journey?
What's not working, yet could be?
Who or what have been barriers to achieving better outcomes?
What priorities, values, habits, limiting beliefs, and actions taken/not taken that may be preventing us from reaching our goals?
What would happen if you did nothing?
(To download an Actionable SWOT chart and other tools, see A CEO's Guide to Growth Toolkit)
O = Options
NASA Flight Director Gene Kranz was once quoted as saying, "When bad things happened, we just calmly laid out all the options, and failure was not one of them." That's what the leadership team needs to do at this stage. One way of doing this is to use the "Start, Stop, Continue" process that has been proven to curate valuable insights (see graphic):
Start: What should we start doing?
Stop: What should we stop doing?
Continue: What should we continue to do?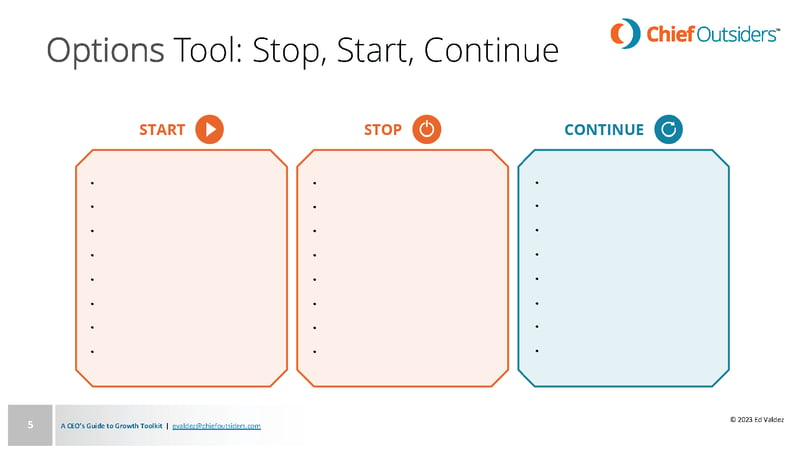 In this ideation phase, anything goes, for it's more important to identify what's possible rather than what's probable. That is, just because an idea is generated does not mean that it has to start, stop or continue.
One example of an idea that follows the Start, Stop, Continue framework could be: We will launch a global Partner Program, a Customer Advisory Board, and a Loyalty Program that would:
Make an impact for new business in new markets
Be influenced by the Voice of the Customer and
Improve our retention and referral business.
(To download a Stop, Start, Continue template and other tools, see A CEO's Guide to Growth Toolkit)
W = Will
This section is the culmination of the work completed in the G, R and O sections. Yet taking action does not necessarily guarantee success. There are four steps needed in this process that will help establish a PACE for Growth:
Prioritize actions so the team will be clear about what's above the line and what's below the line before they move forward.

Assign

accountability using a RACI chart – also known as a Responsibility Assignment matrix. You can learn more about how to get the most out of the RACI process from an article by my colleague Don Lee: RACI+ Joins the Race: How to Supercharge Your Sales Funnel.
Catalyze commitment. CEOs need to make it clear that Growth (i.e., profitable growth) is why a business exists. If there seems to be any conflict in priorities that would prevent 100% commitment to the actions that all are agreeing to do, now is the time to air out any concerns.
Evade/Eliminate obstacles. The path to success is never a straight line; it's a winding road with hills and valleys. CEOs must constantly discern between what's important versus what's urgent, so they can equip the executive team to feel empowered to remove obstacles or interruptions that are a natural part of day-to-day business.
While there are many challenges to business growth, what should be top of mind for CEOs is how to manage change in a way that will transform the company and add more value to your business' key clients and stakeholders. A practical tool that CEOs can use as a prioritizing framework to separate the urgent from the important tasks is the Eisenhower/Decision Matrix (see A CEO's Guide to Growth Toolkit).
The essence of the GROW process is to facilitate changes within the organization that will
lead to profitable growth
align with the strategic agenda and
be fueled by marketing.
This process also ensures that each leader walks away from the process with one or more actions that they are accountable for, committed to completing and equipped to manage and overcome any obstacles that may arise on the road ahead. When used with the Growth Gears, leveraging the Growth Blueprint along with five other tools bundled in the Growth toolkit will help your business navigate toward your North Star for growth.
To download A CEO's Guide to Growth Toolkit, click here. This kit includes:
GROW Blueprint
SMART Goals template
Actionable SWOT Chart
Stop, Start, Continue template
RACI Chart
Eisenhower/Decision matrix
Check out Part 2: The Go-to-Market Pyramid – 5 Steps for Scaling to Success.