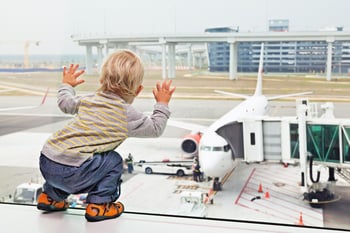 At a major U.S. airport on a recent dark early morning, two major airline mechanics reported for work. Their job: To "wake up" the airplanes at the gate, in the dark, to get them ready for the day's service. This requires activating and checking various systems on each airplane so that a "dark" airplane "awakes" from its overnight sleeping. Lights turn on, systems are activated, and everything is checked for the first flights of the day.
One recent morning, however, this routine changed. The two mechanics indeed performed their required duties. Except this morning, they decided to scour the gate area for families with young children -- sleepy and crabby in the early morning dark -- and asked their parents if the kids could help "wake" the airplanes. The kids jumped at the chance. One mechanic in the terminal handed his radio to the kids, and had them say "wake up airplane" to the other mechanic, waiting on the plane. Lo and behold, like magic, the airplane came alive – lights glistening in the pre-dawn darkness, now "awake" for the day's service. The kids, of course, were thrilled: They got a chance to talk to the mechanics, and a taste of the airplane business (which might motivate some of them to join the industry someday). Incidentally, this is now a ritual that these mechanics engage in on a daily basis.
Such ingenuity – in past years, perhaps a one-off event – is now leading the "awakening" at Delta, the world's second-largest airline. More than a decade ago, Delta was emerging from a merger and was being buffeted by tough financial headwinds. The airline decided to double-down on operational excellence – making a major commitment to improving its systems and processes and targeting the improvement of a huge list of metrics. For Delta, it was about running the airline efficiently. And, while this type of effort is never completed, to a remarkable degree, Delta has vaulted to the top ranks of operational excellence, leading its peers when analyzing financial and other critical metrics.
Having built a strong operational foundation, now the airline is turning to the customer journey. For those peers who were stuck staring up at Delta's contrails as the airline set the standard for operational excellence, they would best be advised to observe how Delta is embracing its lifeblood – its consumers. Delta has learned that how its customers FEEL at every step of the journey, from initial booking to final return home, will make a huge difference in continued growth and profitability.
What does focus on the customer journey look like? First, Delta is starting to view itself not as a "transportation provider," but as a "consumer brand." And that view is not being driven by minor tactics and "nice-to-haves" – they have instead adopted a measure called Net Promoter as "the" key metric. Net Promoter is a measure of consumer satisfaction which prizes likes over dislikes, and has been validated across many industries as the best overall measure of the customer experience. In fact, companies like Amazon only use the Net Promoter score to gauge its legions' happiness. Delta has gone so far as to release Net Promoter scores right along with its financials. Executives cite Net Promoter score progress on CNBC, and in speeches reviewing the company's results.
Second, Delta is focused on differentiation, with a specific focus on what the airline calls the "hard product" – airplanes, gate areas, food; and the "soft product" – what it FEELS like to interact with Delta people. This is what we at Chief Outsiders call "Big M" – finding areas meaningful to your customers that you can improve, and be better at, than your competition.
Led by customer feedback and that all important Net Promoter score, Delta in some ways is taking a contrarian view to differentiate itself. For example, most airlines that deploy large wide body planes are cramming in a 10th seat in every coach row, up from nine across previously. How do you cram in a 10th seat? You shrink the seat width and armrests. Delta's competitors, traveling their own journey, have decided cheap seats are the driver, and the way to get there is less space for the customer.
Delta, based on its knowledge of the customer journey, has figured out there is a large group of customers who will pay a bit more for a more comfortable seat – hence they are staying with nine abreast. Competition is also in many cases removing seat back video screens – too expensive to install and maintain. Delta is going the other way – their new planes will have state-of-the-art screens on every seatback – even on the new "short-haul Airbus A220 which Delta is adding to its fleet.
What about the all-important "soft product" – human interaction? Delta is focusing, again in a systematic way, on employee engagement. In the service business, if your employees are happy, their happiness translates to improved customer satisfaction. Delta's leadership gives its frontline employees broad authority to ensure happy fliers, granting them authority to make decisions immediately to blunt the inevitable issues that arise over the course of thousands of flights a day. The company has rolled out new uniforms with the input of employees, breaking tradition by adopting bright purple colors -- one more effort to engage employees and thereby engage passengers. By the way, Delta doesn't call its consumers passengers, which evokes impersonality; instead, they refer to them as customers -- real people with real needs.
And what about "waking up" the airplanes? That wasn't some corporate initiative, tested, vetted and conjured by some marketing think-tank. That was two mechanics who demonstrated an understanding of what the customer journey is and should be, and how small gestures make a big difference. Do you think those kids and those families will have a positive memory of their trip on Delta?
What about the customer journey for your customers? Do you walk in their shoes? Do you understand how you can be different, and better, than your competition -- different enough that they will choose you in preference to competition and yes, in some cases, pay more for your product or service? Do you have metrics like a Net Promoter score so it's not all talk and no action, so that you can see what's working and what's not, and make changes accordingly? If not, make today the day you vow to renew your focus on the customer journey – a journey that, for you and your employees, never ends. Every day needs to get better and better - forever. And if you take that mindset, you will likely see the rewards Delta is seeing today, with more and more happy customers and financial returns at the top of the industry. Need an ally to help you undertake an exploration of an improved customer journey at your business? Let's have a conversation.