Digital Demand Generation: A New Level of Marketing
In my last blog, I talked about the need to have your marketing plans be mindful of the increasing importance of marketing technology infrastructure, data, content, mobile and privacy regulations.
Assuming you are ready with your new marketing strategies, it's time to take a deeper dive into the great level of the marketing playing field – digital demand generation marketing. In a little under a decade, the advent of new social and online tools has dramatically changed demand generation – using tools that are accessible, easy to use and offer the ability to micro-target like never before.

According to a recent CEB and Google study, with the rising use of digital channels, it is not enough to incorporate digital in the broader marketing campaigns. An organization can optimize digital demand generation in their marketing efforts by continuously monitoring and managing all digital presence including the website, social platforms, blogs, search, communities, paid search, and online advertising.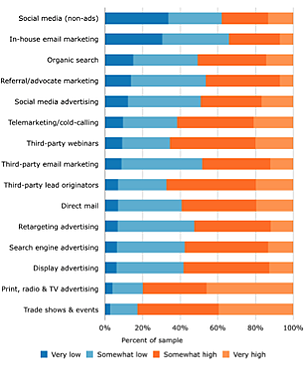 One factor about digital demand generation is an irrefutable truth – it is among the most cost effective methods to draw prospective clients to your product or service. A survey of B2B marketers experienced in deploying such demand generation tools cited E-mail marketing, social media, and search engine optimization as the most cost effective demand generation methods today.
With all this in mind, let's take a closer look at digital demand generation marketing today and what companies have found as a best-practices approach to utilizing each discipline.
Source: Software Advice B2B Demand Generation Benchmark IndustryView | 2014
1. User Engagement
If you prefer a top-down, monolithic approach for communicating with your customer base, here's a news flash that may send shivers up your spine. The customer, today and going forward, is now behind the steering wheel.
With increasingly efficient ways to access a plethora of resources, the consumer can learn everything they need to know about your company or offering with just a few mouse clicks or screen taps. With so many resources from which to choose – why not offer the consumer your take, in a rich, informative and interesting way?
Landing pages and microsites are great ways to capture mindshare about your company, product or service – but dispense with the fluff and get straight to the point. Populate your online presence with clear content and supporting information that reinforces your value proposition, success stories and clear competitive advantage. Create blogs and other materials that sprinkle your expertise throughout the vast worldwide web. Also, ensure that your content looks not only as good on a mobile device as it does on a desktop or laptop, but also perhaps even better. We are fast approaching a mobile first scenario.
Compelling content will increasingly need to consist of an interactive story with video and other visuals. Consumers will increasingly rely on 'social' branding and peer recommendations. The key lesson here? You must embrace your consumer, give them a voice – and make sure you are communicating these messages in a way that they can be received easily.
2. Search Marketing
Organic search engine optimization (SEO) and Pay-per-click (PPC) programs have been the leading ways today's businesses have out-hustled and out-classed their competitors. However, experts predict SEO in the future will be much more integrated with content and social and very different from SEO a few years ago.
If your company is not yet adept at hiking its information to the top of search results, it's fairly easy to get into the game. An article in Forbes recently outlined the recipe for moving your company's online presence to the fore. It includes:
Keywords – ensuring you are picking the correct and most relevant terms by which your prospective clients are searching for your services.

While Google is expected to start replacing keyword targeting with alternate targeting, keywords, when used correctly, serve the most important function of engaging your prospects.
Mobile SEO and User Intent – ensuring websites and content accessed from mobile phones are optimized for the type of person who consumes information on the go.
Link Building – adding implied links through brand names and citations to the high-quality and relevant express links from other portals where your prospects may be searching.
Social Signals – social presence becomes even more important as social signals become a significant factor in the Google ranking algorithm.
3. Digital Media
By all means, make sure you have all of your online bases covered. The first two points support an argument for a sound inbound marketing program. However, one shouldn't forsake the importance of outbound marketing. It gives you the chance to control the message, reinforce your organic marketing methods – and, yes, redeploy some of your dollars in a targeted, efficient manner.
Display advertising, location-based mobile marketing, personalized media, social advertising, retargeting, persona targeting, as well as email and affiliate marketing are all essential pieces to this paid paradigm. While some of these may be more appropriate than others for your company, all of them offer the unique benefit of enhanced tracking and data mining. This allows you to take action as prospects interact with your paid content.
As with any campaign-driven approach to marketing, make sure your message is consistent. Ideally, your paid media should lead to your user engagement tools and ultimately, lead to a buying decision.
What are you doing to support Digital Demand Generation Marketing at your company?