Hollywood has long taught us that a crystal ball can be a mystical, wondrous – and completely fictional – way to gaze into the great unknown.
For businesses looking to better understand the world in which they exist, it doesn't take a magical orb or other divine intervention to do so. Enter the Net Promoter Score, or NPS – a simple gauge of consumers' ongoing satisfaction that can, like the soothsayers of the silver screen, tell the future.
The Net Promoter Score methodology is genius in its simplicity. By asking a singular question – usually along the lines of, "How likely is it that you would recommend this company to a friend or colleague" – a brand can actually foretell the future – more to the point, according to Survey Money, "the likelihood of both repurchase and referral."
Scores are tabulated in a similarly simple way. A score of 9 or 10 indicates a promoter – a customer who is happy and will send more of his or her ilk your way. These scores boost your NPS rating. A 7 or 8 projects passives – the neutral zone of consumer, those who are neither happy nor dissatisfied. These scores are simply not tabulated. Notch a 0 to 6, however, and you'll identify detractors – unhappy customers who put your product or service at risk. Scores of 6 or below are subtracted from your score – leaving you with a NET score.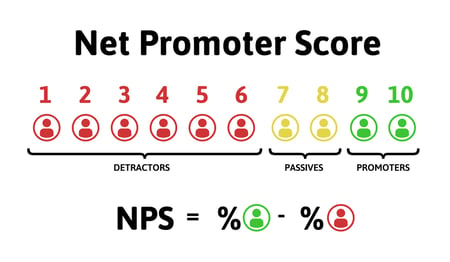 But how, you say, can a small survey have such a big impact? Well, the market tells us so: Companies that know how to please their consumers can actually see the impact on their bottom line – one study found that a loyalty leader, as measured by NPS, will be two times as profitable as their lower-scoring competitors.
This direct link between high NPS and profitability is, in fact, so compelling, that we at Chief Outsiders recommend its use for ANY type of company – including ours. In fact, we recently tracked our net promoter score at 68 – which is exceedingly high in the world of Net Promoter Scores (a world where, unlike in school, you are constantly balancing positive against negative).
It puts us in some rarefied air – among the best when it comes to people pleasing. According to NICE Satmetrix, which invented the NPS gauge, the best of the best and their scores in 2018 were:
Airlines- Jet Blue = 74
Auto Insurance - USAA 73
Banking - USAA = 79
Brokerage Investments - Vanguard = 70
Dept. & Specialty Stores - Costco = 79
Grocery Supermarkets - HEB = 72
Home Insurance - USAA = 78
Hotels - Ritz Carlton = 75
Tablet Computers - Amazon = 68
We also ranked ahead of other best-in-class companies, including:
Credit cards- American Express = 60
Laptop computers - Apple = 64
Online shopping - Nordstrom = 64
Smartphones - Apple = 60
Top 12 NPS Benchmarks (2018) vs. Chief Outsiders
Industry Leaders' NPS Scores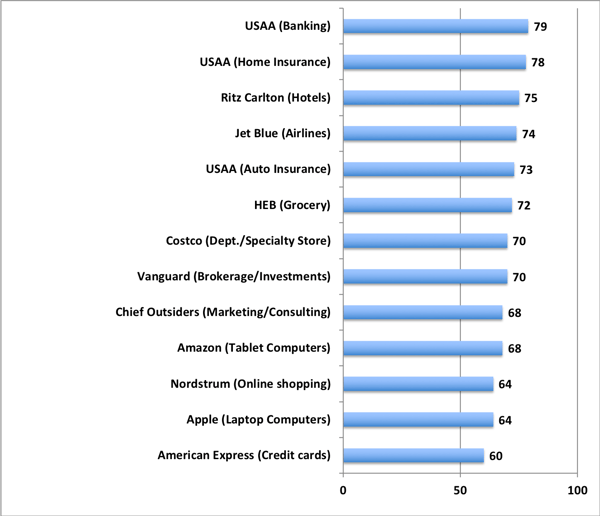 So how can you get started projecting your future through NPS? Though there are companies, including NICE-Satmetrix – that can help you to implement a comprehensive NPS program across your organization, other companies make it super simple. Survey Monkey offers a standard template and a tool to benchmark collected data.
But what do you do with the data once it starts flowing? For a consulting/professional services business like Chief Outsiders, we conduct 30- and 90-day NPS-driven evaluations, then dive deep into the numbers -- if the score is in the "detractor" range, one of our managing partners calls the client to better understand the dissatisfaction, and to get the engagement back on track.
Then, during regional meetings and trainings, we talk about best-practice implementations, as a means of helping our Chief Marketers achieve a higher NPS.
Need help implementing NPS within your organization? Please reach out to us here at Chief Outsiders – we would be happy to help you build your crystal ball, and to get your business on track to satisfaction and profitability!
Authors
Ed is a metric-driven CMO who enables growth that is powered by data (Voice of Customer-focused), scaled by automation and optimized with analytics. By adapting a blend of Fortune 500 and lean startup processes, Ed uses field-proven strategies to accelerate growth, foster collaboration, spark innovation, enhance customer experience and create a sustainable competitive advantage.
Beth works with industrial and consumer durable goods companies to develop and execute omni-channel strategies that accelerate growth and optimize profits. She helps B2B and B2B2C companies across multiple business sizes identify actionable insights to develop integrated go-to market strategies and tactics that accelerate profitable growth across multiple market channels. A strategic marketer, who operates at the nexus of technology, innovation and creativity, she has specialized in differentiating brands, products, and pricing within the same category across multiple and complex distribution networks.