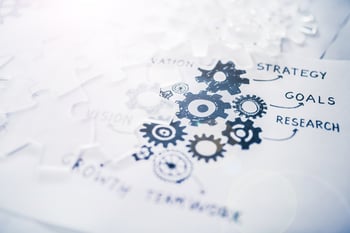 If you type in "marketing strategy" on Google, your screen will instantly become flooded with a spectrum of software tools and new-age philosophies. With all the information available to us at the click of a button, defining and implementing the right strategic plan for your business can become time-consuming – and overwhelming.
In working closely with my clients in the B2B, B2C, and H2H spaces, I notice a common theme. CEOs see many options – and mixed messages – about marketing's value, as well as how it should grow our businesses. No matter what, you must always begin with a simple foundation to make your marketing strategy work.
While technology, product delivery, and customer service will continue to evolve, a concise and measured focus allows you to decide the approach that is right for your company, then branch your strategy outward into an actionable marketing plan.
Understanding Today's Successful Marketing Strategies
I often conduct workshops that focus on company growth through defining core objectives and important initiatives. Much of my inspiration is drawn from two essential books for marketers and business leaders - The Rockefeller Habits by Verne Harnish and Traction by Gino Wickman. Harnish is credited for creating the famous one-page strategic plan, which is a simple outline of practical actions you can take to strengthen your culture and improve upon your business goals.
In Traction, Wickman encourages us to "get a grip" on our enterprise by using a few foundational components to relieve internal conflicts, profit challenges, and inadequate growth strategies. The problem is, most companies today get distracted by the bells and whistles, then begin marketing without adequately examining their organizational vision and business goals.
The first step to turning around your strategy is understanding marketing's value and purpose. Today's successful plans establish your company's unique position in your marketplace and elevate the sales of your products or services.
Instead of merely creating content and sharing it on your website and social media, your one-page plan will help you go back and evaluate the success of your articles or videos. Following up on your data insights will empower your team to acquire new customers, gain loyal followers, and optimize your content to stimulate additional growth.
Creating Your One Page Marketing Plan
If football coaches have one-page plans and measurements – why don't we? Designing and implementing your new marketing strategy doesn't have to be difficult. As my favorite authors alluded, a single document is all that is necessary.
Here are the reasons why a one-page marketing plan will keep you on course:
Ability to Capture Insights Regarding Your Business
Your one-page plan will give everyone from your leadership team to the marketing department a clear and complete understanding of corporate strategy. It will also help everyone understand what drives your business by the numbers, so they can act on them, then measure data insights from those initiatives.
Customer interviews, surveys and employee feedback will help you fill out your plan. A SWOT (strengths, weaknesses, opportunities, and threats) analysis and word cloud exercise are also valuable for understanding your competition and trends affecting your business. This information will help you create buyer personas, as well as capitalize on trends affecting your business.
A Documented Growth Strategy
Your one-page document will clearly define your brand's value proposition, brand promise, and basic marketing methodology. It will also empower you to easily include every member of your organization in the planning process, so they can contribute in their own way to the enterprise's marketing success.
A documented growth strategy will additionally help define a compelling "why" about your business and measure if you are communicating that "why" effectively. Finally, your strategy will give you an easier way to manage sales and marketing efforts, so your team has more accountability.
Data to Execute the Plan
Defining key objectives and initiatives will help you to execute your marketing plan. The data you glean from your initiatives will establish key performance indicators (KPIs) for your business, so you can easily share accomplishments with your team. This process will also ensure everyone is following through on their unique promise to grow the business. Additional benefits include complete transparency with your team and organization, as well as the ability to seamlessly review and adjust KPIs as you go.
Executing and Communicating Your Plan
While your one-page marketing strategy helps you align with your corporate strategy, it's also a good way to hold you and your team's promises and initiatives accountable. Keep investing in the most successful strategies to grow your top line, building and executing your marketing mission alongside the rest of the company.
Do you need help defining your marketing strategy? Whether you would like a face-to-face workshop for your company or access to the one-page strategic outline for yourself, I can help. Click to get the downloadable PDF – or contact me for more information.
Co-Author