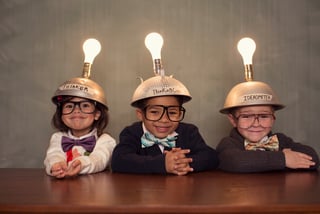 I once experienced a recurring dream where I stood at the front of Mrs. Streebeck's fifth grade class, completely unable to speak.
"Where is your homework, Mr. Sparrow?" the teacher asked.
The shame and guilt of being unprepared caused my throat to tighten and my vocal chords to freeze. It was horrifying. Never mind that in the nightmare I was also fully exposed—buck naked, as we say in the South—but that's not the point. Even if tucked away in my subconscious, I've always been mortified of being unprepared. Most of you reading this post feel the same way – and that's why you're here.
As an executive and leader, you pride yourself on adept planning – and after a countless number of SWOT analyses thus far in your career, the acronym SWOT (Strengths, Weaknesses, Opportunities, Threats) may hit your radar as nothing more than a trite activity used to kill time and keep management satisfied.
Listen up, Mr. or Ms. Company Leader – it's time to get real. Without regular, proper evaluation of your business from all angles, you'll never have a finger on the pulse of your competitive edge – or the areas in which you need to improve.
From cash flow to trademarks, market trends to digital changes – the elements within the SWOT are many, but it all revolves around the same critical need to evaluate your business thoroughly in order to push forward in an impactful way.
There's No Need for SWAG in Business
While your current SWOT is quite possibly a go-through-the-motions raised-voice-chorus "kumbaya" leading to nowhere or for some, a dreaded exercise strangely akin to milquetoast – you're looking for a more toe-tapping, insightfully smoking hot viable option to the SWOT – but it's definitely not the SWAG.
While kids today have a different definition of what "SWAG" is, in our world the acronym stands for one thing only: A Scientific Wild-Assed Guess.
Is there more SWAG in your company than there needs to be?
When conducted correctly, the CEO and his leadership team will walk away from a final SWOT session with a clear and sober view of the state of their business—and the company's position in it. Be it good, bad or indifferent, new and critically important information is gleaned and a sense of profound urgency emerges from an effective SWOT.
Interested in learning what to avoid – and what to focus on? Read on for a true SWOT story.
A True SWOT Story
After conducting a two-day SWOT analysis with the senior leadership team of a small company, I joined the owner/CEO for dinner. He seemed out of sorts, so I asked him what was on his mind. His response didn't shock me in the least.
"Paul, I gotta tell you, I thought this workshop was a whole bunch of baloney. At least I figured some of my folks might open their eyes a bit more. Maybe they'd get a sense of what I already knew."
"But that's not how you feel now, is it?" I asked.
"Not at all," he replied with a long, deep sigh.
Then he paused. "I feel like I'm standing in a butcher shop, and all the big sharp knives in the place are dangling from the ceiling…by dental floss! My business and I are vulnerable in so many ways, and I've been totally unaware. Some of those knives could drop at any minute. They may be dropping already. I'm really trying not to be depressed."
Mission accomplished. I'd done my job.
My goal wasn't to freak the CEO out, or to push him into therapy. It was to help him see his business with clarity. To help him and his team uncover the truth. That's what a properly conducted SWOT analysis should do for a management team.
Unfortunately, most encounter something far different from my cutlery-averse client's experience, but it doesn't have to be that way. Let's take a look at a handful of reasons why SWOT exercises fall flat, and what can be done to prevent that from happening with your company:
Reason #1: No One Did Their Homework
Mrs. Streebeck would say the same thing: everyone on your team should be prepared before the SWOT meeting. They need to take the time to conduct a SWOT on their own, independently, and everyone should submit the assignment before the workshop begins. As the facilitator, no matter how much or little I might know about a company, I always conduct my own SWOT of the company's business, and I require every participant to do the same.
Why? Because the group must be engaged. You don't want them working on the fly! Everyone needs to show up deep in thought about the four topics at hand. You'll stand a much better chance of uncovering the really good stuff, the actionable ideas, when that happens. Asking the right questions will generally stimulate the thought process, and I'd suggest you include a few in the homework assignment.
Reason #2: You Didn't Take It Seriously.
"We know our strengths, weaknesses, opportunities and threats. This won't take long."
I've heard it all too often. The proverbial SWOT analysis is a layup, right? After all, you know your business so well, and of course your senior team does too. You don't need to spend a bunch of time recapping what you already know. Let's get to planning!
You're already dead in the water.
I strongly recommend an annual SWOT for any business. Asking yourself and your core team the brutally hard questions about key components of your business is essential. The internal view (company strengths and weaknesses) as well as the external assessment (business and market opportunities and threats) can't be glossed over.
You took your time buying the last car you purchased, didn't you? Why wouldn't you spend equal—if not more time—on your business?
Reason #3: You Did the Time Warp.
A CEO recently told me he and his leadership team conducted an annual SWOT analysis a few months back and, while it probably had some holes, he felt it was pretty good.
"How much time did you spend working on it with the team?" I asked.
"Two hours," he replied.
See #2 above.
Question: How long should a SWOT analysis take?
Answer: As long as it takes, but in my experience, depending on the number of participants, it will be a day or two.
But listen to me clearly—you will never get the SWOT job done well if the end of the meeting is the objective!
As the key executive in a company, CEOs must take the SWOT seriously, and they have to show the rest of the senior team the vital importance of using it to really analyze the business! Don't make the mistake that most companies make! Avoid the drag of the SWAG.
These are just three of 10 reasons why your SWOT analysis is probably not up to par. For more insight into changing your company's view of SWOT – and uncovering a crystal clear view of your business, stay tuned for Part II – Reasons 4-6 of why your SWOT is really a SWAG.