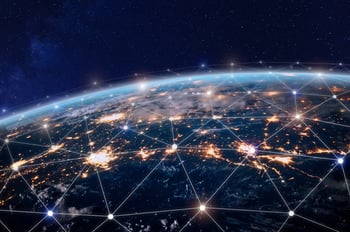 For business executives, staying relevant in this time of innovation and rapid technological advancement can be challenging. Thankfully, we can leverage consumer and marketplace data to help our companies optimize products and services.
One of the premier analytical reports on emerging business-related trends, Mary Meeker's annual Internet Trends 2018, was just released. While the more than 290 slides in the full report come packed with useful information for driving your company forward, here are 12 important and actionable insights for business executives.
Trend 1: Product Searches Are Starting on Amazon
Amazon has jumped ahead of search engines as the jumping-off point for product searches. Nearly half of all product search queries (49 percent) start on Amazon instead of on the traditional search engines like Google and Bing (36 percent each) S62. Searches that start on Amazon are typically fulfilled on Amazon, whereas searches that start on search engines are typically filled elsewhere. S63-S64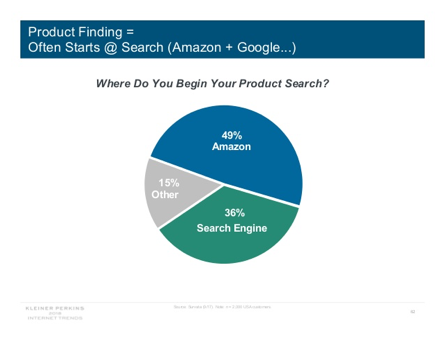 Source: 2018 Internet Trends Slide 62
Trend 2: Social Media Increases Influences on Sales
Social sharing is having a significant influence on purchasing decisions, with 55 percent of consumers queried saying they purchased products online after discovering them on social platforms. Facebook leads in discovery, with 78 percent of respondents having discovered a product on this platform, followed by picture-heavy Instagram and Pinterest, both with 59 percent. S71
In addition, purchases from social media links are increasing, making up 6 percent of today's referrals S72. Facebook's e-commerce click-through rates grew to 3 percent, from just 1 percent in 2016. S74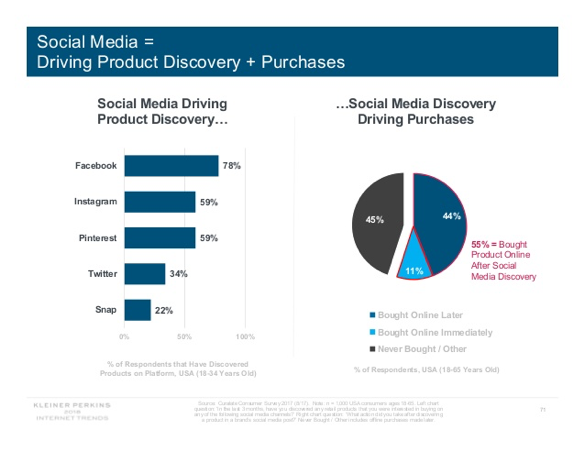 Source: 2018 Internet Trends Slide 71
Trend 3: Mobile Advertising Growth
Mobile was the only medium to see an increase in time spent, and accordingly, was the only medium that saw an increase in advertising spend. All other mediums were down or flat. S96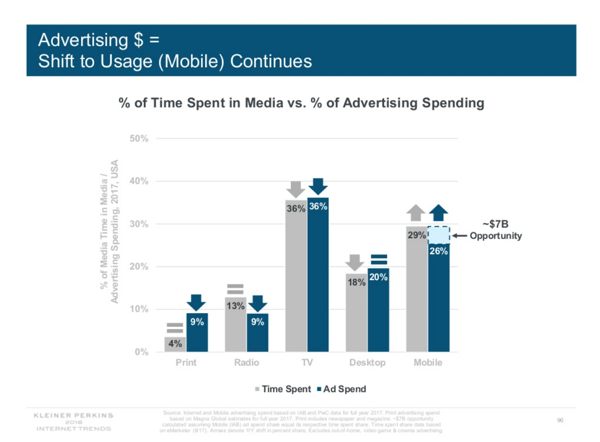 Source: 2018 Internet Trends Slide 96
Trend 4: Voice & Messaging Explode
Past Mary Meeker reports have correctly predicted the explosion of video, gamification and personalization. The 2018 report highlights the expansive growth of video and messaging. Voice-driven searches, now at 95 percent accuracy, have spurred confidence and growth in this segment, with the voice-driven Amazon Echo device today found in 30 million households S26. As for messaging, there are now more than one billion monthly active users on each of the most popular messaging apps, including WhatsApp, Facebook Messenger, and We Chat. S22
Trend 5: Robust E-commerce Growth
E-commerce acceleration continued at a 16 percent growth rate in the past year S45 and now represents 13 percent of all sales transactions s46. Easy-to-use tools including mobile payments, cloud computing, hosting and analytics makes it easy for anyone to open an online store. Amazon Web Services (AWS), which provides on-demand cloud computing platforms to individuals, companies, and governments, expanded from one service in 2006 to 140+ services in 2018 S183. As a result, the number of online merchants is growing rapidly S52, but Amazon is the share leader, with 28 percent of e-commerce gross merchandise. S47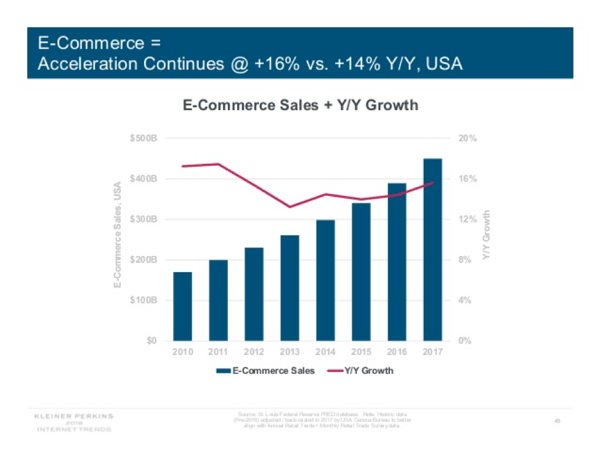 Source: 2018 Internet Trends Slide 45
Trend 6: Acceptance of Subscription Services
Subscription-based services are seeing significant adoption. Year-over-year subscriptions have increased significantly for powerhouses like Netflix, the New York Times and Dropbox. In fact, 45 percent of Spotify's monthly active users are subscribers vs. 0 percent in 2008, the year it launched. Key reasons, say respondents, include access, selection, price, experience and personalization. S81-82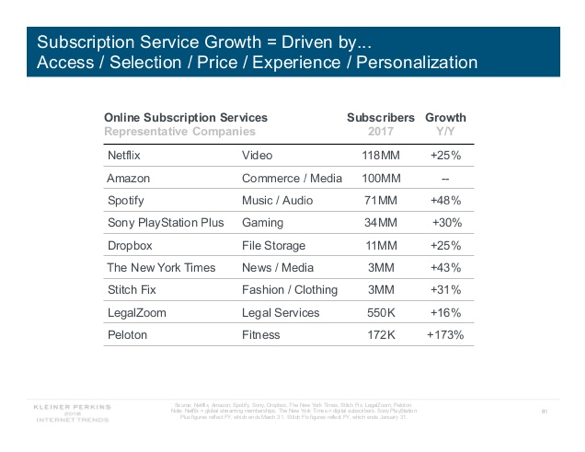 Source: 2018 Internet Trends Slide 81
Trend 7: Customer Lifetime Value (CLV) Leads all Key Performance Indicators
Costs per clicks are increasing, so businesses are placing increased emphasis on Customer Lifetime Value (CLV) as a key performance measure of ad spending performance. S76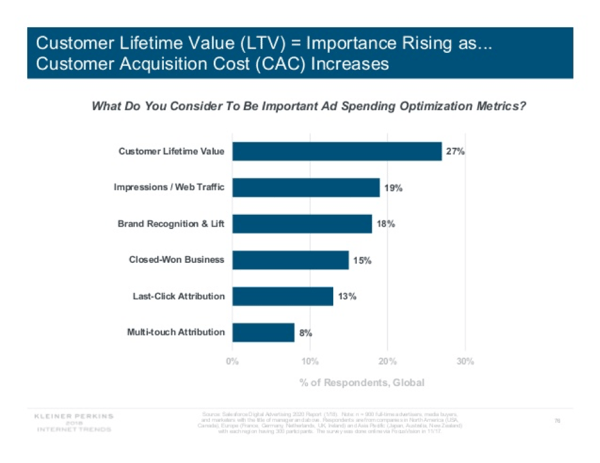 Source: 2018 Internet Trends Slide 76
Trend 8: Data and Consumers -- A Love-Hate Relationship
The innovation of personalization and convenience of business data results in an overall gain for end users. Therefore, the end user will continue to share their personal and collective data to provide better experiences. However, experts predict there will be more regulations in data collection. As a result, businesses will increasingly need to demonstrate responsible data use. S204-S205
Trend 9: Artificial Intelligence Will Have the Biggest impact on Businesses
Artificial Intelligence (AI), a machine's ability to perform tasks that normally require human intelligence, such as visual perception, speech recognition, decision-making, and translation between languages, is expected to be the one of the most important general-purpose technologies of our era. AI is becoming widely available, and Chief Information Offers (CIOs) say networking equipment and Artificial Intelligence projects will enjoy some of the largest increase in IT spending this year. S198-S202
Trend 10: Gig Economy Growth
While it is known by many names, including "On-Demand," "Freelance," "Fractional," and "Temp," the "Gig Economy" is growing – and will constitute a significant portion of what employment will look like in the future. In 2017, 8.1 percent of growth occurred in the freelance workforce, versus 2.5 percent of growth in the total workforce S163. Technology improvements make the gig economy easy and inexpensive to participate in.
The uptick is occurring in part because this style of work provides flexibility, which is cited among the most desired non-monetary benefits for workers S162. Other advantages include increased income and asset utilization S161-S176. Examples of freelance-friendly organizations include Uber, Airbnb, Etsy, Upwork, 99 designs, and Fiverr.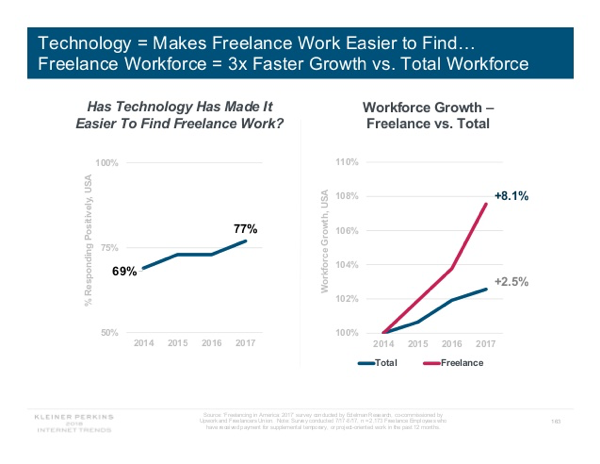 Source: 2018 Internet Trends Slide 163
Trend 11: Staying Relevant in the Marketplace
Given the speed of change and new technologies, staying competitive means constantly staying ahead of trends and "lifelong learning." Chiefmartec.com estimates there are now 6,800 marketing technology solutions alone. How do today's enterprises keep smart, strong talent relevant? Unfortunately, the time needed to run the company operationally hampers internal employees' abilities to stay up to date on innovations. S232-S232
Better tools and greater access are helping with continuous learning, but speed of innovation is one of the reasons the gig economy will continue to increase. We can expect businesses to keep product/company expertise in house while outsourcing more of the functional expertise. In just the past six months, 55 percent of freelancers participated in skill related training, versus 30 percent for non-freelancers. YouTube streams 1 billion hours of education video per day, and 70 percent of the platform's users access it to help solve work, school, and hobby problems. Educational channels like Asap Science, Crash Course, TED-X, and Khan Academy now have millions of subscribers. S234-S236
Trend 12: Household Spending Allocation Changes
During the last 30 years, shelter, insurance, and healthcare have consumed a larger proportion of household budgets, while consumer spending on food, transportation, entertainment, and apparel has declined S105. Some of the decrease in spending is due to price declines from increased competition, like Walmart, as well as e-commerce. S111
Business leaders can expect price declines initiated online to expand to brick and mortar stores, as the technology that made "online shopping more effective with lower prices, more selection and increased conveniences" continues to move to offline shopping. S110-S114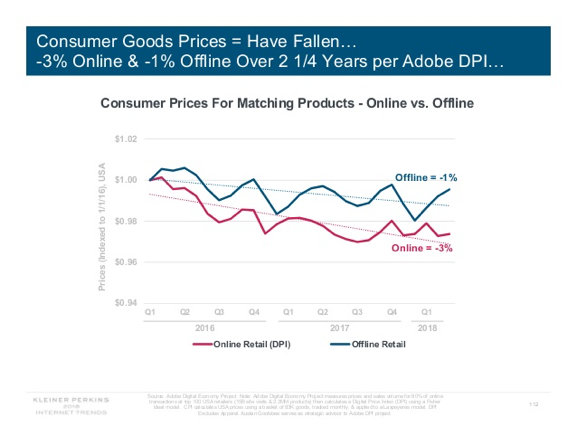 Source: 2018 Internet Trends Slide 112
Capitalizing off Critical Internet Data
Technology continues to quickly change the landscape for both Business to Business and Business to Consumer enterprises. Mary Meeker's presentation provides insights and data that we have seen historically shed light on emerging business trends. It is one of the premier publicly-available resources helpful in developing and modifying strategies and tactics for business growth, and I hope in spotlighting some of the most business-critical findings, these topics help to shape discussion about the present state and future aspirations of your business.