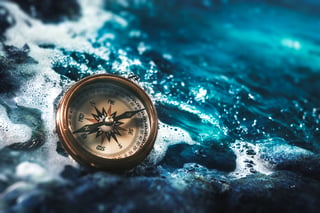 Thu, Jun 20, 2019 |
Whether you are a seafaring sort or not, it's fairly intuitive to expect that a peaceful, sparkling, blue ocean is much more navigable than one roiled by rolling tides, scary sea vermin and dangerous storms.
This relatable parable constitutes the foundation of "Blue Ocean Shift: Beyond Competing - Proven Steps to Inspire Confidence and Seize New Growth," a book by W. Chan Kim & Renée Mauborgne which provides a series of waypoints by which to guide businesses into calmer seas.
I recently successfully led a client through the Blue Ocean Shift process prescribed by Kim and Mauborgne, and realized how well the lessons align with similar ones espoused in "The Growth Gears," a book authored by my Chief Outsiders colleagues Art Saxby and Pete Hayes. "The Growth Gears" does a terrific job of building a process around how to go from random acts of marketing, to a purpose-based method of marketing an organization, by following three pillars—Insights, Strategy and Execution.