Part 2: Beware of Market Forces that Impact Company and Category Survival
In 2022, the market has been turned upside down. Remote work, the supply chain squeeze, and the rollercoaster economic environment all have roiled even the best of intentions for businesses of all sizes.
And though your company's go-to-market approach will still help you gain or maintain your share of the market, winning the "checkboxes" isn't enough to stave off the macro forces that are constantly reshaping and disfiguring the landscape you're selling into.
In our first blog in this series, we identified the concept of CEO blind spots – a naive view of market forces that don't account for reality. An inability to illuminate those blind spots can bring even the most venerable companies to their knees. It's not enough to just recognize the ailment – but to take steps to avoid getting sick.
Now, in our second of five blind spots that can turn seemingly good health into condition critical, let's take a look at the inability of companies to look beyond the competitive checklist and acknowledge those macro forces that don't take a day off.
It's these macro forces that threaten everything you've worked for – impacting current or future buying patterns and reducing demand for an entire category of goods and services. This includes things like driving habits – people are no longer commuting as far or as long in their cars because they are working from home; supply-chain issues – preventing the natural replacement cycle of durable goods; and of course, online shopping, which has reduced foot traffic at less-popular shops and malls.
By ignoring the impact of macro forces, even if your timing is right, your positioning might be wrong. This can be seen in how businesses reacted to the COVID-19 pandemic: Those that beefed up their online ordering capabilities and introduced doorstep deliveries tended to survive and thrive, while those who doubled-down on offers and enticements to come into the physical store while the public cowered in fear of getting sick – not so much.
But these days, even a competitive price can't overcome a belief that usability lags, features fall short, or the product simply doesn't deserve a share of wallet in a tightening market. While the company can continue to shower fortunes at hopes and dreams, sometimes it might be better to moderate expectations, or make a strategic pivot.
Sometimes a pivot is required before launch, like Odeo being reinvented and going to market as Twitter when iTunes was launched. Sometimes a pivot is also required midstream – such as when Netflix intentionally transitioned to the streaming model that was cannibalizing its DVD rental business.
Here are some thoughts to ponder as you work to ensure your company successfully rides the wave of the next disruption to come your way:
Know who your customers are, what they want, and how they buy. There may be trends and market forces that will impact everyone, even your competitors. In this case, simply being better may not be enough to survive. Porter's five forces matrix can be a helpful framework to think about the macro forces that will impact your trajectory of success. But the companies that survive are the ones who deeply understand their customer behaviors as they apply the five forces analysis.
Look for breakout dimensions to compete on – ones that are important to your target and the competition is not paying attention to. You should be hearing the voice of your product and sales teams, both as sources of customer insight and for influence over the features and channels that will provide early indications of buyer shifts. Break out of the value curve in a meaningful way.
The Blue Ocean Strategy Framework developed by Chan Kim and Renée Mauborgne is a great blueprint to follow if you want to find these target-resonant values. Doing so, according to Kim and Mauborgne, can help you navigate out of the red ocean of competition and into a more calm and unchartered blue ocean (the chart below gives you a sense of how this works).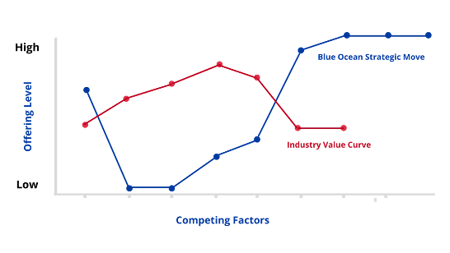 Credit: Blue Ocean Strategy
Southwest Airlines is a great example of a company that defined a blue ocean: not wanting to compete with the majors on expected dimensions, they embraced the short-haul, low-price, no-frills model. It turns out that no assigned seats, no meals, no tiers of service, no direct cross country flights was still better for consumers than a bus or car-ride across country (and almost as cheap, thanks to Southwest's pricing model).
The same can be said for companies that adopted touchless payment technologies, created cashier-less in-store shopping and dining, provided virtual access to tutors in any time zone, and who turned their whiskey-making operations into hand sanitizer manufacturing plants.
Despite these disruptions, if market forces are capitalized on early, companies can weather the storm and push ahead of the competition while ensuring survival. In fact, many organizations will emerge from crises reshaped and revitalized, with the added benefit of being able to be the disruptor in the future.
It may seem implausible for your product or service to evolve, but a successful pivot to address a disruption or a reddening ocean is available to nearly any business. Here's what a few of my clients have done when they recognized the macro forces at hand:
ZUCA, well known for rolling bags for students, ice skaters, and dancers, adapted its product for disc golf enthusiasts at the forefront of that trend. Then, as school systems moved to ban rolling bags and the market for ice skating and dancing softened, ZUCA was well positioned to withstand the downturn.
Picmonic, a first mover in providing a visual study tool for medical students, launched a category but quickly became surrounded by well-funded new entrants. Picmonic, observing that many nursing students were visual learners and had few study resources, made a strategic choice to expand into that market. This pivot enabled the company to continue to successfully deliver a 30 percent year-over-year growth rate (leading to a successful acquisition by private equity firm LLR Partners).
PURVIEW, a leader in image sharing for physicians, radiologists, and veterinarians, saw the handwriting on the wall in a consolidating market. After several of their clients noted the need to expand their sharing beyond their existing imaging and into other medical records and test results, they decided to develop a complete second-opinion platform. This enabled PURVIEW to focus up-market on hospitals who were seeking ways to expand their appeal beyond their bricks and mortar locations. With the rise of telehealth, and the increase in reciprocity of state licensure requirements, PURVIEW was rightly positioned to capitalize on a growing trend for remote second opinions.
Will you be ready when today's trends like the metaverse, geothermal energy, and NFTs cause a disruption in your market? Be aware of macro forces and avoid or mitigate the impact of impending disruptions by leapfrogging ahead – and eliminate the second of the most vexing blind spots.
In our next blog, we'll zero in on the blind spot of less than ideal product-market fit.
Chief Outsiders' fractional CMOs work with CEOs to uncover blind spots, identify macro forces and breakout value curves. Reach out to me so we can discover the right-fit resources you require to develop marketing strategies to win.
Links to other articles in this series: