A Practical Implementation Guide for Small- and Mid-Sized Business Executives
Mark Coronna, Area Managing Partner & CMO, Chief Outsiders
with Todd Eberhardt, CEO, Dynasty Leadership Consulting
Somewhere in the historical development of Marketing language the concept of an Ideal Customer Profile emerged. You can find frequent discussion of this concept if you are reading marketing blogs today—it is definitely a "buzz" term, and legitimately so, if you understand the power of the concept and apply it to your customer acquisition programs.
We'd like to discuss how to practically implement the concept of an Ideal Customer Profile and talk about why it's important, as well as how it can dramatically impact your business, when applied to your Marketing and Sales programs.
The Ideal Customer Profile (ICP) is also known as an Ideal Buyer Profile or Ideal Client Profile based on the language of your industry and your business. It may have first been developed by Pragmatic Marketing (now called the Pragmatic Institute) years ago. If you aren't familiar with the Pragmatic model, it is an incredibly thorough approach to marketing, product management, and product marketing, developed originally for technology-based products. You can find an excellent primer on the Pragmatic Marketing website. Inside the Pragmatic Framework is the concept of buyer personas, which they define as "archetypical buyers of your product or service." This part of the framework provided early encouragement for developing ideal customer profiles.
What's an Ideal Customer Profile?
Stated simply, an Ideal Customer Profile describes the characteristics of the best customer you would like to acquire and maintain over time. An ideal customer has these relationship characteristics:
low cost to acquire
frequent and large purchases
understands your value proposition and supports your margin goals
easy and cost-effective to service over a long-term.
If you were a direct marketer or an ecommerce guru, you would recognize this type of relationship as having high customer lifetime value, which would give you the highest revenue and profitability over the longest relationship time.
An alternative way of recognizing an ideal customer is this:
Describe the characteristics of a client where, if you could get 100 more, you would jump at the chance. That's our definition of a "grand slam" set of customers or prospective customers.
Let's Review Two Examples
We are both executive consultants and we often work with small- and mid-sized (SMB) executive teams. Both of us independently developed Ideal Client Profiles. Here are our two working models:
Todd's Model, which is so useful that he's branded it the Grand Slam Ideal Filter™.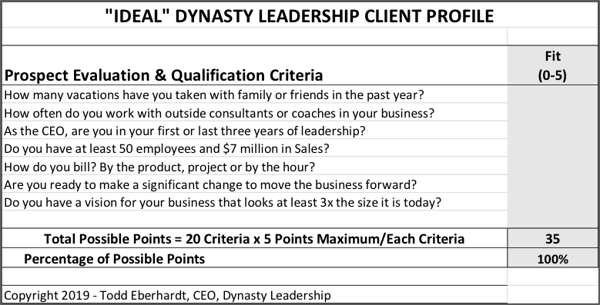 Do clients like using their version of Todd's model?
"Todd (Dynasty Leadership) facilitated an inclusive, candid, data-driven process that helped us see through the anecdotes and discover who our best customers truly were; including the key reasons why they buy from us. The Ideal Customer process has helped us focus our sales and marketing efforts on those key buying attributes and has enabled us to walk away from those activities that do not align with long-term success. Thank you, Todd (and team) for the guidance to get to our 'aha' moment."
-Mike Siegler, CEO, Ecessa Corporation
"Our Intelligent Client Profile (ICP) enables all of our sellers to act with sales wisdom. It's not about doing things, but rather, knowing the best thing to do each and every time. Our ICP helps us do this."
-Jeff Ernste, VP Sales & Marketing, Orange Tree
Mark's Model...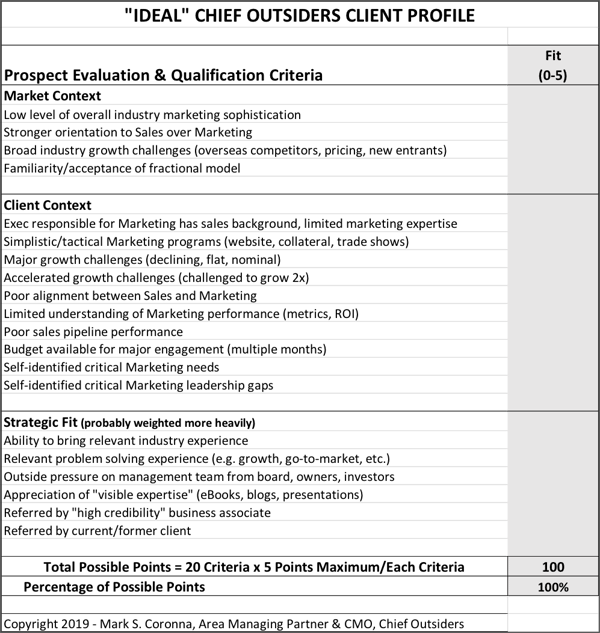 Do clients like using their version of Mark's model?
"We implemented the ideal client profile with the help of Chief Outsiders. We actually developed two models: one for clients and a second for industry association partners. The ICP approach has been extremely helpful in targeting the best potential clients. Now we can quickly qualify the best clients and partners. Before, we spent unproductive time on relationships which turned out not to be a fit for us. Also, as we have added new sales staff, the use of the ideal client profile has expedited their onboarding and has made them more productive faster."
-Steve Yates, CEO, Optimum Safety Management
"The benefit to creating a customer profile is that it forces you to align your focus on customers and industries that meet your value proposition. Once we had that alignment, we quoted fewer opportunities but increased our award rate from lower single digits to close to 30%. This allowed us to achieve 20+% growth in an industry that is growing low single digits without adding headcount to our sales group. Until we had our profile, we spent time chasing opportunities that didn't align and then were frustrated that we would win them. Creating the ideal customer profile (the 'end-in-mind') helped us align our strategy and execution. Our results improved dramatically."
-Tom Schmeling, VP Sales and Marketing, Dalsin Industries
You might ask why we have different Ideal Client Profiles, since we both do similar work. After all, isn't a prospect for management consulting services similar regardless of who you are and what services you deliver? And you might also ask which profile is more effective as a qualifying tool: a shorter and more concise version that asks only what you really need to know or a more detailed version that might provide more insight? Because we have different experience and personal styles, we are sharing our collective insights into how an Ideal Customer Profile can work best for you. You'll need to work up your own Ideal Customer Profile, too, and we're going to show you how to do that next.
Financial Characteristics of an Ideal Customer
Think about your best current customers. What makes them the "best?" It's likely some combination of revenue, average order size, number of orders annually, profitability, and longevity of your relationship.
There is one financial characteristic in the Ideal Customer Profiles presented previously: "Do you have at least 50 employees and $7M in sales?"
There are two challenges with trying to develop answers and score financial profile factors. First, since you are just getting to know a new prospect, there may be a trust barrier that prevents your prospect from fully sharing their financial plans with you. Second, since you are not doing business with them yet, all your financial analyses will be a forecast because you don't have any actual data on which to build your financial models. Financial characteristics are an indicator of successful customer relationships after you have done business with them. That does not let you off the hook of forecasting the future financial performance of each prospect, should you convert them into a customer.
Non-Financial Characteristics of an Ideal Customer
As you build rapport with prospects, you can ask qualifying questions that will help you answer the non-financial characteristics of your Ideal Customer Profile. It's our opinion that these factors are often better indicators of an ideal relationship than financial indicators, and that's why we both include more of them in our profiles.
Does the customer access the breadth of your services (versus one or two)?
Does the customer understand and match their needs with your value proposition?
Does the customer have pain points, or needs, which you solve (both emotional and rational)?
Does the customer have strong, urgent needs (their driver, not your driver)?
Is the customer willing to refer others to you—do they give you high satisfaction and Net Promoter Scores?
Defining and Implementing Your Ideal Customer Profile
We promised you practical guidance about Ideal Customer Profile definition and implementation, so here's our guidance on how to build one which is uniquely yours.
Ten (10) Steps to Defining "Grand Slam" Customers
Gather all the data you have on your current customers (sales and profitability reports).
Understand/analyze current customer financial performance.
Gather customer-facing staff (sales, marketing, product, support, finance) and interview them by asking who their best customer is and why?
Ask the same group who their worst customer is and why?
Marry the financial performance data with the anecdotal interview information.
Secure group agreement on best/worst clients.
Identify common characteristics, elements, traits, and themes.
Draft an Ideal Customer Profile with limited list of elements.
Test your draft profile against previously identified best and worst customers.
Refine and embrace, roll-out, test, and iterate the process.
With an Ideal Customer Profile defined, what are best practices for implementation?
Six (6) Steps to A Successful Implementation
Start with a sales meeting, bring prospect lists to score.
Translate your Ideal Customer Profile into a sales script with scores.
Secure agreement on which existing customers you will and won't nurture.
Implement your Ideal Customer Profiles in your Marketing programs.
Embed both the Ideal Customer Profile and scoring in your CRM.
Evaluate your Ideal Customer Profile model annually—revise as necessary.
What Benefits Should You Expect from a Fully Implemented Ideal Customer Profile?
One of the major benefits of an Ideal Customer Profile is a more streamlined and effective process of lead generation and qualification. You'll find detailed description of how an Ideal Customer Profile changes your sales pipeline from an inefficient and ineffective funnel into a more streamlined pipeline in this free eBook.
The Ideal Customer Profile is at the core of a much more proactive and targeted approach to sales pipeline development and management called the Intelligent Sales Pipeline™. This approach brings considerable and immediate benefits, including improving the productivity of your sales force, reducing the ramp-up for new sales staff, dramatically reducing sales cycles, reducing time wasted on poor prospects, and allowing the whole organization to become aligned and efficient by "wear and tear" on internal resources such as estimating and servicing.
The (Top) and Bottom Line
When you are challenged by slow business growth, too many non-performing customers, an under-performing sales pipeline, and an under-performing sales team it's time to implement an Ideal Customer Profile approach. The benefits of an Ideal Customer Profile support your need for strategic, rapid, and sustainable growth.